Michael Park
By J Bernard Jones on August 05, 2009
Perhaps someone passed along my
Open Letter to Christopher Goutman
. Perhaps
Barbara Bloom
took a good look at the plummeting ratings and decided that everyone should not lighten up after all. Perhaps head writer
Jean Passanante
took an extended vacation to Buenos Aires. Whatever has been happening over the last few weeks, let me step out on a limb and utter the words that many fans thought might not ever be said again or even believe:
As the World Turns
is, at long last, improving.
I fully expect the comments section to be full of invective and angry fist shaking about how ATWT is still "the worst soap on the air," how the vets are misused, and how the "Vortex of Suck" continues to, well, suck. In addition, the now well-documented list of the show's biggest defects remain stubbornly in place: warp-speed storytelling and the soul sucking semi-episodic structure continue to test the rapidly waning patience of the show's dwindling audience.
Having said that, it bears repeating that fans are a stubborn breed. We will praise shows, actors and performances we like, but we are quick to make our displeasure known when we feel things are not up to speed and falling apart. Once the latter narrative has been established it is very hard to turn the tide of opinion, even when a show starts to address its critics and make changes. Therefore, though the longstanding criticisms of ATWT are still valid, I think it is time to once again give credit where credit is due. READ MORE
By Jillian Bowe on July 27, 2009
Kevin (
Jon Lindstrom
) and Lucy (
Lynn Herring
) are back and in Oakdale! Er, wrong show, wrong show... Thanks for the tip
Addie
and shout outs to
beautreal
for the promo!
By J Bernard Jones on July 14, 2009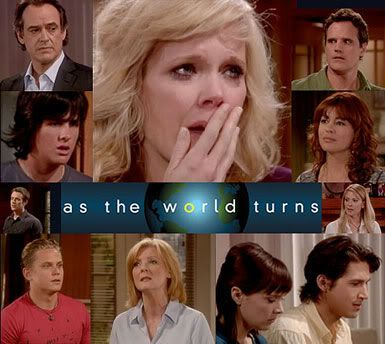 As the World Turns
gets little critical love these days, at least from me. Executive producer
Chris Goutman
and head writer
Jean Passanante
are roundly criticized for revolving door castings that last between three to six weeks per actor while a number of popular veterans remain stranded on the sidelines, nine month story lines compressed into 45 minutes of screen time, and obviously declining production values due to draconian budget cuts not of their making or within their control. Watching ATWT lately has been as often a test of endurance as much as one of patience. Unfortunately, many viewers have been able to pass neither challenge as the show's declining Nielsen ratings attest.
Nonetheless, I am careful to try to give credit where credit is due and today's episode did something very smart for the first time in a long time: human emotions took center stage. The writers shoved janky plot mechanics aside and instead focused on characters trying to relate to each other through adverse circumstances. Yes, ATWT's usual maddening problem of compressing events that should have played out over days and weeks into a single show managed to compromise a bit of my enjoyment, but I have to say I thought as a whole they hit it out of the park today. READ MORE
By Mark on July 13, 2009
A promo with a first look at Forbes March's character Mason Jarvis.
By Mark on July 06, 2009
They tried to make her go to rehab, but she said no, no, no...