Michael Muhney
By Jillian Bowe on September 29, 2009
Photo by Alberto E. Rodriguez/Getty Images

Michael Muhney weighed in his thoughts of Eric Braeden being written out of The Young and The Restless via Twitter. Muhney tweeted,


Not sure what's going on. None of my business. But I will say, Mr. Braeden & the Victor character are legendary and will never be replaced.
By Jillian Bowe on September 10, 2009
You have to love a person who uses an Internet sensation to put one over on people!
Michael Muhney
had the Twitterverse in a panic earlier today when he
tweeted
,
Can't believe this is my last day on the set of Y&R. Gonna miss everyone sooo much. They are all such a good group of folks, cast & crew!

My Twitter page went into a state of panic thinking the actor was let go from his scene-stealing role as the youngest son of Victor Newman (Eric Braeden). As I assured followers the star was not out of a job, Muhney himself followed up with a tweet, READ MORE
By Jillian Bowe on August 31, 2009
Photo by Michael Muhney
The Young and the Restless scene stealer Michael Muhney is all about going green, when it came to arriving at the 36th Annual Daytime Emmy Awards. The actor tweeted his means of transportation to the ceremony, which had yours truly doubting his sincerity.
I SHOULD TAKE A TAXI TO THE EMMYS TONIGHT. CHEAPER THAN A LIMO. BETTER YET. I SHOULD BE THE FIRST EVER TO RIDE A BICYCLE. ECO-FRIENDLY, said Muhney.

The skeptic in me replied right back to his tweet for him to take a picture at the awards show with the bike after I scoffed and called him out for teasing the twitterverse. Hours later Muhney tweeted his arrival saying, READ MORE
By Jillian Bowe on August 09, 2009


Is everything about to be exposed with Genoa City's own troublemaker? Thanks to beautreal for the tip!
By Jillian Bowe on August 01, 2009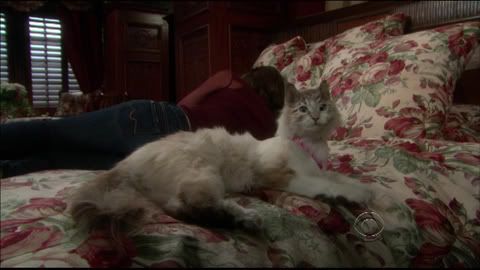 Has Mr. Kitty decided to ditch mama Mary Jane (
Stacy Haiduk
)? According to
The Young and the Restless
newbie
Michael Muhney
(Adam 2.0) via
twitter
, Kitty may team up with someone new:
Running lines in my dressing room for my next scene. HINT: it involves Zapato, Mr. Kitty, and me doing a tap routine to "lollipop guild".
Is this all a ploy for Mr. Kitty to avenge mama Mary Jane for being the fall guy in Adam's dastardly plans? Stay tuned!

By Luke Kerr on July 16, 2009
Victor (
Eric Braeden
) wants Adam (
Michael Muhney
) to go to a halfway house, but Adam isn't interested so Victor tells him he'll do as he's told. Adam responds "Yes sir."