Michael Fairman
By Jillian Bowe on August 27, 2009
Veteran soap journalist
Michael Fairman
gave his thoughts on who will take home the gold for the 36th Annual Daytime Emmy Awards this Sunday. For Oustanding Drama Series, Fairman stated:
It's oxygen masks vs. heart valves vs. a twister in the unusual suspects for this year's biggest prize, The Outstanding Daytime Drama Series. While episode selection is the key to an Emmy win, since we are not judging the soaps on their body of work, we have to look solely at the shows entries. DAYS looks to take home its first Daytime Emmy in 31 years for its dizzying, and at times dazzling effects of a sea of beloved Salemites fighting to stay alive, and preparing themselves for a big crash. I will say one thing to Ed Scott and Ken Cordy ( co-executive producers). After viewing this episode, I don't want to board an airplane any time soon. Could a victory by DAYS put Higley-gate behind us? And the blood-letting that occurred late last year when long time vets were kicked to the curb? Looks like. Then there is "B&B", whose subject matter is emotionally wrought with human drama. Long brilliant story short... Katie is shot, needs a heart transplant, brother Storm accidentally shot her, and decides to save her, so he will commit suicide thus Katie has a matching donor heart. It was one of "B&B's" best show submission in years, and Katherine Kelly Lang (Brooke) gave another winning performance that makes you wonder...will this lady ever get a nomination of her own? The only thing that hinders this a bit, maybe a few times where the dialog seems a bit preachy or trite. And, will the voters go for a suicidal brother shooting himself for his sister? I think its a great plot twist. Then there is, "Auntie Em, It's a twister. Right here in Pine Valley." I am talking about All My Children's CGI effects for its highly promoted tornado episodes. When the twister hit, although some of the effects were cool, some weren't. In the end, it left this viewer lackluster and cold. But the academy nominated the series with 19 nods going into Emmy weekend. It could just be the industry's darling episode. READ MORE
By Jillian Bowe on August 13, 2009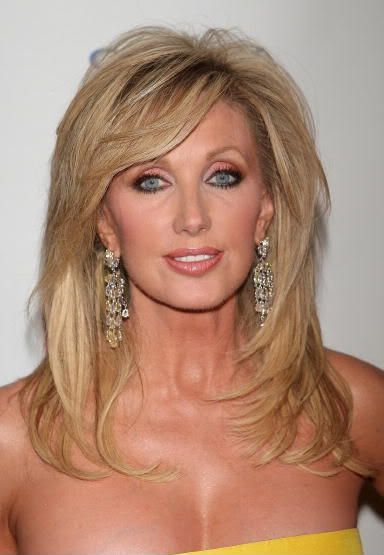 On Air On Soaps'
Michael Fairman
chatted with
The Bold and the Beautiful's
,
Morgan Fairchild
(Dottie), who gave her thoughts on soaps' older women romances with younger men:
MICHAEL:

What do you think of the 'cougar' storyline on

B&B

between Owen and Jackie? Even

Susan Lucci

(Erica) has a 'cougar' storyline beginning on

AMC

!

READ MORE

MORGAN: I think older woman/younger guy is great. I think the term 'cougar' is demeaning. No offense to this show. Just as a woman, I find it demeaning. What is reciprocal one for a guy… letch? (She laughs) I think the whole concept of women not being limited to someone older than they are is great. The way it was before, a woman used to be married to someone at least five years old than she was. I think that's great that those set of norms have become passé. On the other hand, you look at some of these woman and wonder, "What do you talk to him about? He does not look that bright!" It's sort of the same thing you think when you see older guys and dim blondes. "What do they talk about?"

By Jillian Bowe on August 11, 2009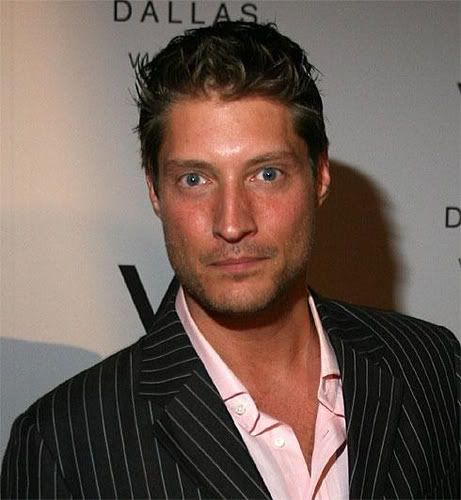 On Air On Soaps'
Michael Fairman
spoke with
The Young and the Restless
scene stealer,
Sean Kanan
(Deacon) on his current storyline and fan reaction to his popping up on the show:
So let's move on, and let's get to your current storyline on "Y&R". So when they told you the story that you were going to be part of…

SEAN: They didn't. First of all I have to confess these actors I know from "Y&R" are the people I met at events or worked across the hall with when I was at "B&B", but I did not know their characters and all their stories. I do want to stop and address something here, though. Recently, I saw this on the internet because I am guilty of checking what the fans say because I want to know what they are thinking, that somebody thought that on a recent episode that I called Victoria "Ashley" when I said, "actually". So they wrote this whole post saying, "Get him off the show. He called Victoria "Ashley". I promise I did not call her that. And do you think for one minute Paul Rauch would let me call Victoria... "Ashley"? As far as what the story was, I was operating from the seat of my pants because I did not know what happened to Deacon in the three years since he left LA for Genoa City. I do know that Deacon seems like he has definitely rounded out his rough edges. He seems more refined the way Maria Bell (co-exec prod and head writer, "Y&R) is writing the character. It would indicate that Deacon had polished up his game a little bit.
By Jillian Bowe on July 31, 2009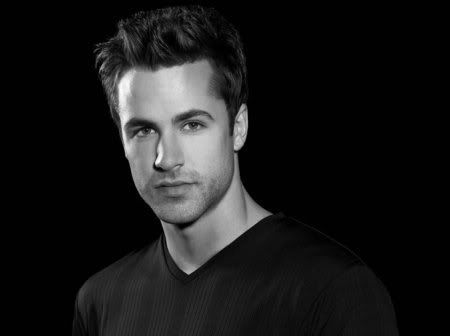 Advocate.com's
Michael Fairman
fills
The Young and the Restless
star
John Driscoll
(Chance) in on the Internet rumors swirling about his character's sexual preference. Driscoll finally lays to rest what his character's status is:
Your debut on Y&R was so highly anticipated. There were online rumors and reports about if your character was going to be gay or straight. Were you aware of this?

Yes. I was trying to do some homework before I started, and one of the websites said there might be a budding relationship between Mac, Chloe, and Rafe. And I said, "Rafe? What? That does not sound like a female's name. This character has been gone such a long time they don't know what his affiliation is. Is he gay? Is he straight? What's the deal?" I thought, You know what? If it's going to play that way, that's OK. As an actor, you are always looking for the next challenge. I don't find anything taboo behind it. I have played a gay character before on a short-lived show called The Book of Daniel with Aidan Quinn and Ellen Burstyn on NBC. I actually worked opposite Christian Campbell, formerly of All My Children, where he played Bobby Warner. We had this romance on the show, and if the show had not been canceled, you would have seen the budding relationship between our two characters. It was really funny doing double duty while I was doing Guiding Light. So during the day I was having bedroom sexual scenes with a female, and then at night on set in bed with a man. It was crazy. I needed a couple of drinks! [Laughs]
Fairman goes on to ask Driscoll point blank about Chance's sexuality: READ MORE
By Jillian Bowe on July 28, 2009
Maverick
General Hosptal
star,
Tristan Rogers
(Robert) opens up to
On Air On Soaps
Michael Fairman
about his alma mater's ratings slump:
MICHAEL:

What do you think of the declining ratings of GH, that is the talk of the soap world right now?

TRISTAN:

I think General Hospital, of all the soaps, is in a real quandary because GH is constantly fighting its past, and in particular, it's fighting its past now. It seems to suddenly have become a real issue. When I went back to the show in 2006 it was starting to bubble, and I don't know if comments I made at the time helped it bubble up a bit hotter. But, I think what you have got now is an issue with the core body of fans. GH has a core body of fans that support it with whatever is happening. Now that core body of fans is deserting it, and when the last one turns off, that's it. The new fans will not support it in a way that the older, foundational group will. I have been saying for sometime, "This is the group you have to have be supporting." The show needs to try and maintain these fans and get that group solidified, and then go after the other groups. But, you must keep that fan base and foundation. When you have got no foundation, there is nothing to build on.

The man keeps it real! To hear what Rogers thinks about General Hosptal: Night Shift not being renewed click here. READ MORE
By Jamey Giddens on July 24, 2009
Michael Fairman
caught up with
Steve Burton
(Jason) at
General Hospital'
s Fan Club Weekend just as the actor won the Best Actor trophy. In a discussion with Fairman about the economy, Burton says "we're taking cuts just like everybody is." Fairman continues to ask Burton if he is willing to take a pay cut to help keep the show afloat to which Burton responds he is. For more from Fairman's coverage of
General Hospital'
s Fan Club Weekend go
here
.