Michael E. Knight
By Damon Jacobs on February 09, 2009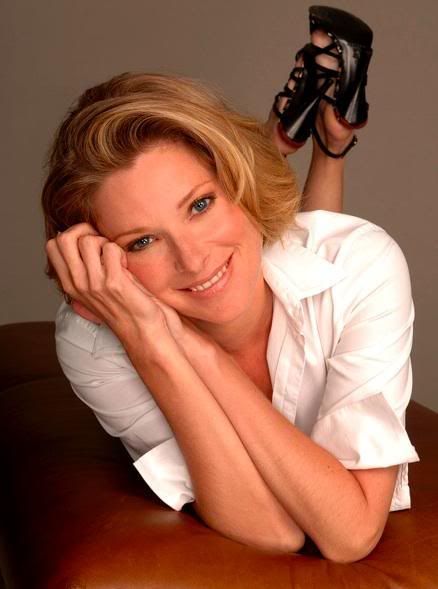 Daytime superstar Cady McClain has come along way, since her 1988 debut as Pigeon Hollow-to-Pine Valley transplant Dixie Cooney on All My Children. Since that time, she skyrocketed to supercouple status opposite Michael E. Knight's Tad Martin, before managing to do what few popular soap stars accomplish, in making just as much of an impression on a second soap opera, As The World Turns, where she played automobile heiress Rosanna Cabot. Along the way, McClain established herself in real life as an outspoken and passionate presence, which she says led to her beloved character Dixie succumbing to death by poisoned pancakes. McClain revealed to freelance writer, author and licensed marriage and family therapist Damon L. Jacobs her feelings about Dixie's "lazy" exit, her ghostly return, her two stints as Rosanna and also shared insight about the psychological makeups of both her iconic characters.
Damon L. Jacobs: It was a little over 20 years ago we were first introduced to Dixie. At such a young age, how did you connect to her?
Cady McClain: I had been acting for 10 years before I got this part, so I had a fair amount of training already under my belt. Watching Coal Miner's Daughter really helped me find the character, as did watching Ingrid Bergman in Gaslight. I was a young, ambitious woman from a topsy-turvy upbringing myself, and my mom's illness was a big motivator for me to get with the business of growing up quickly, as Dixie's mothers death was for her. I have always looked for parallels in order to connect to a character. When they aren't there, it's hard to play the part, for me. When I'm really up against it, I try to think of someone who has been in the situation and how lonely they might feel, and play the part as well as I can so that they might feel connected in the world. READ MORE
By J Bernard Jones on December 11, 2008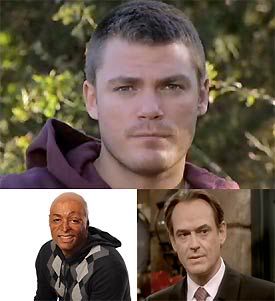 Despite gloom and doom about the state of daytime in almost all of its aspects, fans have been treated to some good soap opera lately.
The Young and the Restless
is the Must See Soap right now.
One Life to Live
has regained it's glory and
Guiding Light
is steadily improving. Some of daytime's best actors are giving some of the performances of their lives. With that in mind, there are three performers new to their respective shows deserving of special mention who I think are doing a bang up job.
JR MARTINEZ (Brot Monroe, All My Children)
Introduced amid a publicity blitz, JR Martinez came aboard AMC with a fascinating, real life backstory: an Iraq War veteran seriously injured and disfigured by explosives, eventually becoming a noted inspirational speaker for and on behalf of veterans coping with their life altering injuries. His addition to AMC's canvas was purposeful and deliberate. The show wanted a real life injured vet to play Brot, former love of newcomer Taylor (Beth Ehlers).
AMC has received much justly deserved praise for casting Martinez, but make no mistake, this was as much a bit of stunt casting as it was groundbreaking decision. READ MORE
By Jamey Giddens on November 26, 2008
This just in
.
All My Children
and
One Life to Live
creator
Agnes Nixon
has confirmed to
Advertising Age
that massive pay cuts have indeeed taken place at one of her two ABC soaps!
"All the actors on 'All My Children' have been reduced [in salary]," said creator Agnes Nixon, who also created the ABC soap "One Life to Live" and is now a paid consultant to the network's daytime division. "Susan Lucci, Michael Knight and Ray McDonald have all been reduced -- substantially. And so have I, as a consultant. The ratings are not the same."
In addition to ratings woes, the article cites the pisspoor state of the American automobile industry, a one-time strong advertiser during soap broadcasts, as reason for the economic hardships facing daytime television.
"The affiliate stations are really hurting because the automobile dealers don't advertise [like they used to]," Ms. Nixon said. "It's a ripple-down effect."



By Jamey Giddens on November 04, 2008
Reliable sources are saying one
All My Children
vet is sticking around, while another has been taken off contract. A while back we reported Pine Valley frontman
Michael E. Knight
(Tad ) was in the middle of contract negotiations. Rest easy Tad fans as it appears Knight has indeed re-signed with the show. Meanwhile
James Mitchell
(Palmer), who sources say has been in poor health for some time, has been allegedly taken off contract.
By J Bernard Jones on October 22, 2008
In disaster cinema there comes a point in the story where, as Heidi Klum would say, one is either in or out. One knows going into the theater or popping a DVD into the player what one is in for the same way one knows more or less what to expect from a slasher pic or a romantic comedy. No matter how the genre's formula is tweaked, it is up to the writers and filmmakers to provide the hooks that will draw you into their specific event or world. What hooks me varies all the time; just as often those same elements may turn me off completely.
The make-or-break moment for me in 1972's The Poseidon Adventure is the sequence when the survivors must climb the Christmas tree to escape the ballroom. In 1964's Fail Safe, the make-or-break moment is encapsulated in the tense conversation between the President of the United States and the Soviet Premier, which must be precisely interpreted. In Deep Impact, the scene is Tea Leoni's first conversation with President Morgan Freeman. There has to be something to make me care or I won't wait for the credits. After learning who lives and dies, the story is over in a movie. READ MORE
By Jamey Giddens on October 22, 2008
Is Pine Valley about to be less one cad?
Rumors across the Internet have
All My Children
veteran
Michael E. Knight
and his wildly popular character Tad Martin possibly on their way out of Pine Valley. Knight's omission from the list of attendees for this year's final Super Soap Weekend (Nov. 15-16 at Disney World) seems to be helping to fan the online flames.
"Michael is in contract negotiations," reveals a source close to the show. "If the negotiations can be resolved in time for Super Soap he will be there." READ MORE