Michael E. Knight
By Jillian Bowe on January 05, 2011
Let the games begin! ABC Daytime and TV Land have decided to team up for a crossover event for All My Children and Hot in Cleveland. On Feb. 16 and 23, AMC's Susan Lucci, Darnell Williams and Michael E. Knight will make guest star apperances on Hot In Cleveland to mix things up with Wendie Malick's character Victoria Chase. READ MORE
By Luke Kerr on August 23, 2010
What if All My Children's Tad (Michael E. Knight) and One Life to Live's Blair (Kassie DePaiva) met on an airplane? It seems they'd break out into song. Watch the latest in ABC's What If series after the jump! READ MORE
By J Bernard Jones on June 02, 2009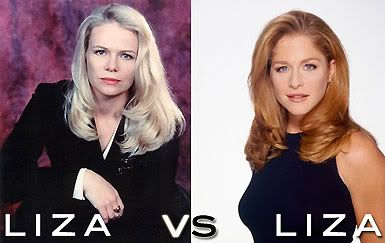 By now, it should be a shock to no one that the near unanimous consensus among most of us who watch All My Children here at Daytime Confidential, the casting of Jamie Luner as Liza Colby Chandler has been a huge bust as of this writing. We know that opinion could change in the future with a knockout performance by Luner, an engaging storyline for the character, or a relationship of any kind that could revitalize Liza and make us see her with new eyes. Unfortunately, none of those three things have happened yet.
The collective criticism of this "new" Liza has centered mostly around the (mis)casting of Ms. Luner, an actress who has her fair share of fans from her days on Melrose Place, Savannah and other shows. On AMC, however, Ms. Luner is delivering the kind of performance that might described as, if I may be permitted to coin a phrase, pseudo-catatonic. Sure, some of the dialogue sounds a little like what Liza might say, but not after three tablespoons of Nyquil.
As a result, at first I was convinced that the problem with Liza was mostly the fault of the actress. That opinion changed with a couple of scenes that aired on Monday's episode that revealed the fundamental reason this character isn't working is because of head writer Chuck Pratt's fundamental misunderstanding about the nature of Liza. READ MORE
By J Bernard Jones on May 20, 2009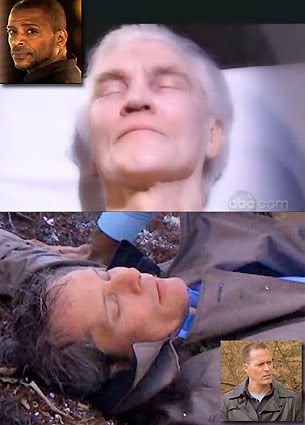 Hot on the heels of my admittedly scathing review of Friday's ultra-campy, Scooby Doo meets The Munsters inspired episode of All My Children which culminated in the murder of Stuart (Not Adam) Chandler, I finally had the opportunity to catch up with Guiding Light, which had its own less heralded "Who Killed Edmund Winslow?" whodunit kick off.
Since I received a little bit of blow back for my harsh (and well-deserved) criticism of AMC, I'd like to take the opportunity to explain why Springfield's simultaneous murder mystery is infinitely superior to Pine Valley's. READ MORE
By J Bernard Jones on May 15, 2009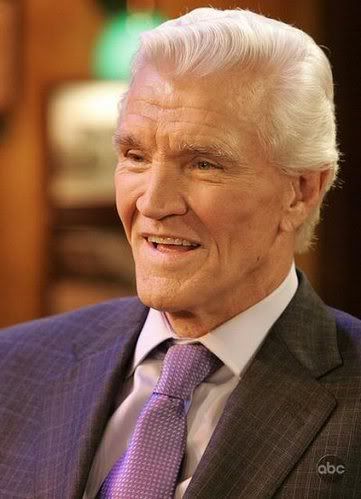 Even if you do not follow literature, you are no doubt aware that the title of this post is a phrase associated with the worst kind of lazy, pedestrian, obvious writing imaginable. "It was a dark and stormy night..." is, to put it bluntly, synonymous with the word "bad."
Bad in and of itself isn't always a bad thing, as there are varying degrees of badness from which to choose. For example, there are things that are "so bad they are good," like The Pussycat Dolls and RuPaul's Drag Race. There are other things that are really bad, like white people dancing to "Push It" and Julie Chen hosting Big Brother. Then you have things that are so atrocious, inspiring more WTF moments than a Samantha Harris post-performance interview on Dancing with the Stars that you question your sanity for sitting through it without clubbing a baby seal.
By "you" I mean "me," and it might not take too much of a stretch of the imagination to guess how I felt about Friday's abominable, lobotomized episode of All My Children that climaxed with the shooting of "a legendary character." READ MORE
By J Bernard Jones on May 11, 2009
Regular Daytime Confidential readers and aficionados may have noticed that this lovely website has added daily recaps of most of the soaps on the air, in addition to Perkie's longtime (and often hilarious) observations about General Hospital. Conspicuously absent from the recaps — at least as of this writing — has been what might be considered the quintessential forerunner of the modern soap opera, All My Children.
Not too long ago, our fearless leader, Luke, asked if I would be able to write a daily recap of the show since I've been watching it; I regrettably informed him that because of a currently unpredictable schedule (hence, why there are long lags between my posts these days) I would be unable to do so. Instead, I suggested that I would divert my recent attentions from Guiding Light to AMC a bit more closely and blog about life in Pine Valley more regularly. Since then I've mightily tried to get a grip on the show, but unfortunately watching All My Children is not unlike walking on pine cones barefoot: it's not the worst feeling in the world, but it is still pretty painful. READ MORE