Melissa Fumero
By Jillian Bowe on January 07, 2010
Get ready One Life to Live fans. The Cramer women are back this February and it's going to be hot! ABC invited the soap press out to the OLTL studio in New York for a special event reintroducing the Cramers. On hand were: Robin Strasser (Dorian), Kassie DePaiva (Blair), Gina Tognoni (Kelly), Kristen Alderson (Starr), Laura Bonarrigo (Cassie), Brittany Underwood (Langston), and last, but certainly not least Melissa "Bitchy Bangs" Fumero (Adriana). Hilarity ensued when yours truly had to set everyone straight on the origins of Bitchy Bangs.
Daytime Confidential: Melissa, your character, Adriana went from a doormat to a love-to-hate bitch, coinciding with a new haircut for you. What did you make of the Bitchy Bangs phenomenon?
Laura Bonarrigo: I have to interject; I don't understand how any character in daytime can be called "Bitchy Bangs!" Can you explain this to me? Was this after me?
Melissa Fumero: It was so hilarious how everything happened at the same time. Basically, my contract was up and I had a little break before I came back as recurring to finish my storyline. I was there until June or whatever. So on the break, I got this feeling and all of a sudden, "I'm not under contract! I'm going to cut my hair. I'm going to cut bangs! I'm not going to ask permission!" So I did! [Laughs] READ MORE
By Jillian Bowe on December 09, 2009
SOAPnet.com is reporting Dan Gauthier will be bringing Kevin Buchanan back to Llanview early next year on One Life To Live. This comes on the heels of the news Daytime Confidential first reported concerning Melissa Fumero (Bitchy Bangs) and Laura Bonarrigo (Cassie) also heading back to the the sudser for limited runs. With Gina Tognoni making her 2010 debut as Kelly around the same time, and Gauthier's return rumored to be a short one, could this be the beginning of the end for Kelly and Kevin?
By Jamey Giddens on December 07, 2009
Laura Bonarrigo
's personal publicist has confirmed to Daytime Confidential that the actress is reprising the role of Cassie Cramer on
One Life to Live
!
"It's official and it's not a rumor this time, " says Michael Ormond. "Laura is coming back and she's thrilled."
Once I heard the news about Bonarrigo, I did a little more digging and guess who else is coming back? You guessed it, Bitchy Bangs herself! Melissa Fumero will be along to help the Cramer women reintroduce Gina Tognoni's Kelly to the canvas.
By Luke Kerr on November 16, 2009
New York soap, primetime and Broadway stars turned out for the Stockings with Care celebrity bartending event at the Stitch Bar & Lounge on November 11. The event, which helps raise money to buy holiday gifts for children whose families cannot afford to celebrate their holiday, brought together stars from All My Children, As the World Turns, One Life to Live and former Guiding Light stars.
See photos of Adam Mayfield, Austin Peck, BethAnn Bonner, Brandon Buddy, Bree Williamson, Brett Claywell, Brian Kerwin, Brittany Allen, Daniel Kennedy, Daphnee Duplaix, David Fumero, Grant Bowler, Jason Tam, Jesse L. Martin, Mandy Bruno, Malcolm Jamal Warner, Mark Lawson, Melissa Claire Egan, Melissa Fumero, Meredith Hagner, Michael Urie, Murray Bartlett, Robert Bogue, Stephanie Gatschet, Terrell Tilford, Terri Colombino, Trent Dawson, Vanessa Williams and more after the jump. READ MORE
By Jamey Giddens on May 09, 2009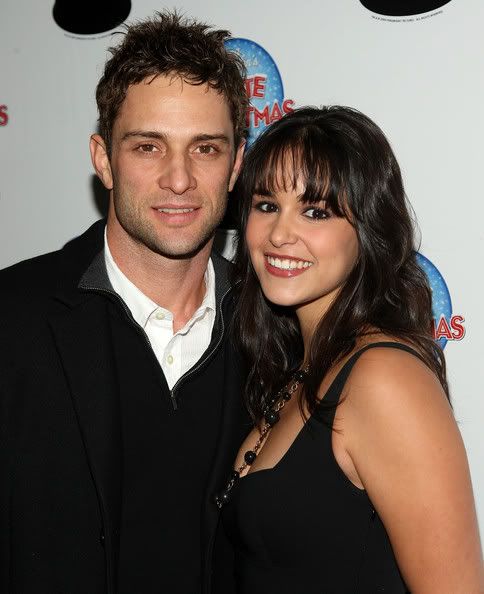 It looks like Daytime Confidential bloggers aren't the only ones who love our Bitchy Bangs. In the latest issue of
OK!
,
One Life to Live
hunk
David Fumero
is featured in the magazine's Man Candy Feature, and has some sweet things to say about his wife, Melissa (ex-Adriana, OLTL).
"We're obsessed with each other." David tells OK! of actress Melissa, whom he met on the daytime drama and married a year ago. "We're so good together it's all natural."
Sigh. Wouldn't it be wonderful if David could whisper sweet nothings in Melissa's ear and convince her to come back and save us—and Rex and Gigi's (John-Paul Lavoisier and Farah Fath) storyline—from the plague that is Stacy (Crystal Hunt)? For more on what David has to say about things like his and Melissa's TV addiction and his desire to live on the edge, check out the latest issue of OK!, and don't forget to pick up your copy of his new soaptastic movie Manhattanites!
By Luke Kerr on March 30, 2009
Melissa Fumero
(ex-Adriana Cramer, One Life to Live) takes a comedic spin on
Important Things with Demetri Martin
as a girl going on a first date with a comic book geek who -unknown to her - is getting a little bit of help from Hoodwinkers, in order to make a good first impression. It's pretty funny. Check it out.
READ MORE