Megan Ward
By J Bernard Jones on May 29, 2009
Dear Ms. Phelps,
I will keep this brief.
In the name of all that is holy, change the frakkin' opening credits to General Hospital!
I don't know which is worse on your part, the fact that it seemingly takes half a decade to add or subtract contract cast members or that ding dang ending shot of all "The Men of GH" — half of which aren't even on the show anymore.
How is that a show like Guiding Light, which you once produced and with 1/84th your GH budget, can manage to keep its opening credits updated to current storylines on a daily basis but GH, having laid out $3 million to upgrade its studio facilities to high definition, somehow can't get it together to find a way to digitially erase Justus Ward (last played by M'fundo Morrison), a character who has been dead since 2006? READ MORE
By Regan Cellura on May 14, 2009
Here's the Scoop! 05.14.09
What's a mom to do when her little man doesn't want to live with her? What should she do when he rather move in with the father who has no paternal rights to him and a step-mother who is responsible for the boy's one year coma? What's a mom to do when the same son rather hang with his evil step-mother over his own mommy? What does Carly always do? She comes up with a plan and her plan is to move in with Sonny and company at Greystone. That can't be good for her marriage.
Claudia is the Queen of botched hits. Sonny's resulted in Michael getting shot, she couldn't find anyone to kill her crazy daddy, got cold feet when she drugged Ric and the latest attempt on Jerry's life was a big old mess. Remember her hired gun Fredo? The one who screwed up the car bomb? Well Claudia should know there is only one hitman in town and he finds Fredo who sings like a canary. READ MORE
By Luke Kerr on May 12, 2009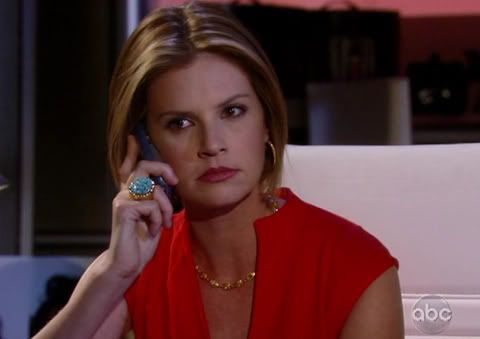 The character of Kate Howard (
Megan Ward
) debuted with so much promise on
General Hospital
. Some fans who loathed the mob - such as myself - finally had a viable love interest for Sonny that made it possible for me to stomach him. That was then. Today it is a crying shame what they have done to the character of Kate. Once strong and independent, now she's a whimpering shadow of the glamorous character she once was. Manipulated into betraying her own magazine and playing second fiddle to her cousin Olivia's storyline. What an unfortunate waste of talent.
By Regan Cellura on April 14, 2009
Here's the Scoop! 04.14.09

Dr. Patrick Drake as Mr. Mom…
When Robin heads out of Port Chuck for treatment, Patrick takes on the role as single father. Who will pitch in to help him? RUMORS say Maxie and Matt MAY be providing assistance. While I love that Matt and Maxie MAY have some more scenes together, especially ones that have them helping out the fam, Maxie is spread all over the place and I think this would be the perfect opportunity to use Mac (John J. York) more. Let Uncle Mac help out, he did raise three girls. Throw a little comic relief into this PPD storyline cause I need something to chuckle at that isn't the ridiculousness of this story. We SHOULD see some brotherly time but SPOILERS have Matt making some roots of his own in PC. Finally! Give Jason Cook something to do! We SHOULD still see Elizabeth helping out, maybe not as much, and mentions of Mercedes.
READ MORE
By Regan Cellura on April 02, 2009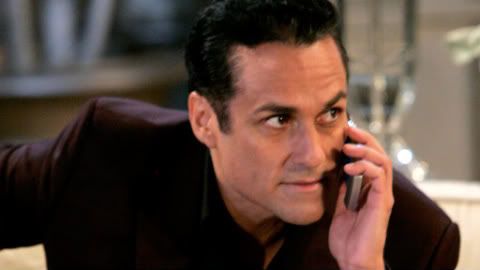 Here's the Scoop! 04.02.09
Claudia may want to get knocked up but does the most fertile man in Port Charles want another child? Michael's shooting has finally got Sonny on the right track… he has enough children. Really, he doesn't want to bring another child into his world after what happened to Michael. Will Claudia succeed in becoming pregnant with yet another Corinthos child? Claudia will try her damndest so cover your eyes kids, lots of ClauSon sex coming.
Carly is not happy that Claudia has been visiting her son. You're not happy now Carly? Wait till you find out she's the reason your kid has a bullet in his head. Carly tells Claudia to stay away from her son and Sonny questions why his wife has been visiting. Claudia comes up with a story that has a little truth to it and that's all Sonny needs to hear.
Does Jerry spill to Carly? The supposed to be dead Jacks brother makes a call to Jax and gets Carly instead. When a couple tries to get their marriage back on track, they're honest with one another, right? Well Jerry assumes that as well and thinks Carly knows what Jerry disclosed to Jax on that DVD. READ MORE
By Jamey Giddens on March 31, 2009
ABC Daytime crown jewel General Hospital is starting to look a little more like Cubic Zirconia these days. Early ratings reports for Monday didn't look good for the soap. Insiders are predicting GH could once again be the least watched ABC soap in total households for the week, which doesn't make the network's top brass very happy.
"More money is spent to produce and promote General Hospital than the other two soap operas combined, yet AMC and OLTL are starting to consistently beat GH is the ratings," says a source. "People are paying attention."
Reportedly, ABC's long-time stepchild One Life to Live is the most "cost-effective" soap opera on ABC's daytime lineup, and currently the only Mouse House sudser operating under budget. Wow,and to think they've managed this without benefit of CGI!
"One Life to Live operating so effeciently it makes up for All My Children's overages," the source continues. "No one knows what the heck is going on with GH. For the amount of money the network shells out on this show, the numbers aren't good." READ MORE