Megan Ward
By Luke Kerr on July 21, 2011
It looks as if a new face will be filling the role of a familiar character on General Hospital. According to Soaps in Depth, Kelly Sullivan has signed with GH to portray Crimson Editor-in-Chief and former Sonny Corinthos (Maurice Benard) lover Kate Howard. GH introduced the character, portrayed by Megan Ward, in 2007.
Unlike many of the various Brendabots GH had tried pairing Sonny with before Kate arrived in Port Charles, the Sonny and Kate pairing hit a chord with fans. Unfortunately, we haven't seen much of Kate since GH put Ward on recurring in 2009. Reportedly, Sullivan's Kate Howard will debut in early fall.
By Luke Kerr on February 04, 2011
We don't see nearly enough Megan Ward's Kate Howard on General Hospital these days, but Ward is keeping busy. The actress has landed a guest spot on CBS' CSI: NY as Annie Cartland, a lawyer and leader of victim's support group. In the episode her character represents a client the CSI team questions as part of a murder investigation. Ward's CSI: NY episode airs Friday, February 18 so set your DVR!
In other news, fans can let their hair down with Ward at her fan event in Chicago at the Crimson Lounge on April 30. The event, from 4 PM to 7 PM, will include raffles, giveaways, appetizers and a cash bar. Tickets cost $95. For more information click here.
By Jillian Bowe on November 09, 2010
ABC Soaps In Depth
is reporting
General Hospital's
Megan Ward
will guest star in an upcoming episode of
CSI: Crime Scene Investigation
. Ward will play Lisa, the widow of a man who is murdered when he and another man were about to blow the whistle on a natural gas company poisioning the residents of a farm town. Ward's episode will air on Thursday at 9 pm EST.
By Perkie on February 23, 2010
Nice, new opening credits. I like that they have the actor's name as well as the character's name. I was surprised to see
Jason Cook
(Matt), since we so rarely see him. I was also surprised to see that
Haley Pullos
(Molly),
Aaron Refvem
(Morgan) and
Megan Ward
(Kate) were not in the opening.
Why does everyone think Dante will suddenly turn into Sonny, Junior? Tracy's logic was that Ethan is exactly like Luke, despite not being raised by him, but Ethan was like that before he showed up in town. He didn't suddenly turn into a Luke-clone the minute he met his father. Just because Dante now knows who his father is doesn't mean he'll stop being the decent, law abiding citizen that he's always been and turn into a misogynistic Neanderthal douchebag! READ MORE
By Regan Cellura on October 02, 2009
Here's the Scoop! 10.02.09
I dropped a few comments on things this AM. One being that Rachel Ames aka Audrey Webber is set to come out of retirement to help her granddaughter Elizabeth out of jam. Is the jam Helena created? Was that the big return? No, Audrey has been living off camera ever since Ames retired. It's been RUMORED a few times that Audrey would be popping back into PC with some fans even campaigning for the character's death. A little morbid IMO to campaign for a longtime character's death but hey to each their own. An Audrey appearance, Jonathan Jackson's return and an affair with her ex's brother… looks like Elizabeth Webber is off the backburner. Thankfully she wasn't there too long. I know, I know, my fan affiliation is showing but then again, I've never tried to hide it. READ MORE
By Regan Cellura on July 01, 2009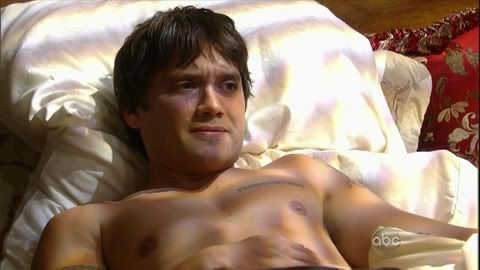 Here's the Scoop! 07.01.09
Dominic/Dante… What's in a name anyways? Apparently Dante wanted to protect his mother from his line of work and decided to change his name to Dominic. Protecting the innocent huh Dante? Well Olivia isn't so innocent. She's been keeping secrets from everyone about who Dante's daddy is. How long will we have to wait this reveal out? Not sure but don't expect for it to be out in the open just yet.
Claudia's role in Dante's story… Dominic wants Claudia to smooth things over with Sonny and get him on the inside. Will Sonny just give the man who held a gun on his boys and Carly a job? Really, what's going to stop Sonny from killing Dominic on the spot? Obviously something does and it doesn't appear to be the reveal that he's actually Sonny's son.
Kudos to Maurice Benard and Steve Burton… those scenes yesterday were the Sonny and Jason of old. So many emotions coming off them in waves. Is this a rare glimpse or a sign of what's to come? READ MORE