Maurice Benard
By Jamey Giddens on September 03, 2010
Our last hopes at reigniting the "Supercouple" as a phenomenon are finally back in one another's orbits. That's right
General Hospital
fans, Sonny and Brenda (
Maurice Benard
and
Vanessa Marcil Giovinazzo
) are together at last, and
ABC Soaps in Depth
has their sexyliciousness oozing all over their latest cover!
Let's hope this reunion finally gives GH and its ratings the boost we've all been so desperately waiting for. Check out a teaser blurb from this week's Soaps in Depth after the jump: READ MORE
By Jamey Giddens on September 02, 2010
It seems
General Hospita
l head writer
Bob Guza
must think fans doth protest too much concerning their expressed desire to be rid of the mob in Port Chuck. In the latest issue of
ABC Soaps in Depth
, Guza vehemently defends GH's mob storylines, which he maintains viewers don't really want to see end. Here's what Guza had to say about the possibility of Sonny (
Maurice Benard
) and Jason (
Steve Burton
) leaving their mobtacular ways behind them:
"I don't think people want to see that. By putting them in these situations, we have the highest stakes possible of life and death. They have to make incredibly-difficult moral choices all the time. What I will defend to my last breath is that we do not glorify it! the head writer continues. "Sonny is the most haunted character on the show. Jason is turning into one of them. If they just merely shot people and weren't haunted by it, then yes, I think we would be open to the criticism. But they're not. It is never taken lightly. I guarantee you that." READ MORE
By J Bernard Jones on August 25, 2010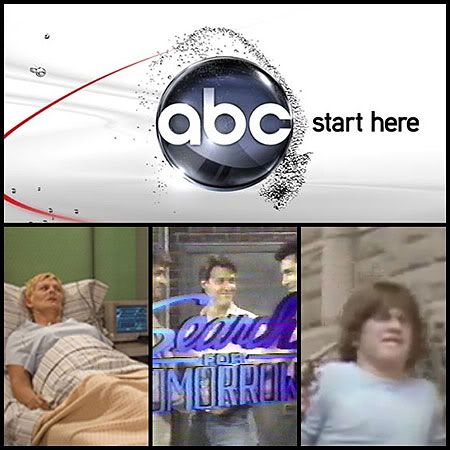 Watching the ABC daytime lineup lately has been a little déjà vu for this old time soap viewer. Perhaps "copying" is too strong a term. Maybe "homage" would be a better word or, perhaps, "sticky fingers." On the other hand, the stories in question here are different from either classic soap opera tropes (boy/girl-meets-hates-falls-in-love-with-girl/boy stuff) or classic soap cliches (supervillain-returns-from-the-dead-with-an-evil-twin shenanigans) because of their very specificity.
All three of the ABC's daytime dramas currently are airing stories or arcs that have been a little too close to the mark of several cancelled Proctor & Gamble shows, begging the question "Does Brian Frons really admire those old, now defunct serials as much as he loves pilfering CBS soap stars?" Let us count the ways: READ MORE
By Jamey Giddens on August 06, 2010
Oceans apart, day after day and I slowly go insane...
"Right Here Waiting" by Richard Marx.
Over the years we've poked fun at our pals at ABC Soaps In Depth for all their Brenda Barrett covers, but in this week's issue, it ain't smoke and mirrors— Vanessa Marcil Giovinazzo truly IS back and she's got Maurice Benard (Sonny) on the cover with her!
That sound you hear is BrenSon fans racing to their nearest Wal-Mart, Krogers or Piggly Wiggly (Are they still in business back home?) to buy a copy of this red-hot issue of the zine, but before y'all get out the door, check out the teaser blurb below! READ MORE
By Daniel Pearce on August 03, 2010
General Hospital has released the extended "Brenda is Back" promo, featuring Jax, "the fiancé that broke her heart" (Ingo Rademacher), Jason, "the husband she never loved" (Steve Burton), and Sonny "the man she could never resist" (Maurice Benard). But what's her secret? Either way, I'm pretty sure that Brenda (Vanessa Marcil Giovanazzo) is going to burn all of our television screens up. Watch after the jump. READ MORE
By Luke Kerr on July 12, 2010
As I was watching ABC's new What If webisodes I couldn't help but notice that Sonny (Maurice Benard) and Erica's (Susan Lucci) elevator was stuck on the first floor and never actually moved during the entire episode, even though that's what we were led to believe.
You'll notice Sonny enters the elevator on the first floor and stops it himself before trying to grope Erica. After she pushes him away he restarts the elevator, but it becomes stuck, kicking off Sonny's claustrophobia. Unfortunately, according to the elevator's floor indicator the elevator never actually moved and everything that took place was while they were still stuck on the main level of the building. Why then did it take over an hour for them to be rescued? It can't possibly be that hard to find a crowbar or have Jason rush to Sonny's rescue by pulling the doors apart himself.
Rewatch the clip after the jump!