Maura West
By Mark on September 09, 2010
After 54 seasons and one unforgettable journey As the World Turns comes to an end. Watch the series finale promo after the jump.
By J Bernard Jones on September 07, 2010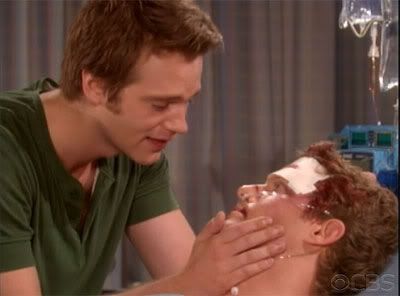 Before I get to today's stunning episode of As the World Turns, in which Dr. Reid Oliver dies and donates his heart to his professional nemesis/colleague Dr. Chris Hughes, I have a few thoughts about not only the serial's final days on the air, but also —in a broader sense—fan perceptions about what a soap's last days should be like, themes that will be carried forward as we look toward ATWT's final hours.
First, with less than two weeks to go before its final fade to black, ATWT is ending its 54 year history in perhaps better dramatic shape than almost any serial since the cancellation of NBC's Texas in 1982, a specific observation I will expand upon in a few days. Of course, there is lots to gripe and nitpick about the woulda-coulda-shoulda's of how the show might have wrapped things up. Many of those ideas are quite good and some are downright ludicrous, but in the final turn of events, all of that stuff is moot. The last scenes were shot, the sets have been struck, and the actors all went along different paths weeks ago. READ MORE
By Luke Kerr on September 06, 2010
This Week in Daytime,
I teared up at As the World Turns' tribute to Nancy Hughes (Helen Wagner). The episode contained so many wonderful flashbacks. I was in the midst of patting myself on the back for not letting it get to me when they began Nancy's Thanksgiving prayer and I knew I was a goner. Of course, that touching scene was immediately followed by Katie's (Terri Colombino) flashbacks of Nancy. I know each ATWT fan has their own fond memories, but there are three reasons I fell in love with ATWT and Oakdale. 1) I discovered ATWT because it was where my beloved Another World characters ended up. 2) I couldn't get enough of Jack (Michael Park) and Carly's (Maura West) on again/off again relationship 3). Katie and Simon's (Paul Leyden) romance–nurtured by Nancy–hooked me. Share your favorite Nancy Hughes moments in the comments. We miss you Helen Wagner.
By Nekeeta Borden on August 30, 2010
It is with heavy heart that I pen this review for my beloved
As the World Turns
. I still remember that autumn day nearly six years ago, when my college roommate regaled me with tales of CarJack's (
Maura West
and
Michael Park
) magnetic pull despite Jack's amnesia, and Jennifer and Gwen's (
Jennifer Ferrin
and
Jennifer Landon
) heart-wrenching saga over baby Johnny, and I've been hopelessly hooked ever since. As time winds downs, the loose ends of Oakdale's patchwork are being sutured together, some to my delight and others to my annoyed chagrin. Just like your favorite drunken cousin at Uncle Pookie's home going, I'm going to tell it like it is, grief and tender feelings be damned!
READ MORE
By Mark on August 13, 2010
Next week, Noah (Jake Silbermann) sees Reid (Eric Sheffer Stevens) with another man (Chris, Daniel Cosgrove) and tells Luke (Van Hansis). Blackthorn (Billy Warlock) discovers a microphone bug on Carly (Maura West) and Dusty (Grayson McCouch) is pushed into a van. Watch the As the World Turns promo after the jump.
READ MORE
By Jillian Bowe on August 05, 2010

TV Guide's Michael Logan is reporting As The World Turns star Maura West has landed a role on The Young and the Restless. West will play vixen Diane Jenkins and heads to Genoa City on October 8. That sound you hear is Daytime Confidential's Luke Kerr screaming like a hyena.