Maura West
By Luke Kerr on October 12, 2010
Ahhh, the soap world is as it should be, Maura West is back on my TV screen! What are your First Impressions of West's debut as The Young and the Restless' Diane Jenkins?
By Mark on September 19, 2010
As the World Turns has released a video with deleted scenes from the show's final episode. You can watch it after the jump. READ MORE
By J Bernard Jones on September 16, 2010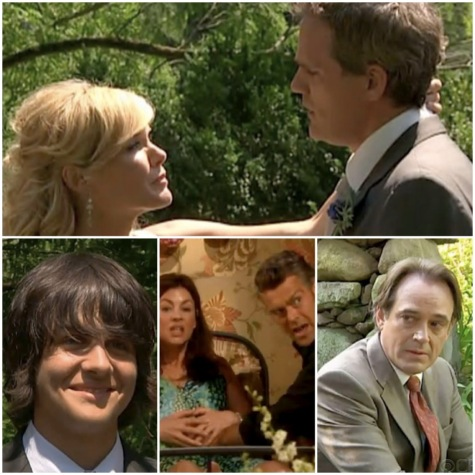 Several days ago, I posted an entry about the fallout from the death of Dr. Reid Oliver (Eric Sheffer Stevens) on As The World Turns. There were three central ideas in that piece. First, despite the very legitimate complaints that any given fan might have, ATWT is providing great human drama here at the end of its run. Second, Reid's tragic passing and donation of his heart to Chris (Daniel Cosgrove) encapsulated that goal mainly by thrusting the Hughes'— the show's core family since its very debut— front and center toward its conclusion. Third, given the soap opera wrapped production months ago, the idea of kicking a dead horse with unrelenting criticism isn't going to make it win the Kentucky Derby.
I have not budged one iota from any of those positions and I am about to incur the wrath of a whole lot more of you by making what I know will be a very controversial statement to many: I believe that in these final days, executive producer Christopher Goutman has made mostly the right decisions.
By Jillian Bowe on September 14, 2010
As The World Turns veteran Maura West spoke with TV Guide's Michael Logan about obtaining the role of Diane Jenkins on The Young and the Restless.
TV Guide Magazine: Let's backtrack. When were you actually offered the Y&R role? There were rumors about you going there long before it was announced.

West: I was hearing those same rumors before I'd ever spoken to anyone at Y&R. I hadn't even spoken to my agent about doing another daytime show. I wasn't sure what I wanted to do. I kind of liked the idea of having a little bit of freedom and maybe not going to another soap right away. But even friends were calling and saying, "So...Y&R, huh?" And it was all supposition! I think it became like a game of Telephone where somebody mentioned it because they thought it was a good idea and pretty soon people were repeating it as fact. But you know what? Those rumors gave me a great idea. Why not Y&R? I certainly liked the idea of staying at CBS. From my understanding, it was my agent who actually called them. They weren't running around looking for me.
West also gives a little tidbit on what's to come when Diane returns to Genoa City.
By Mark on September 10, 2010
On the last week of As the World Turns Noah (Jake Silbermann) tells Luke (Van Hansis) that he'll wait for him, Kim (Kathryn Hays) supports her husband Bob (Don Hastings) when he retires as chief of staff, Carly (Maura West) and Jack (Michael Park) get married and Dusty (Grayson McCouch) is there for Janet (Julie Pinson) when she's about to give birth to her baby. Watch the promo after the jump. READ MORE
By Mark on September 09, 2010
After 54 seasons and one unforgettable journey As the World Turns comes to an end. Watch the series finale promo after the jump.