Matthew Borlenghi
By Jamey Giddens on October 24, 2011

Matt Borlenghi must have grown tired of waiting around for General Hospital to bring Valentin Cassadine to town. The enterprising actor, who was supposed to help reignite the classic Cassadine dynasty's presence in Port Charles a few years back—prior to the soap getting stuck on the James Franco Cray Cray Merry-go-Round of Stupid—has moved on to producing!
READ MORE
By Regan Cellura on February 16, 2010
Here's the Scoop!
So much for that stand alone Valentine's Day episode… the interruption however was worth it just for the Diane scenes alone! Hysterical! Kudos to Carolyn Hennesy but should we the fans be a little worried? Ms. Hennesy took to her Twitter today and gave this tweet,
Okay...BIG auditions today. Say prayers...all of you. Por favor! Now, go and be brilliant your own bad selves.
In other Carolyn Hennesy news did you know her hubby landed a guest stint in Port Chuck? SPOILER has it Donald Agnelli plays a biker at Jake's.
How about more on Alexis and Diane teaming up? Alexis and Diane team up to defend Sonny! Diane tells her BFF you can join me at the defense table as my co-counsel as long as you join my practice. According to RUMORS, Alexis accepts and the pair hires Sam as their official private investigator on the case. Will Diane get Sonny to plead not guilty? Yep! READ MORE
By Luke Kerr on January 14, 2010
Upcoming Port Charles resident Matthew Borlenghi and wife Heather recently welcomed the birth of twin sons Pearson and Daltan. The actor, who will be portraying General Hospital's Valentin Cassadine, posed exclusively for photographer Steven Bergman with his adorable sons.
By Luke Kerr on January 08, 2010
TV Guide Canada's Nelson Branco spoke with Matt Borlenghi about the birth of his twin sons and his upcoming role on General Hospital as Valentin Cassadine.
Incoming future GH superstar Matt Borlenghi and his wife welcomed his twin sons, Pearson Woods and Daltan Roberto, on Jan. 5. Congrats, dude! The former AMC stud tells Suds, "They were Caesarian born." As for sleep, the Gemini says, "Not right now. I think I'll finally be able to sleep right around the time I start taping GH." Speaking of which, Borlenghi is dying to finally adorn Valentin Cassadine's skin (his entry into Port Charles society was delayed because of James Franco and Jonathan Jackson's appointments). "Playing a spiritually bankrupt man like Valentin, I'll have to draw from the complete opposite end of the emotional spectrum I'm experiencing right now with these boys, and their amazing sister, Garland, at home, who's four now. I used to be a bad boy like Valentin in my past, but I forgave myself and evolved as a human being." Hey, GH — Valentin better debut before Valentine's Day. I have a feeling Borlenghi is going to kill it, Stephen Nichols-style!
By Luke Kerr on January 07, 2010
Daytime vet Matt Borlenghi and wife Heather welcomed the birth of twin boys on Jan. 5, according to ABC Soaps in Depth. Reportedly sons Pearson and Daltan weighed in at 7 lbs., 3 oz. and 5 lbs., 3 oz. respectively. Congratulations to the couple!
By Jamey Giddens on December 03, 2008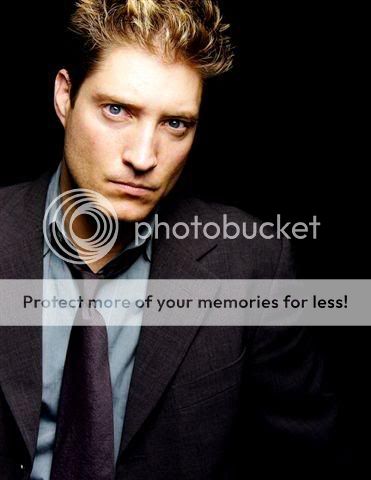 General Hospital and

The

Bold and Beautiful alum Sean Kanan is thinking a lot about sex these days. He has to, it's part of his job description. Kanan is starring in It's Just Sex, a daring, comedic exploration about what can happen when three couples decide to switch partners. The play runs through Dec. 28 at the Two Roads Theatre in Studio City, Ca.

Daytime Confidential recently caught up with Kanan about his role in It's Just Sex, as well as his new movie Jack Rio, and his time in Port Charles as Quartermaine bad seed A.J. We also reminisce about his memorable stint as Deacon Sharpe, the man who notoriously deflowered a young Bridget Forrester (then-Jennifer Finnigan) while he had her father Eric (John McCook) muted on speaker phone, and later sired baby Hope with Bridget's own mother, the sexsational Brooke Logan (Katherine Kelly Lang).

READ MORE