Martha Madison
By Jamey Giddens on March 13, 2008
Exiting Days of Our Lives heartthrob Brandon Beener (soon-to-be ex-Shawn) blogged about his and Martha Madison (soon-to-be ex-Belle)'s last day on the set on his official website and although I have to admit I have never been much of a fan of this incarnation of Shelle (couldn't get over Jason Cook and Kirsten Storms in the roles), I have to say I am sad to see them go, especially Beemer. He has really risen to the occasion during the aftermath of Grandpa Shawn (Frank Parker)'s traumatic death and Bo (Peter Reckell)'s medical crisis. Beemer's Shawn has been a steady rock for his mom Hope (Kristian Alfonso) and Grandma Caroline (Peggy McKay) and has even made me able to stomach his bratty, self-centered half sister Chelsea (Rachel Melvin). Here's hoping another soap snatches him up pronto! Personally I think he would make a GREAT Thomas Forrester on Bold and the Beautiful. Just "putting it out there in the universe" as Lisa Rinna used to say on Soap Talk!
Here's Beemer's goodbye blog in its entireity:
So... a lot of people have been asking me how it went down on our last day.. so here it is. Our last day was not a fun one. We had an afternoon call time so I had a lot of time to think before I went in. I wasn't really sure what to expect.
I got to work and I have to say that I found myself really appreciating more than ever the time I got to spend with everyone, walking the halls, sitting on set, sitting quietly in my dressing room, etc. It was very strange how aware of everything I was that day... knowing that this was my last day I will be doing this. I said my good byes to those that had to leave early and packed up everything in my dressing room before we started to tape our last scenes.
We had about five scenes to shoot at the end of the day... they went by really quickly and before I knew it we were on our last scene. It was hard...all the time that it took to shoot it seemed so great because it allowed us more time to stay on set and do what we love so much. Then it was done. Everyone gathered around as there was great applause and I stood there wishing I could run away from this moment and then come back to find that it never happened... but I figured that it probably wouldn't go down that way.
A cake and three presents were wheeled out on stage. Then they played a pre-recorded speech that Martha had done to thank everyone that she wanted to thank. She thanked everyone...it was very sweet. Then it was my turn..I thought it would be a piece of cake but I have to tell you that it was not easy. I said what I had to say or shall I say what I COULD say. When emotions start to overcome you, it's almost impossible to speak. Ed Scott gave a very nice farewell speech to us.. that man has got to be the coolest man ever!! Then we said our goodbyes, took our pictures and that was the End of our run on Days of our Lives. (Sounds soooo dramatic huh?!! Lol)
I am so thankful for every memory that I have and all the amazing people I met because of that show. The last year and eight months have been the best of my life. I will cherish everything that I have experienced. And I thank you all that have been so supportive during my run on the show and through this crazy last 8 weeks. I will never forget what you have done.
Sincerely,
Brandon

By Kelly on February 10, 2008
I hope ya'll got some answers because let me tell you! Have I got some questions!!!
When did Epcot Ireland become 1982 Slums of Dublin Ireland?
When did Grandpa Shawn become a simpleton? He reminds me of Lennie from Of Mice And Men….
Why is John tasting his own tear?
Why are Phillip and Chloe in Ireland?
Why is this Chloe's only expression? Isn't she a little young for the botox?
Why are Sami and EJ still in vacation in the nearby and oh-so-safe mountains of Salem?
Why isn't EJ a real person so he can do this and be the father of my children?
Why does Belle look like Chloe accused her of farting?

Why did I crack up laughing at Colleen and Santo meeting again in the afterlife?
Why is everyone so upset about Colleen dying? They only knew her for 12 hours and she stole Claire.
Why are they touching the ashes with their bare hands? That doesn't look safe.
How does one get cremated overnight and have their ashes delivered the next day? Does Epcot Ireland have special services we don't have anywhere else in the world?

Who decided a surprise party in a park in subzero weather would be a good idea?

Why is this the funniest screencap ever?
Why does Kayla have the best hair ever in the history of Salem??
And finally, why can't I stop watching this video I found on you tube???

(Thanks to ChitChatHaven and Days of our Lives 2 for the screencaps!)
By Luke Kerr on February 04, 2008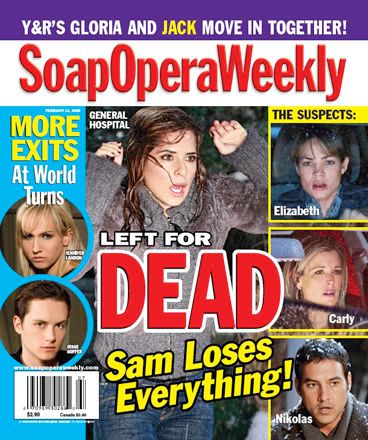 Well its time to take a look at this week's magazine covers. I'll probably end up regretting saying this but the moment I saw the cover of Soap Opera Weekly I inadvertently started humming "Grandma got ran over by a reindeer" except it was more along the lines of "Sam got ran over by 4x4". I know, I know, such fantasies are futile but I'm just being honest.
Moving on to more somber topics. 2007 may not have been Jesse Soffer or Jennifer Landon's most stellar year in terms of storylines but they will be missed if they do leave As the World Turns.
Of course I can just imagine how many emergency rooms filled up when Young and Restless fans had coronaries from the thought of Gloria moving back into the Abbot mansion. Let's hope that they and she has medical insurance because for some reason I have a feeling she's going to be in for a bumpy ride (no puns intended) living with Jack.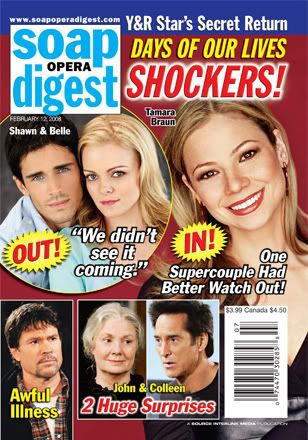 Soap Opera Digest may quite possibly have the understatement of the year on their cover in the form of the quote from Martha Madison and Brandon Beemer. "We didn't see it coming." No shitaki mushrooms Sherlock. No one saw that coming. In fact I'm not sure that anyone could have predicted last November when Martha Madison put in her best work to date that she'd be fired the following January. Days of Our Lives is getting an ugly reputation for renewing actor contracts and then firing those same actors a short time later.
So what is everyone thinking of Shirley Jones so far? Personally, I'm impressed but John's fingering the knife in every other scene is a bit much if you ask me.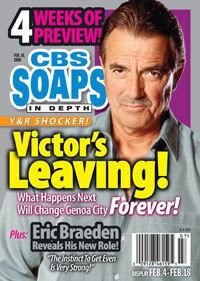 "Victor's Leaving!" Sure he is. Probably because Eric Braden is going on vacation or has a side role in the works. Not really so shocking when you think of it that way is it? Personally, I'd be more interested to see a cover with Jeane Cooper on it to help clear up these rumors about whether or not Katherine Chancellor is going to be killed off we're hearing. Now that would be a headline.
By Luke Kerr on January 25, 2008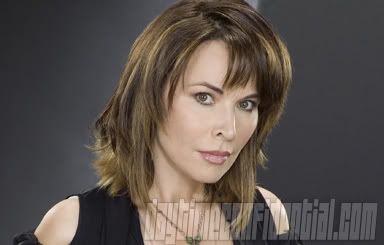 BREAKING NEWS!
Days of Our Lives
veteran Lauren Koslow's contract status has been brought into question amid online reports that she has been let go. Reportedly
SNS
broke the news in their forums.
If true this follows in the wake of the firings of Martha Madison and Brandon Beemer. This amidst the recent hiring of Tamara Braun, the reported talks between Days of Our Lives and other former General Hospital including Jason Gerhardt, and the rumors that Days of Our Lives is trying to entice Kirsten Storms to return as Belle Black and the rumor of Lindze Letherman being courted as Mimi.
For me the possibility of Koslow's Kate Roberts no longer being on Days of Our Lives is hard to image as she has played Sami arch nemesis for over a decade and is one of my favorite characters.
I have to ask this question but don't consider it a spoiler because it is not.
Considering Days of Our Lives renewal is question with NBC and considering all the major firings and the consequent hiring and rumored hirings of former General Hospital stars is it possible that Corday may have cut some sort of deal with Frons if NBC doesn't renew Days of Our Lives?
In my opinion only two things explain what is going on at Days of Our Lives these days 1) Corday is slashing the cast to make it affordable for NBC to renew or 2) Corday has cut a deal with Frons as I mentioned above.
By Brooke on January 22, 2008
Wow, what a week it's been for offscreen drama on Days of Our Lives. The news about Tamara Braun joining Days, then the breaking news of Martha Madison (Belle) and Brandon Beemer (Shawn) being fired. Is anyone safe in Salem? Rumblings around the net are that no, noone is and watch out for more firings… seems it's going to get worse before it gets better. Plus, I've heard we should expect some sort of announcement on the future of Days, sometime in Feb/March.
So is it worth continuing to watch the show? Decide for yourself – this is what you can expect to see this week (apologies, yet again I have missed Monday's show so I will comment from Tuesday on):
EJ/Sami – go into hiding with the twins; Lucas aint too happy hear about this, but there isn't too much he can do about it from behind bars… or so you would think! Maybe having Stefano as a cellmate wont be so bad after all? Especially a Stefano who may have his own reasons for finding EJ and Sami… and little Giovanni. Is Lucas about to make a deal with the devil?
Marlena/John – after John got free on Monday's episode, Marlena still refuses to give up on him (frankly I'd be disappointed if she had so soon). She and Dr Carrington give John truth serum to find out exactly what Stefano and Dr Rolf did to him in the DiMansion Dungeons – unlike for everyone else, the serum doesn't work (what modifications did Dr Rolf make to John so that truth serum doesn't work??); the mention of Stefano's name apparently has John going mental. Instead, they give him a psychiatric test, learning what seems obvious to me, that John is without emotions (a real DiMera soldier if you like). I'm just hoping what I'm reading as a spoiler is true for this next part… Marlena goes to confront Stefano, armed with more truth serum! Brooke pleads… please please please let scary Marlena stay!
Shawn/Chloe, Philip/Belle – are going to team up to investigate Claire's kidnapping. They research Rob's tattoo and end up finding him in Crystal's store. Shawn the rookie cop demands his daughter back… Belle's still recovering in hospital, with Philip there to comfort her. She wants to join the hunt for Claire of course, but is not allowed.
Sorority (and Billie) – More disagreement over whether to tell the truth about Ford's death; Stephanie confesses her rape to the sisters in an effort to convince them to stay quiet, Chelsea has a normal teenage emotion/experience when she can't convince the gals to talk and wonders if Nick will dump her because of her continued secret keeping. Billie's job is threatened by the Dean if he finds out she had any knowledge of the girls' involvement in Ford's disappearance, prompting Billie to continue to work on Nick to spill his guts, appealing to his goody goody nature and his love for Chelsea. Meanwhile, Chelsea ends up cracking under the pressure and tells Crawford Decker his son is dead. Oops. Bo gets in on the action, meeting with a Dectective to discuss the case and Stephanie finally admits the truth about the rape to Steve.
Aaaand speaking of Steve, he and Kayla are still pursuing this baby making business – I'm sorry, but the only thing making me watch this s/l is how amusing I find Patch.
Next Week:
Holy moly! Next week looks freakin' awesome…
• Return of the lost DiMera's – Lexie (Renee Jones), Tony (Thaao Penghlis) and Anna (Leann Hunley)!
• Adrienne (Judi Evans) says her goodbyes
• John and Marlena start off the Ireland adventure
• Colleen (Shirley Jones) reveals she faked her death
• Max comes forward with Ford's body (ewwwwwwwww)

In Other News:

First date onscreen: Tamara Braun – her character 'Ava' (another soap character named Ava? Is there no originality left in soapland?), will be seen from February 8th

NBC Text Message Spoiler: Hope to rejoin the Salem PD? She's certainly been getting into everybody's business lately
By Luke Kerr on January 20, 2008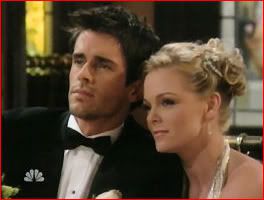 BREAKING NEWS!!!!
Less than 20 minutes ago
Soap Opera Network
broke the word that Martha Madison and Brandon Beemer have been fired by
Days of Our Lives
! This is huge news for
Days of Our Lives
fans as both are from core families.
The question I'm sure many Days of Our Lives will ask is whether or not these firings are the result of recent hires or is it a drastic cost savings measures to try and save Days of Our Lives from cancellation or is this an attempt to get Days of Our Lives canceled?