Martha Madison
By Jamey Giddens on February 12, 2009
We've been hearing rumblings for weeks now that former
Days of Our Lives
starlet
Martha Madison
(ex-Belle) was headed for
Guiding Light
. First we heard the show was interested in Madison for the role of Marah Shayne Lewis. Then came talk that it's actually Michelle Bauer Santos, whom Madison could be re-creating.
"Not true," says a
Guiding Light
rep, concerning Madison inhabiting Marah's designer pumps. " Also, we've just begun casting the role of Michelle."
Too bad. I could totally see the blonde beauty as Reva's fiery daughter. Madison came alive during Belle's Post Partum Depression storyline when she was allowed to abandon the character's saccharine-sweetness and be all nasty and bitchtastic to Meems (Farah Fath). She was also amazing opposite Jay Kenneth Johnson (Philip) when Belle was later caught up in an illicit affair with her true love's best friend.
Can you imagine a bitter Marah returning to Springfield hellbent on destroying her mother's marriage to her former love Jeffrey? What if she teamed up with Edmund to do it? What if Marah hated Dinah, the new woman in her little brother Shayne's life, and set out to come between them, perhaps by trying to manipulate a reunion between Shayne and Marina? READ MORE
By Jamey Giddens on May 29, 2008
Wanna see your favorite past and present Salemites sweat it out on the B-Ball court for a worthy cause? Here's your chance.
Our pal Brandon Beemer (ex-Shawn, Days/Owen, The Bold and the Beautiful) sent out a bulletin to his My Space friends confirming his appearance at the James Reynolds 19th Annual Days of Our Lives Celebrity Basketball Game held at 7:30 pm, tomorrow, May 30, 2008 at South Pasadena High School's Main Gym at 1401 Diamond Avenue in South Pasadena, CA . The event is to benefit the South Pasadena High School Boys Basketball Program.
Playing this year will be: Bryan Dattilo (Lucas), Kyle Brandt (ex-Philip Kiriakis), Mary Beth Evans (Kayla), Alison Sweeney (Sami), Kyle Lowder (ex-Brady), Arianne Zucker (Nicole), Martha Madison (ex-Belle), Rachel Melvin (Chelsea), Shelley Henning (Stephanie), Rashann Orange (ex-TEK), Jay Kenneth Johnson (Philip), Patrika Darbo (ex-Nancy), Stephen Nichols (Steve), Blake Berris (Nick), James Reynolds (Abe), Nadia Bjorlin (Chloe) and Brandon Beemer (ex-Shawn).
Beemer encourages fans to get their early. Doors will open at 7 pm. There will be a raffle and a silent auction. General Admission tickets are $15 for all attendees. VIP tickets are $165. They include backstage access at the game, a team jersey, a photo with the teams, a gift basket and special seating. Only 40 VIP tickets will be sold.

For more information, call 323-993-3376 or email DaysGame2008@gmail.com
By Jamey Giddens on April 22, 2008
Okay, let me first say that there is no, I repeat NO concrete talk of the fabulous Kim Zimmer leaving her legendary role as Reva Shayne on Guiding Light, but you'd have to have been living under a rock this week in Soapland not to know that Ms. Kim is a bit, shall we say cross, about the way things are going with her character at GL. So of course, you know me, my mind couldn't help but wonder where else the multiple-Emmy winner might end up should she decide to leave broadcasting's longest-running program.
Kim to Young and the Restless as Dr. Casey Reed

I was chatting with one of Daytime Confidential's faithful visitors in the comments section of the post regarding Zimmer's current state of unhappiness about how great it would be to see Zimmer go head on with Eric Braeden's Victor Newman on Young and the Restless (Feel free to remind me who you are as that post is now enormous and I couldn't sift through the comments quick enough! LOL). So following in that vein, should Zimmer opt not to re-sign with GL, I propose she join the Bell sudser as a recast of Nikki's doctor sis Casey. READ MORE
By Daytime Confidential on April 07, 2008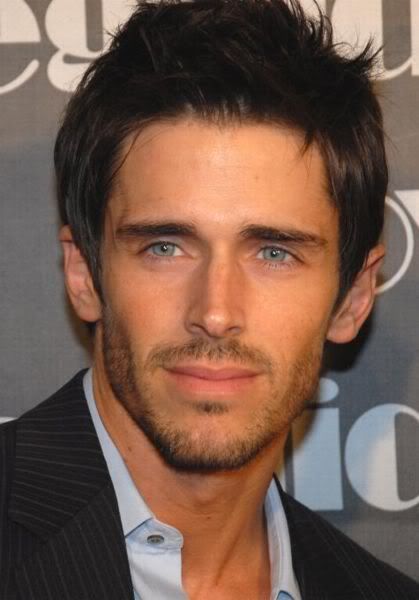 On today's special edition of Daytime Confidential Luke and Jay visit with Brandon Beemer about his role as Shawn Brady on Days of Our Lives.
We talk about what it was like, as his first major soap role, to portray the son of soap royalty Bo and Hope Brady and work with Kristian Alfonso and Peter Reckell. He talks about Days of Our Live's big plane crash and what it was like for Shawn and Belle to spend so much time on the run.
He shares with us how he and Martha Madison found out that Shawn and Belle were being written off the canvas and who he would have liked to have more scenes with had he had the time.
We ask him about the online rumors that he may end up at One Life to Live or Bold and Beautiful and what other projects he may have in the works. He talks about Samantha's Friends, a wonderful charity that seeks to help youth, challenged by catastrophic illness, gain independence with the assistance of a service canine.
Be sure to visit drop by Brandon Beemer's Official MySpace profile and leave him a comment and keep up on his latest appearances. READ MORE
By Daytime Confidential on March 26, 2008
TV Guide Canada's Nelson Branco joins Luke and Jay for an in-depth discussion of the soap industry, his column's The Suds Report & Nelson Ratings, all the latest soap gossip, his interviews with Michelle Stafford and Katherine Kelly Lang, his Emmy prediction, how the industry could reinvent itself with additional programming and much more including...
His belief that fans watch for the "little moments" and that soaps have been dumbed down. What is going on with the Proctor and Gamble soaps, including Guiding Light's use of its couples, the "Nuke" controversy and letting go of Martha Byrne.
Branco predicts that Victoria Rowell will return to the Young and Restless by April or May and discuss the rumors of Jeanie Cooper leaving the venerable soap.
We learn why there isn't more diversity on the Bold and Beautiful, which character was supposed to have been gay, and who might soon appear as a recast Thomas Forrester. READ MORE
By Daytime Confidential on March 25, 2008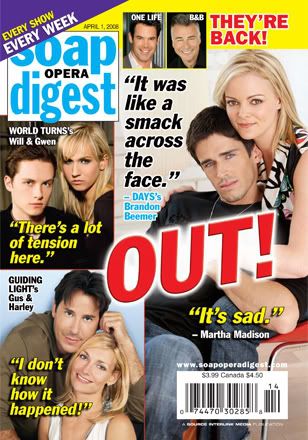 This might as well be the "So long, farewell, auf Wiedersehen, Goodbye!" edition of Soap Opera Digest. Granted they do have Tuc Watkins return on the cover but look at who has the major page space Brandon Beemer, Martha Madison, Jesse Soffer, Jennifer Landon, Ricky Paull Golden and Beth Ehlers. Ouch. Let's hope that next week's cover isn't so darn depressing.