Martha Madison
By Jamey Giddens on September 27, 2010
The Bay returns this Wed., Sept. 29 at 3 pm EST, with not one, but two soapgasmic webisodes back-to-back! I recently caught up with creator Gregori J. Martin to discuss his buzz-generating, dream sudser come to life. In part one of a two-part chat, Martin reacts to The Bay being named one of the "Shows Worth Watching" by TV Guide Magazine. He also shares a moving account of all the letters and poems he's received from fans of the recently-cancelled CBS sudser As The World Turns, thanking him for offering them a new soap home.

Martin then reveals what's coming up for three former World Turners, who happen to play pivotal roles on The Bay—Marie Wilson (ex-NutMeg, ATWT), who will appear near the end of the first season as the mysterious Claire, Dylan Bruce (ex-Chris Hughes, ATWT), as troubled golden boy Brian Nelson and of course, one of daytime's most beloved superstars— Mary Beth Evans (Kayla, DAYS; ex-Sierra, ATWT; ex-Katherine, GH) as The Bay's central antiheroine Sara Garrett.

Martin expresses what it means to have Evans involved in the soap opera he's been working on for over a decade, not only as the star, but a producer. He also shares what drives Sara Garrett—despite all her faults—is her unwavering love for her three children by three different men. Martin also has kind words for all the web series pioneers who've inspired him, such as Andrew Miller and Eden Riegel (Imaginary Bitches), Martha Byrne (Gotham) and Crystal Chappell (Venice), while explaining how his 80's-themed pot boiler is unique.

Daytime Confidential:
Congrats on being named Number 9 in TV Guide Magazine's "What's Worth Watching" Guide for their Sept 20–26 issue! That has to feel good?
Gregori J. Martin: Thank you. That came as a very, very big surprise. A few days after The Bay premiered, the magazine came out. It was pretty exciting! TV Guide actually reached out to us. It's funny because I have my personal email linked to The Bay website's email, so sometimes it takes me a few days to get through all the emails, and I almost missed the note from them! [Laughs] The reporter said she'd been hearing a lot of positive things about The Bay, and she wanted some pictures. I sent her the link to our Photo Bucket account. I didn't even know what was happening. Then I saw the magazine. It was amazing to be picked by TV Guide as a show worth watching with all the great new and returning Fall shows. READ MORE
By Jenna Dorsi on July 19, 2010
The producers and cast of The Bay will be throwing a fundraiser Saturday, July 31 from 7-10:00 pm PST. at star and producer Martha Madison's restaurant, Henry's Hat in Los Angeles. Money raised will go to continuing the production of The Bay. There will be food, open bar and an auction. Charles Shaughnessy (Days of Our Lives, The Nanny, Mad Men), who recently joined the cast will be doing a special presentation at the event.
By Jamey Giddens on May 16, 2010
I'm getting more and more excited about
Gregori J. Martin
's (
Manhattanites
) web soap,
The Bay
with each new development!
We Love Soaps
is reporting the lovely
Martha Madison
(ex-Belle,
Days of Our Lives
) has been cast in the series. Madison will play the daughter of lead character, socialite Sara Garrett, played by fellow former Salemite
Mary Beth Evans
. Soap legends
Tristan Rogers
,
John Callahan
and
Sandra Robinson
have also been cast in the online drama.
The Bay
goes into production next month.
By Jamey Giddens on March 20, 2010
Former
Days of our Lives
starlet-turned-restaurant mogulette
Martha Madison
(ex-Belle Black) is set to host a Salem-studded fundraiser for Samantha's Friends and Kids and Canines during DAYS' Annual Fan Club Weekend this June 5.
"Samantha's Friends is a charity I've worked with for many years; they purchase and provide helper-canines to people with disabilities," explains Madison."They work in conjunction with "Kids and Canines", so it's two great programs rolled into one."
Madison will be hosting the event at her SoCal restaurant, Henry's Hat, named for her own lovable pooch.
"Most of the DAYS cast is coming. Crystal Chappell, Renee Jones, Wally Kurth, Judi Evans, Lauren Koslow, Leann Hunley, Arleen Sorkin, Mark Hapka, Galen Gering, Shawn Christian, Molly Burnett, Casey Deidrick, Taylor Spreitler, Gaby Rodriguez, Chandler Massey and some former cast members like Deidre Hall, Rachel Melvin, Eric Winter, Patrika Darbo and I are all taking part. Also, we've kept some names under wraps, so we'll have some exciting surprise guests," Madison teases.
By Regan Cellura on March 12, 2009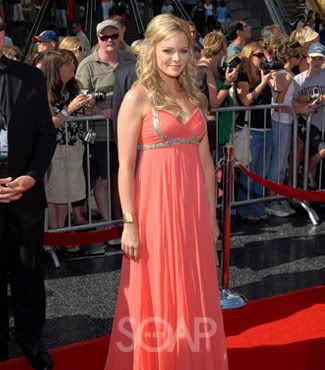 Martha Madison
(ex-Belle,
Days
),
Lindsay Hartley
(Theresa,
Passions
) and
Thad Luckinbill
(J.T.,
Y&R
) have all landed guest stints on CBS procedurals.
We Love Soaps
has the news:
Former PASSIONS star Lindsay Hartley will guest on the CBS hit CSI on Thursday, April 9.

Former DAYS OF OUR LIVES star Martha Madison will play Kate on the April 29 episode of the CBS drama CRIMINAL MINDS.

Meanwhile, on April 22, Y&R's Thad Luckinbill will be playing Connor Dunbrook, the son of Craig T. Nelson's character.
By Jamey Giddens on February 12, 2009
Sorry
Days of Our Lives
and
Guiding Light fans
,
Martha Madison
herself has confirmed she isn't headed to Peapack. The former Salemite cutie just Facebooked me.
"I'm the new Michelle Bauer???" LOL! I didn't even know they were casting for that. I assure you that it's not true."
Madison did share, however, she had booked a guest-starring gig on a CBS primetime show.
"The only job in the works for right now is Criminal Minds," the actress reveals. "Just booked a guest star yesterday actually."
The soap sweatheart will start filming her gig on fellow sudser alum Shemar Moore's hit procedural on the 20th of this month.