Marnie Schulenburg
By Luke Kerr on March 16, 2011
If you are in New York City this weekend you're going to want to check out My Big Gay Italian Wedding's soap week! One Life to Live's Ilene Kristen, Kristen Alderson, Brittany Underwood and former As the World Turns stars Ellen Dolan and Marnie Schulenburg will be starring in the female roles of the hysterical show about two gay men planning their wedding. You can catch these wonderful ladies in My Big Gay Italian Wedding at the St. Luke's Theatre March 17-19. Check out how to purchase tickets and more information on availability after the jump! READ MORE
By Mark on September 19, 2010
The Dutch RTL News was on the set of As the World Turns during one of the last days and talked to Don Hastings, Kathryn Hays and Marnie Schulenberg. You can watch it after the jump. READ MORE
By J Bernard Jones on September 16, 2010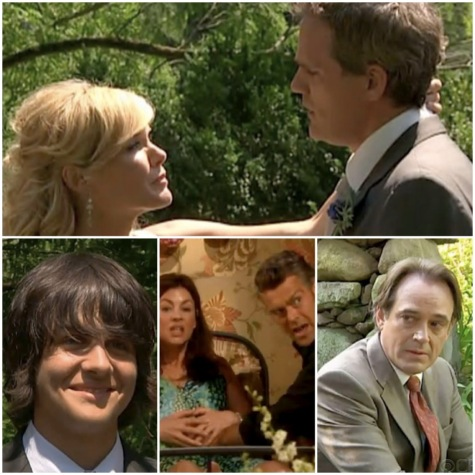 Several days ago, I posted an entry about the fallout from the death of Dr. Reid Oliver (Eric Sheffer Stevens) on As The World Turns. There were three central ideas in that piece. First, despite the very legitimate complaints that any given fan might have, ATWT is providing great human drama here at the end of its run. Second, Reid's tragic passing and donation of his heart to Chris (Daniel Cosgrove) encapsulated that goal mainly by thrusting the Hughes'— the show's core family since its very debut— front and center toward its conclusion. Third, given the soap opera wrapped production months ago, the idea of kicking a dead horse with unrelenting criticism isn't going to make it win the Kentucky Derby.
I have not budged one iota from any of those positions and I am about to incur the wrath of a whole lot more of you by making what I know will be a very controversial statement to many: I believe that in these final days, executive producer Christopher Goutman has made mostly the right decisions.
By Mike Jubinville on February 05, 2010
Carly (
Maura West
) watches Jack (
Michael Park
) and Janet (
Julie Pinson
) get closer. Lily (
Noelle Beck
) questions Holden (
Jon Hensley
) about what could have happened to Damian (
Paolo Seganti
). Paul (
Roger Howarth
) threatens Barbara (
Colleen Zenk Pinter
) at gunpoint and Mick (
Tom Pelphrey
) attacks a cop for Alison (
Marnie Schulenburg
). Check out next week's promo for
As the World Turns
after the jump.
READ MORE
By Melodie on January 23, 2010
As The World Turns recently filmed a few scenes at the First Church of Christ, Congregational in Redding, Conn. The church was used for the wedding of characters Alison Stewart (Marnie Schulenburg) and Casey Hughes (Billy Magnussen). The scenes are set to air on Monday, Feb. 15 and Tuesday, Feb. 16. Be sure to check out The Redding Pilot for more information.
By Mike Jubinville on January 15, 2010
Luke (
Van Hansis
) knows the truth, Alison (
Marnie Schulenburg
) demands the truth and Jack (
Michael Park
) confesses the truth. Check out next week's
As the World Turns
promo video after the jump.
READ MORE