Mario Lopez
By Luke Kerr on February 20, 2013
Former The Bold and the Beautiful star Mario Lopez and wife Courtney Lopez are expecting a second delivery from the stork, the couple revealed to Extra. He shared,
"I am the happiest father in the world. We cannot wait to welcome baby Lopez number two into our lives." The baby is due in late summer.
By Daytime Confidential on August 12, 2010
Former The Bold and the Beautiful star Mario Lopez (pictured with his baby mama Courtney Mazza above) and current B&B star Heather Tom attended the launch party for Blackberry's new mobile phone, the Torch, on August 11. See more photos from the event after the jump! READ MORE
By Luke Kerr on March 11, 2010
Extra host and former The Bold and the Beautiful star Mario Lopez announced Wednesday he and girlfriend Courtney Mazza are expecting their first child. Congrats to the happy couple!
By Regan Cellura on October 01, 2009


Check out Extra's look behind the love scenes at General Hospital! Brandon Barash (Johnny Z.), Tyler Christopher (Nikolas Cassadine) and Dominic Zamprogna (Dominic/Dante) even answer some fan questions in the clip. The boys are joined by co-star Lisa LoCicero (Olivia).
By Luke Kerr on December 02, 2008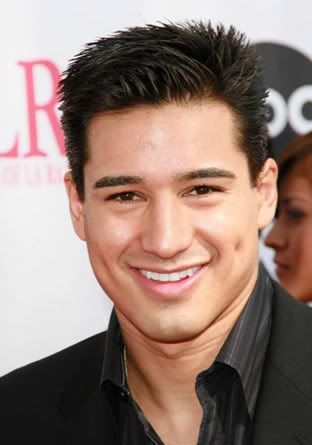 It looks as if Miss America needs herself a little
Mario Lopez
. The
Saved by the Bell
star and
Extra
host is returning to host the 2009 Miss America pageant.
By Jamey Giddens on November 26, 2008
Okay you knew it was coming. Now that the Idiots In Charge of The-Soap-Opera-Formerly-Known-as-Days-of-Our-Lives have let the phenomenal
Blake Berris
go, I decided to start out doing a Wishful Casting about where Berris should end up, but it turned into more of an analysis of which soaps are managing to set things up for their next generation the right way, and which ones are getting it wrong, dead wrong.
Much of the daytime industry is experiencing a serious drought in terms of talented, young stars who can actually, you know, act. Save for The Young and the Restless, One Life to Live and General Hospital, the under 30 set at most soaps is pretty much comprised of rejects from the Pamela Anderson School of Acting and Pantomime. I'll start with the soaps in most need of help and work my way up. READ MORE