Lynn Herring
By Mark on September 04, 2009
James Stenbeck (Anthony Herrera) dies again and Liberty (Meredith Hagner) is about to get an abortion – next week on As the World Turns. Watch the promo after the jump. READ MORE
By Mark on August 28, 2009
A promo for next week's episodes of As the World Turns.
By Mark on August 21, 2009
Next week on As the World Turns, the Oakdalians are still dealing with Holden's "death".
By Luke Kerr on August 17, 2009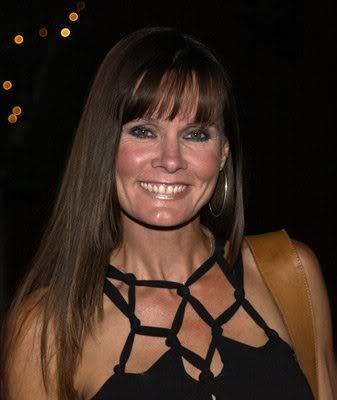 Lynn Herring
visited with
Damon Jacobs
at
We Love Soaps
about the popularity of her
General Hospital
character Lucy Coe and why viewers embraced her.
We Love Soaps: Why do you think the viewers embraced Lucy from the beginning throughout her entire run?
Lynn Herring: Well the bad girl always wins the viewers at first. When I got to come in, mess with people's heads, and be so self-driven, that was pure entertainment. They said, "This girl is going to be entertaining because we don't know what she's going to do next." And then what I love is that they let her show the cracks in the facade, and her vulnerability, and how much she wanted to be liked, and how much she wanted to succeed. And I think her drive to be part of society and to have money and then to have a family was every person's dream too. I hope that even through the bad stuff she was still human, but a little larger than life so you could have some reaction to her.
By Mark on August 14, 2009
One family is grieving. Another family is reunited. Next week on As the World Turns.
By Jamey Giddens on August 12, 2009
Those crazy, sexy, cool Mo Fos over at
We Love Soaps
are at it again! For their
latest podcast episode
,
Damon Jacobs
offers a sneak peek from his interview with daytime legend
Lynn Herring
, who reveals the details behind the contract tomfoolery that prevented her from reprising her iconic role as Lucy Coe on
General Hospital,
following her stint as Lucy the Vampire Slayer on
Port Charles
.
Herring also dishes about her summer gig as Henry's (Trent Dawson) "sociopath" mother Audrey on As The World Turns, shares the secret to her happy marriage with fellow soap legend-turned-rancher Wayne Northrop (original Roman, DAYS) and provides some eye-opening insights about the state of daytime from the perspective of an actress who was part of the lavish. Gloria Monty heyday and recently returned to the current, streamlined version of the genre's production model. READ MORE