Lisa Rinna
By Luke Kerr on October 30, 2008
Love it or Hate it?

By Brooke on September 26, 2008
Oh my gosh! So I couldn't resist. After listening to DC #297: Top 5 Storylines We Will Always Remember, I had to go find some of the Days of Our Lives storylines that were mentioned, specifically, the scenes where "Gina" (Kristian Alfonso) realizes she is really Hope. Boy am I glad I did! For those who haven't watched the scenes, may I present it below for your viewing pleasure?
The clip is from 1995 and also involves the following characters: Alice Horton (Frances Reid), Bo Brady (Peter Reckell), Caroline Brady (Peggy McCay), Shawn Brady Sr. (Frank Parker), Billie Reed (Lisa Rinna) and a young Shawn Douglas Brady (Collin O'Donnell).
I've just got one thing to say... Dang! Why can't they write scenes like this anymore?
By Luke Kerr on September 25, 2008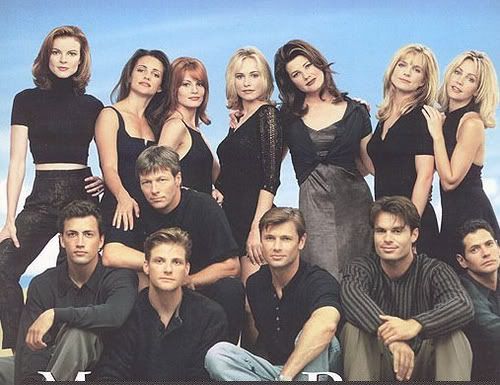 What could be better than a 90210 remake? How about a Melrose Place remake? Lisa Rinna revealed to Mark Malkin at E! Online that there is a possibility of Melrose returning.
"I've heard a rumor of them bringing back the show like they did 90210," Rinna said at TV Guide's post-Emmy party. "I heard that it's somewhere at the CW."

No surprise, but Ms. Rinna would jump at the chance to reprise her role as Taylor McBride. "I would do it in a heartbeat," she said.

Melrose Place ran from 1992 to 1999. "Let's bring it on," Rinna squealed. "Melrose, 10 years later!"
If Melrose were to return, who would you like see return of the original show's cast? Doug Savant and Marcia Cross are on Desperate Housewives. Kristin Davis could be filming a Sex and the City sequel. Jack Wagner is on The Bold and the Beautiful. Rob Estes is on 90210. Kelly Rutherford is on Gossip Girls. Josie Bissett is on The Secret Life of the American Teenager. Courtney Thorne-Smith is stuck on According to Jim, which returns in 2009.
Of the Melrose cast, it would appear that Heather Locklear, Lisa Rinna, Grant Show and Thomas Calabro are the few major Melrose alum who aren't already cast members on hit or buzzworthy TV shows or movies.
By Luke Kerr on September 22, 2008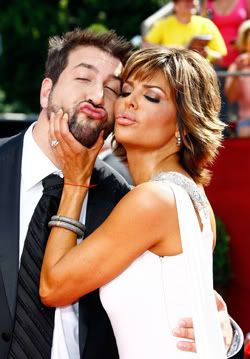 Did you really think I'd pass up this picture of
Lisa Rinna
and
Joey Fatone
on the
60th Annual Emmy Awards
red carpet as a
Caption This
? Of course not. Take your best shot.
By Jamey Giddens on July 12, 2008

Former soap diva Lisa Rinna (Days of Our Lives, Melrose Place, Soap Talk) recently did a video blog for Access Hollywood telling her fans how she keeps her bodacious body in Dancing With The Stars-shape. Wouldn't it be great for the "real" Billie Reed to make a visit home to Salem on Days of Our Lives?
By Luke Kerr on June 16, 2008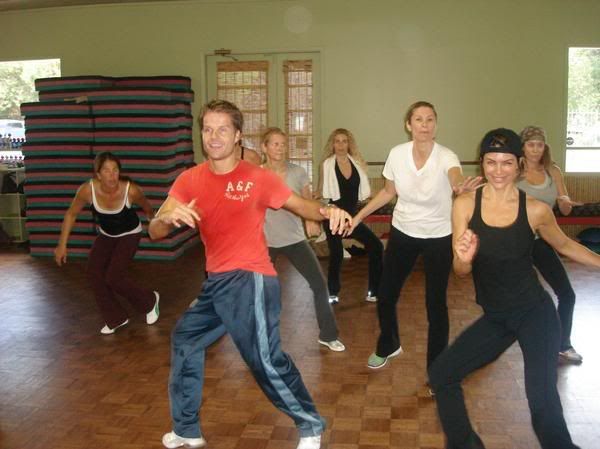 Ever wonder what it would be like to take a dance class with Days of Our Lives and Dancing With the Stars alum Lisa Rinna? Well if you have be sure to check out Lisa Rinna's MySpace profile for the latest on dance classes she's offering through Tom Anisa's Studio of Dance.