Lisa LoCicero
By Perkie on February 19, 2010
My
Performer of the Day
has got to go to
Constance Towers
(Helena) again, although
Lisa LoCicero
(Olivia) was right up there (that's right and I'll get to her in a minute).
I love that Helena's away for months, heck, years and yet knows the score on everyone in town. She knows how long Liz and Nik have been at it, knows that there's been a rift between Lucky and Liz and knows that Luke will be happy for Lucky if it turns out this isn't Lucky's kid. She just knows.
Lucky: "We don't know who's baby this is."
Helena: "Imagine, Liz and Nikolas, rutting like animals all over Windemere for many months. I don't think the odds are in your favour."
Helena to Lucky: "Your love has been dead for a long time." READ MORE
By Regan Cellura on February 19, 2010
Here's the Scoop!
I've complained, J. Bernard has written an open letter or two, Luke has a clock that tells us how long it's been since GH has had a new opening… FINALLY they're updating the opening credits. I'm sure you've all seen the news and frankly, I wasn't even going to mention it but really, how could I not? Congratulations Frons and JFP for pulling yourselves out of the embarrassment that is/was GH's opening. It's all in the name of celebrating the show's 12,000th episode. I'm not sure if I should laugh or not as in the past GH has literally sucked at their celebrations (45th Anniversary anyone?). RUMOR has it we should look for references to 12,000 much like we would see the Emmy pop up in random places. February 23rd is the day peeps, keep an eye out. READ MORE
By Regan Cellura on October 01, 2009


Check out Extra's look behind the love scenes at General Hospital! Brandon Barash (Johnny Z.), Tyler Christopher (Nikolas Cassadine) and Dominic Zamprogna (Dominic/Dante) even answer some fan questions in the clip. The boys are joined by co-star Lisa LoCicero (Olivia).
By Regan Cellura on September 29, 2009
After the news of
Greg Vaughan
's departure from
General Hospital
hit the web, some of his now former castmates took to their Twitters.
Steve Burton: God bless Greg V and his family. Sucks! He will be missed.
Tyler Christopher: Everyone give GV your blessings please. He gave Lucky justice while he was there.
Derk Cheetwood: Our thoughts are with Greg V and family he will be missed by all.
Nancy Lee Grahn: Heartbroken about Greg. However, this is a guy who worked constantly before GH & will continue to do the same after GH. He is an amazing gentleman, a dedicated father, a committed and talented actor who is loved and adored by his cast. He will be fine!
Sarah Brown: I'm so sad & sorry to hear this. I know you're going to do great wherever you go. My love to you and your family always
Brandon Barash: deeply saddened by this news. Not gonna be the same w/o u next door. ur star will shine wherever it lands.
Lisa LoCicero: Greg, you'll do great wherever you go.. But I will miss your smiling face terribly READ MORE
By Luke Kerr on September 01, 2009
Variations of white were popular on the 36th Annual Daytime Emmy Awards red carpet. Outstanding Younger Actress winner
Julie Marie Berman
chose the color, as did
The Young and the Restless'
Michelle Stafford
,
Jeanne Cooper
and
Judith Chapman
,
General Hospital's
Kelly Monaco
and
Lisa LoCicero
,
The Bold and the Beautiful's
Alley Mills
and
Lesli Kay
and
All My Children's
Chrishell Stause
, who looked fantastic. Who do you think looks best and worst in white? View the other ladies attire
HERE
.
By Regan Cellura on July 02, 2009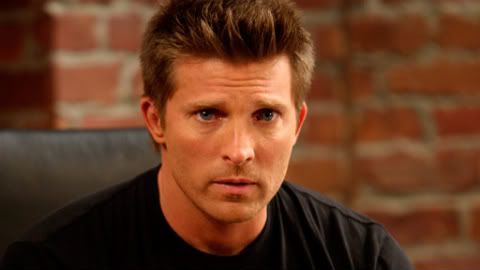 Here's the Scoop! 07.02.09

Everyone ready for the holiday weekend? I am! Today will be Q&A Day, so ask away. I'll answer what I can.

The question I'm getting the most…
well the question I've been getting for a while now is the status of
Steve Burton
's
contract. Trust me, when we know, you'll know and so far, I've got nothing more than GOSSIP and SPECULATION. Some say he's still working out the kinks, others say he's already signed. COULD Steve leave GH behind? I honestly wouldn't be surprised if he did.
CRAZY RUMOR of the DAY… Is Mercedes involved in the murder mystery? Is she the killer?
Derk Cheetwood tweeted this today: sitting in my Dressing Room figuring out how I'm not going to laugh during my scences with Bradford & Carolynn,wish me luck!
More tweets? Sebastian Roche revealed on his twitter that he'll be working with Kelly Monaco. RUMORS say it'll be about Alexis and the trouble she's in. Another CRAZY RUMOR has Alexis and Jerry hitting the sheets. I thought she was done with maniacal men? Will Kristina have something to say? READ MORE