Lindze Letherman
By Luke Kerr on December 18, 2007
It looks as if no one other than Guza is happy about the death of Georgie Jones Quartermaine. In addition to our own Lisa's Up Yours! , here are some of the reactions we've found accross the internet.
Over at Wubs Karen is Gunning for Guza.
Over at Marlena De Lacroix they are calling it Apolcalypse Now.
While over Serial Drama they have a Christmas Carol parody that doesn't put Guza in the best of light (which is why we love it).
Have you seen an article, column or blog that is talking about Guza, Georgie's death, or the destruction fo the Quartermaines? Email us a link and we'll check it out.
By Luke Kerr on December 18, 2007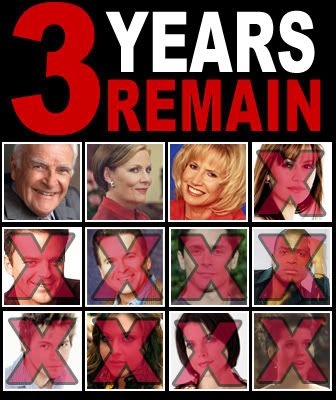 I ask your forgiveness in advance, I'm going to go on a rant.
I am sick and tired of the wholesale slaughter and destruction of the Quartermaine family or anyone connected to them and its really pissing me off!
In the past three years nine Quartermaines have been written off or killed. Ned, Lois, Brook Lynn and Dillon have all been written off. Justice was shot and stuffed in a trunk and didn't even get the dignity of an on screen funeral. AJ was snuffed out with a pillow. Alan died from a heart attack and was only brought back as a ghost thanks to fan outrage. Now Emily and Georgie have been strangled! Enough is enough! How many Corinthos family members have died during this same time? The answer is one. Courtney.
We the fans are not going to sit by and watch our favorites be served up on a silver platter like Valentine's chocolates, Thanksgiving turkey or Christmas ham. Fair is fair and I challenge you to kill off as many Corinthos as you have Quartermaines before you scratch a single hair on another Quartermaine head.
You see, the way I figure it if the writers take the challenge they'll never kill or write off another Quartermaine ever again for the simple fact we all know they aren't going to kill off their beloved Corinthos family members. Save the Quartermaines!
By Lisa on December 17, 2007
Well, I hope you're proud of yourself, Guza. You've successfully killed off ANOTHER character from a core and heritage family on General Hospital. Heaven forbid we have any character left on canvas that we grew up with, that we feel like we have known since day one. Heaven forbid we have less mob and more core character interaction. A day without Jason or Carly would be a day without sunshine, is that right?
You should be ashamed of yourself! Gloria Monty would roast your chestnuts over an open fire.