Lindze Letherman
By Daytime Confidential on July 31, 2013
Former General Hospital favorites, such as Jackie Zeman (Bobbie) and Tamara Braun (ex-Carly), reunited during General Hospital Fan Club Weekend at the Past Cast event. The stars mixed with fans and answered questions. Check out more photos after the jump! READ MORE
By Luke Kerr on October 03, 2012

Former General Hospital star Lindze Letherman (ex-Georgie) likely expected to get a rush of adrenaline on Disneyland's Space Mountain ride, but not like this! According to a pic tweeted by Letherman, her longtime love, Adam Etch proposed on the amusement park ride. Congrats to the happy couple!

By Jillian Bowe on February 10, 2010
By Jamey Giddens on April 30, 2009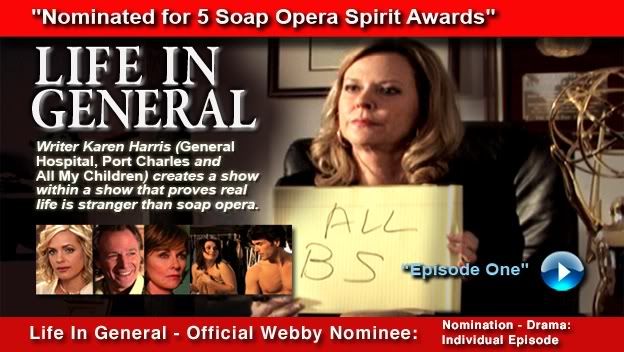 For those of you who have been asking when new episodes of
Strike TV
's drama series
Life in General
and its soap-within-a-soap
Greenville General
will be premiering, here's how you can help creator
Karen Harris
(
General Hospital
,
General Hospital: Night Shift
) produce more episodes, vote for
Life in General w/Greenville General
to win the People's Voice Webby Award for Best Drama Individual Episode.
Winning what is pretty much considered the Emmy Award for online content will help garner major buzz for the series. Buzz leads to sponsors. Sponsors leads to money. Money leads to more episodes. So if you want to see your fave soap stars like Days of Our Lives' Arianne Zucker, General Hospital's John Ingle and One Life to Live's Scott Clifton come back for additional eppys, go get your vote on! Remember to be persistent if you have trouble getting on. You have until midnight. Help support online soaps! The revolution will be webivised!
By Jamey Giddens on October 31, 2008
If you are a fan of Karen Harris's smart new web drama Life In General and its classic soap-within-a-soap Greenville General, you can now watch them right here at DC.Remember guys, if you want new episodes you have to watch and tell your friends. The more views they get, the better the chances of attracting a sponsor. The future of soaps is here and its on the web!

By Jamey Giddens on October 28, 2008
Today's the day!
Life in General
, the soapstastic, labour of love from
General Hospital
and
General Hospital: Night Shift
scribe
Karen Harris
debuts on
Strike.TV
. Starring past (
Brynn Thayer
,
Lindze Letherman
) and present (
Arianne Zucker
,
John Ingle
) soap faves,
Life in General
is a smart, sexy, campy glimpse into the behind-the-scenes world of daytime's most popular drama,
Greenville General
(also a Strike.TV show-within-a-show from Harris), experienced through the eyes of long-suffering soap writer (Is there any other kind?) Winifred Marshall (Zucker) .
In the pilot episode, Winifred has to deal with meddling network execs, a demanding executive producer, an aging, figure head series creator, a bed-hopping leading man and a volatile real and reel life supercouple, all while managing to put out a soap opera five-days-a-week. If you like character-driven, good-old-fashioned soap opera, Life in General is the show for you. READ MORE