Lexi Ainsworth
By Luke Kerr on March 15, 2010
Stephen Seidel from We Love Soaps TV went on the set of General Hospital and spoke with some of your favorite GH stars, including Maurice Benard. When Seidel asks if Sonny can ever get out of the mob I was reminded of the Reba McEntire's "Is There Life Out There" because let's face it, there's a whole lot of stuff Sonny hasn't done that doesn't involve the mob. Sonny Corinthos for Governor! GH fans who speculate about Sonny and Jason's (Steve Burton) relationship might also want to watch the clip.
Seidel also chats with Nancy Lee Grahn, Lexi Ainsworth, Jonathan Jackson, Rebecca Herbst, Dominic Zamprogna and Julie Marie Berman.
By Regan Cellura on March 12, 2010
Here's the Scoop!
The story we're all going to be talking about… Kristina's abuse storyline! Is it wrong to be excited about a storyline featuring a teenager getting the crap beat out of her? Nancy Lee Grahn tweeted a few days back that Lexi Ainsworth was 'acting the hell out of this abuse storyline' and that only excites me more. Have I mentioned lately how much we love GH's casting director Mark Teschner? We talked about Mr. Teschner and what we think he could do for All My Children on the latest ABC Podcast. Check it out!
By Regan Cellura on July 02, 2009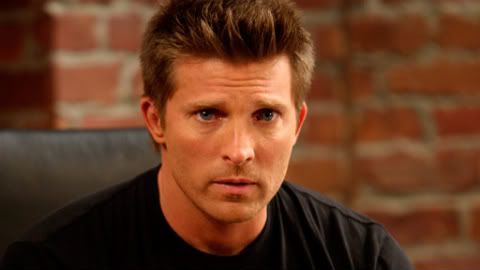 Here's the Scoop! 07.02.09

Everyone ready for the holiday weekend? I am! Today will be Q&A Day, so ask away. I'll answer what I can.

The question I'm getting the most…
well the question I've been getting for a while now is the status of
Steve Burton
's
contract. Trust me, when we know, you'll know and so far, I've got nothing more than GOSSIP and SPECULATION. Some say he's still working out the kinks, others say he's already signed. COULD Steve leave GH behind? I honestly wouldn't be surprised if he did.
CRAZY RUMOR of the DAY… Is Mercedes involved in the murder mystery? Is she the killer?
Derk Cheetwood tweeted this today: sitting in my Dressing Room figuring out how I'm not going to laugh during my scences with Bradford & Carolynn,wish me luck!
More tweets? Sebastian Roche revealed on his twitter that he'll be working with Kelly Monaco. RUMORS say it'll be about Alexis and the trouble she's in. Another CRAZY RUMOR has Alexis and Jerry hitting the sheets. I thought she was done with maniacal men? Will Kristina have something to say? READ MORE
By Regan Cellura on June 24, 2009
Lexi Ainswort
h (Kristina Corinthos-Davis) has landed a contract with
General Hospital
.
Soap Opera Digest
is reporting that the newcomer signed on the dotted line. The latest Corinthos kid hit town with a bang and impressed fans from the word go.
By Luke Kerr on June 16, 2009
On today's episode of
General Hospital
Sam (
Kelly Monaco
) told Jason (
Steve Burton
) she'd talk to Kristina (
Lexi Ainsworth
) about her behavior, since Kristina is her sister. This inspired me to come up with "Sam McCall's Top 10 Sisterly Tips for Surviving Port Charles." I've only come up with ten, but I'm sure there are other tips Kristina will need to know if she wants to survive Port Charles. What other tips should Sam give her sister?
No. 10: Keep your legs closed, you never know what mobster might knock you up.
No. 9: If you kill someone pretend to be psycho or a butler. It worked for your mother and it could work for you.
No. 8: Go to college. A GED just doesn't cut it in this job market.
No. 7: If tempted to let someone kidnap the child of the man you love, don't. It will only come back to bite you in the ass.
No. 6: If you see a man coming towards you covered in tattoos, drop whatever you are doing and run in the other direction. More than likely he's an obsessive psycho. READ MORE
By Regan Cellura on June 15, 2009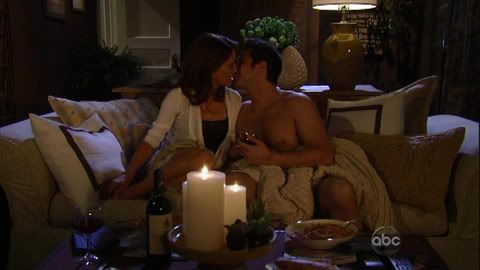 Here's the Scoop! 06.15.09

JOlivia…
more to come? That's the RUMOR! I actually like them together. Does this pairing have the legs to go the distance? Surely Dante's arrival will throw a wrench at the "mechanic." Weigh in!
What's the Mayor going public with? It's SPOILED to be "startling." Will he out his affair with the DA? Do we really care about this story except for it including Martha Byrne (Andrea Floyd)? What exactly do Ric and Andrea have cooking?
Was Rick Hearst given a proper send off? RUMOR has it there wasn't enough time. But there was enough time for a little Hearst –Byrne interaction. What's the deal? One RUMOR says Ric wanted the DA job back and was using Andrea to get it. Maybe "using" isn't the right word. The SCOOP says Andrea is the one to tell Ric about Alexis and Mayor Floyd's indiscretion. Was Ric planning on using that information to get his old job back? Really Ric? You're no angel; in fact, you slept with your wife's daughter around the same time. READ MORE