Leslie Charleson
By Daytime Confidential on August 05, 2009
On today's ABC episode of Daytime Confidential Luke, Jamey and J Bernard discuss the latest in All My Children, One Life to Live and General Hospital news and storylines, including:
All My Children is picking up roots and moving to LA. In this episode, (recorded before ABC confirmed Jamey's report on Tuesday) Jamey predicted that the announcement would happen this week and discusses in depth what he is hearing from his sources. He discusses the impact this shakeup will have on AMC's veteran actors, where this leaves One Life to Live as ABC's only New York soap and why General Hospital gets a pass because of it being the "Luke and Laura soap." Is ABC's solution only a band-aid until they can develop a talk show?
J Bernard shares his theory about the "Who Killed Adam?" storyline and why he believes everything isn't as it seems.
General Hospital re-signed popular actors Steve Burton and Leslie Charleson, keeping them on canvas. Is Drew Garrett the next Tom Pelphrey or Steve Burton? Could he surpass them? GH needs to cast Michael a love interest ASAP and do whatever it takes to avoid a pairing him with his sister Kristina. Luke sees chemistry between Lulu and Dante, but J Bernard doesn't. What does it say about GH that it takes two of Luke's sons to beat up the son of Sonny Corinthos? Is Alexis covering up Kristina's involvement in Claudia's car crash out of character or is it right in line with the Alexis we know and love? Martha Byrne is a great actress, but Jamey believes she needs to be back on As the World Turns and not playing a one note Port Charles villain.
One Life to Live is gearing up for a double wedding as Matthew blackmails Bo and Nora. Matthew seems to be channeling his grandfather Asa. Should OLTL turn Matthew into this generation's Asa? The Tea, Todd and Blaire triangle has Luke and Jamey on opposing sides. Luke wants Tea with Todd while Jamey wants him with his Blair. If Crystal Hunt could act and didn't appear bored in the role, Stacy Morasco could be a "hellified" role. Jamey believes OLTL should set up a "Who Killed Stacy Morasco?" murder mystery since there are already more than enough possible suspects. It could be a blockbuster story.
All this and much more in this thought-provoking, All-Boys episode of Daytime Confidential.
Help support and improve the Daytime Confidential podcast: Take a few minutes to fill out the two Daytime Confidential listener surveys: Listener Survey A l
Be sure to leave your comments on all the latest goings on in the world of soaps by calling the Daytime Confidential comment line by calling 917-677-9757.
Listen to Daytime Confidential by clicking on the Daytime Confidential Player at the bottom of this post or Download us for FREE via iTunes. Vote for us on Podcast Alley. Add us as a Friend on MySpace and Facebook.


READ MORE
By Jamey Giddens on July 30, 2009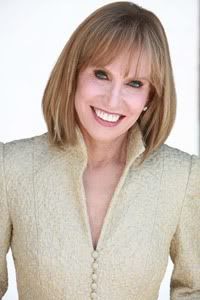 Good news
General Hospital
fans,
ABC Soaps in Depth
is reporting
Leslie Charleson
has signed a new deal to continue on as Dr. Monica Bard Webber Quartermaine Quartermaine. GH was probably scared
As Port Charles Turns
would cast her as Jessica. Score one for the GH vets, and their fans!
By J Bernard Jones on June 22, 2009
Dear Ms. Phelps,
I present to you the new opening for As the World Turns that debuted on Monday, June 23rd. ATWT's executive producer Chris Goutman might not be producing the best show (an understatement), but he does know how to update his show's opening credits every year or two. Not all of ATWT's openings have been great, but they represent an attempt to keep current.
Now I know what you might be saying, something along the lines of "We have the daytime equivalent of the budget of Transformers: Revenge of the Fallen and can do much bigger, better and flashier than that! And we can include the cast, too! Hell, our credits run for 11 minutes, not 9 seconds!"
Ms. Phelps, it goes without saying that of course you do and of course you can (and of course it does), which is the point. If anything you certaintly have the flashier part right: GH's current opening has more epilepsy inducing lens flares than J.J. Abrams' Star Trek. READ MORE
By Luke Kerr on April 14, 2009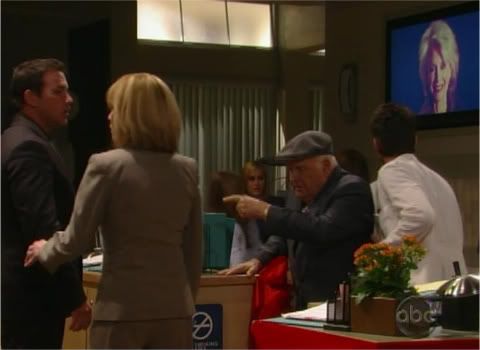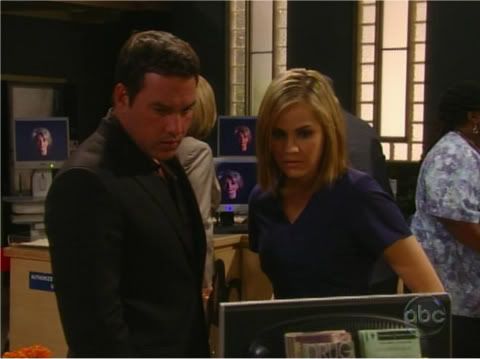 Helena Cassadine (
Constance Towers
) is back! I am in Cassadine heaven. Watching
Nancy Lee Grahn
,
Tyler Christopher
,
John Ingle
,
Leslie Charleson
and Constance Towers all in one scene, even if Towers only appeared on TV and computer monitors was - dare I say it - awesome. The only thing that could make it better would be if TPTB announced that
Stephen Nichols
was reprising his role as Stefan and that a casting call was going out for the character of Stavros. Here's to hoping Towers and Helena stick around a lot longer than they are intended. More pictures after the jump.
READ MORE
By Regan Cellura on April 08, 2009


Take a look and tell us what you think!
By Jamey Giddens on March 06, 2009
DC's
Regan
has been
talking about
possible casting drama taking place at
General Hospital
ever since news of the massive ABC pay cuts first
broke
. Now comes
news from TV Guide Canada's Nelson Branco
that the jobs and/or contractual statuses of
Leslie Charleson
(Monica),
Megan Ward
(Kate),
Greg Vaughan
(Lucky)
and
Rebecca Herbst
(Liz)
are on shaky ground and that
Rick Hearst
's (Ric) future with the soap isn't looking to bright either. I'd love to say I'm surprised, but I'm not.
Charleson plays a Quartermaine, and GH has made it all-too clear how they feel about this insanely-popular family. In recent years they've killed off Emily, Alan and Justus and wrote out Ned and Dillon, plus Charleson is over 40 and we know how
Brian Frons
feels about older actors on his soaps!
READ MORE