Kristoff St. John
By Luke Kerr on April 30, 2008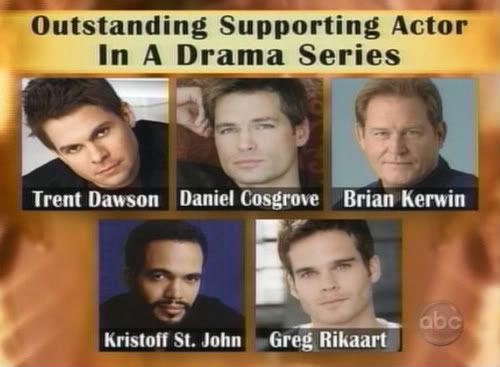 Congrats to Trent Dawson, Daniel Cosgrove, Brian Kerwin, Kristoff St. John and Greg Rikaart. Best of luck. This is going to be a tough category to predict.
This could be a tough category. I can't fault any of the actors nominated in this category because each is a true supporting actor. However, at first glance there seems to be some obvious omissions amongst the nominations. Where is One Life to Live's Tuc Watkins? Is John-Paul Lavoiser suffering from the same thing Trent Dawsom did for years, in that Rex is to much of a comedic character? Why isn't at least one of the three actors from General Hospital nominated?
Looking at the prenominations list below and comparing it to the nominees above is there anyone who you feel is missing from this list or who should be on it instead of someone else?
Outstanding Supporting Actor Pre-Nominees
AMC: Jeffrey Carlson, Jacob Young, and Billy J. Miller
ATWT: Trent Dawson, Grayson McCouch, and Austin Peck
B&B: William deVry, Patrick Duffy, and Dax Griffin
DAYS: Bryan Dattilo, Jay Kenneth Johnson, and Joseph Mascolo
GH: Bradford Anderson, Rick Hearst, and Sebastian Roche
GL: Murray Bartlett, Jordan Clarke, and Daniel Cosgrove
OLTL: Brian Kerwin, John-Paul Lavoisier, and Tuc Watkins
Passions: Christopher Maleki, Phillip Jeanmarie, and Eric Martsolf
Y&R: Greg Rikaart, Ted Shackelford, and Kristoff St. John
Be sure to tune in for our Daytime Emmy Nominations podcast episode with should air on Thursday or Friday.
By Jamey Giddens on March 26, 2008
One of my favorite former soap stars Vivica A. Fox addresses speculation about her plastic surgeries, aging in Hollywood and much more in the current issue of Upscale on newstands now. I have always loved how Fox speaks fondly of her time on soaps unlike so many of her Hollyweird peers.
For those of you who aren't familiar with Ms. Fox's soapy past, she played Maya on the short-lived Sally Sussman Morina NBC soap Generations. Generations was the first soap to premiere with a black family-The Marshalls- at the core of the show.
Fox's character was paired opposite Kristoff St. John's Adam Marshall, heir to the Marshall ice cream chain fortune. Adam's big sister Chantal was played by All My Children's Debbie Morgan, who left the signature role of Dr. Angie Hubbard to take a risk on the groundbreaking soap. As did James Reynolds, who vacated the popular role of Abe Carver on Days of Our Lives for a time to portray Marshall family patriarch Henry Marshall.
While Generations only lasted two short years (It didn't stand a chance against ratings powerhouse Young and the Restless which has always been extremely popular among African-American audiences), the show still made history and launched the careers of St. John-who was quickly snatched up by Y&R as budding Newman exec Neil Winters-and Kelly Rutherford (ex-Sam) who went on to a lead role on the Fox hit Melrose Place and now stars on The CW's Gossip Girl.
As for Fox, she went on to sitcom acclaim, guest starring on The Fresh Prince of Belair and starring in the Patti LaBelle sitcom Out All Night, before joining the cast of Young and the Restless herself as a love interest for Shemar Moore's Malcolm in 1995. Not that her character Stephanie had much time to steam up the screen with Malcolm. Shortly after joining Y&R in the recurring role, she won a part in a little film called Indepence Day opposite her Fresh Prince leading man Will Smith. The rest is post-soap history.
By Jamey Giddens on March 13, 2008
The cover of the new Soap Opera Digest set to hit the stands tomorrow (March 14) doesn't make the possible return of former Y&R star Lauralee Bell (ex- Christine "Cricket" Blair) for the show's upcoming 35th anniversary all that likely. While we haven't had a chance to read the actual article (the cover page was released online a day earlier than usual), a picture of Bell with the words "No Thanks" in quotes across it appears on the cover near the right side at the bottom. Beside the picture reads the caption: "Lauralee Bell: Why She Refused To Return". This could prove disappointing for fans who were looking forward to a mini-reunion of 90's Y&R supercouple Danny and Cricket. It has already been confirmed that Bell's former co-star Michael Damien (Danny Romalotti) is returning to the show. Danny's return will be at the behest of another of his exes, Phyllis (Michelle Stafford), who summons him to town to deal with the latest drama concerning their son Daniel (Michael Graziadei), however pop star Damien is reported to be performing at least two songs when not dealing with his troubled offspring. Perhaps Danny will do a set with Neil (Kristoff St. John) 's current squeeze Karen (Nia Peeples) or Daniel's friend with benefits Amber (Adrienne Frantz)?
By Luke Kerr on February 16, 2008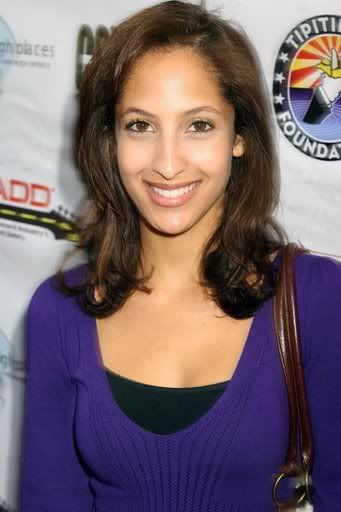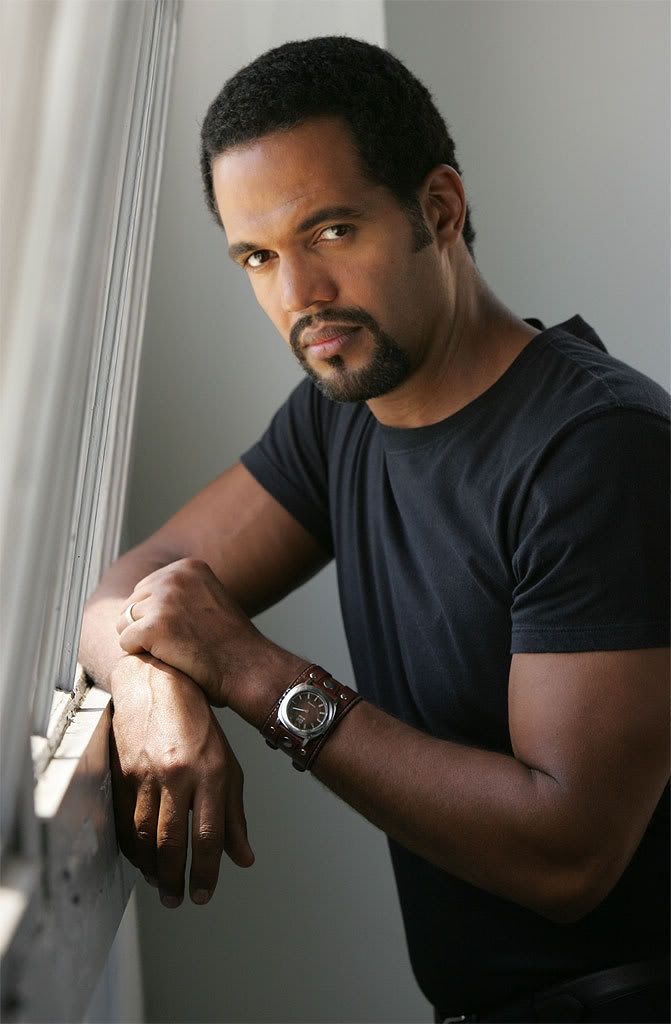 The Young and Restless cleaned up at the NAACP Awards with its stars Kristoff St. John and Christel Khalil winning the Outstanding Actor in a Daytime Drama Series and Outstanding Actress in a Daytime Drama Series respectively.
An interesting tidbit. The Young and Restless has won both awards every year since 1994 with the exception of 2007 when Passions' Tracy Ross won in the Outstanding Actress category.
However, I doubt that next year's awards are so "assured" with the return of Debbie Morgan and Darnell Williams to daytime. Both have widespread name recognition and have certainly been putting in amazing performances. Next year's awards could be a nail biter.
By Luke Kerr on January 09, 2008
The NAACP Announced their 38th Annual NAACP Award Nominations yesterday including their nominees for the TV Daytime Drama categories. The awards show will air on February 14th on FOX.
This year's nominees are as follows:
Outstanding Actress in a Daytime Drama Series
• Nazanin Boniadi – General Hospital
• Christel Khalil – The Young And The Restless
• Brook Kerr – Passions
• Tracey Ross – Passions
• Tika Sumpter – One Life to Live

Outstanding Actor in a Daytime Drama Series
• Kamar de los Reyes – One Life to Live
• Kristoff St. John – The Young And The Restless
• Bryton McClure – The Young And The Restless
• Mykel Shannon Jenkins – The Bold and the Beautiful
• Tobias Truvillion – One Life to Live