Kristian Alfonso
By Luke Kerr on April 06, 2009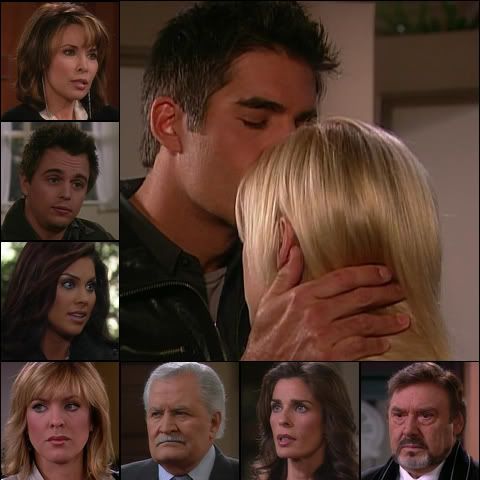 As I write this I'm battening down the hatches and looking for a shovel to dig myself an underground bunker, because I have a sneaking suspicion that I'm going to be the voice of unpopular opinion. Let me explain.
When deciding which soaps I enjoy most or discover I'm most interested in watching on my DVR when I get home, I look at two things, quality (writing and acting) and enjoyment. These two can be in the same, or entirely different. The Young and the Restless and One Life to Live fall under the "quality" umbrella. I enjoy them because the writing is on fire and the acting is superb. On the other hand, I can enjoy some soaps at a gut level even though they may not have as good of writing or as strong acting. Call it "the show I like, but no one else seems to" factor. This is how I feel about Days of Our Lives.
On this week's CBS and Days of Our Lives podcast episode (which should air on Thursday) I reveal that Days of Our Lives is currently my third favorite soap, even beating out the drastically improved Guiding Light and my version of As the World Turns. This is something I have refused to admit, even to myself, for some time. If I did, might it mean I've succumbed to Dena Higley's evil charms? READ MORE
By Brooke on January 20, 2009
Here's what's coming up on Wednesday's episode (January 21) of Days of Our Lives.
By Jamey Giddens on January 17, 2009
Okay, seeing the Otalia kiss on
Guiding Light
once again reminded me of how incredibly amazing
Crystal Chappell
is. I have loved her since her first air show as
Days of Our Lives'
Dr. Carly Manning aka Katerina Von Leuschner, and that is quite a testament to Chappell's sheer groovyness,
READ MORE
By Jamey Giddens on November 28, 2008
Like most
Days of Our Lives
fans, I'm still reeling from the news that we are losing
Deidre Hall
and
Drake Hogestyn
(Marlena and John), however the news that my all-time favorite soap opera supercouple Beauregard "Bo" Brady and Hope Williams Brady (
Peter Reckell
and
Kristian Alfonso)
will be sticking around gives me well, hope.
Since Dena Higley can't be bothered to watch the current air shows she gets paid an obscene amount of money to write—who could blame her? They're dreadful— I figured she just might be able to squeeze in a few of these clips— in between blog posts of course— to see why this couple is so iconic and magical to millions of soap fans. READ MORE
By Jamey Giddens on November 28, 2008
John and his "Doc" may be on their way out of Salem, but
Days of Our Lives
fans—those who plan to keep watching post Corday's 2008 Thanksgiving Massacre— still have their Fancy Face aka Hope Williams Brady (
Kristian Alfonso
) and her dutiful beau Bo Brady (
Peter Reckell
), for now at least. My favorite soap heroine shares with
Carolyn Hinsey
her reaction to the firings of long time costars
Drake Hogestyn
and
Deidre Hall
.
"Everyone was aghast when we heard about Dee and Drake," she says. "Drake came up to me the other day and said, 'It's been so great working with you.' I said, 'Don't you dare say goodbye to me.' I felt tears starting to well."
Alfonso also reveals how she has gotten her entrepreneur on by taking her jewelry line, Hope, Faith, Miracles, to the next level. Check out this Must Read for fans Alfonso here.
By Jamey Giddens on November 25, 2008
Thom Racina
, the man who wrote the ratings juggernaut wedding of a couple of soap opera characters named Luke and Laura (Tony Geary and Genie Francis) on General Hospital, before moving on to Days of Our Lives, where he and fellow co-head writers Sheri Anderson and Leah Laiman continued the supercouple craze, penning lush, romantic storylines for Patch and Kayla (Stephen Nichols and Mary Beth Evans), Bo and Hope (Peter Reckell and Kristian Alfonso), Shane and Kim (Charles Shaughnessy and Patsy Pease) and John and Marlena (Drake Hogestyn and Deidre Hall), speaks exclusively to Daytime Confidential.com about the shocking ouster of Hogestyn and Hall.

Read why Racina believes Ken Corday's move to fire Days of Our Lives' most popular couple, reportedly to trim costs, was the "wrong way to fix what's wrong" with the NBC sudser. Find out what Racina feels Days can learn from his most recent employer, The Young and the Restless, in terms of rebuilding itself by focusing on core characters, as opposed to focusing on younger viewers. When you're done, go back and listen to our podcast interview with The Father of the Modern Soap Opera Supercouple (DC# 191). It's a true can't miss Thanksgiving treat for a soap fan.
READ MORE