Kristen Alderson
By Regan Cellura on June 04, 2010
Here's a peek at James Ford (
Nicholas Robuck
), the newest hottie to hit Llanview. Apparently it's all in the
jeans
genes as both Ford men are positively yummy to look at. Will James be as big of a jerk as his older brother Robert Ford (
David Gregory
)?
James comes to town as his brother is clinging to life in the ICU, but with a story of his own and it's not one of hearts and flowers. Like I said, the apple doesn't fall far from the tree. James isn't in town for long before he needs to get away from a mystery man passing his picture around the hospital and besides his brother, one of his first encounters is with Starr (Kristen Alderson). Look for James to be a thorn in Cole Thornhart's (Brandon Buddy) side and for him to live up to the Ford Family image as James pulls Starr into his sticky situation.
Photo Credit: ABC
By Jamey Giddens on May 14, 2010


Be sure to tune in for today's episode of The View to see One Life to Live teen dreams Kristen Alderson (Starr), Eddie Alderson (Matthew), Kelley Missal (Dani), Shenell Edmonds (Destiny), Lenny Platt (Nate) and J.J. Singleton (Darren) perform the title track to Starr X'd Lovers: The Musical! Check your local listings.
By Luke Kerr on April 13, 2010
Does Natalie (Melissa Archer) go too far this week on One Life to Live and is she suspected of pushing Marty (Susan Haskell) down the stairs? What will Starr (Kristen Alderson) do when she finds out about Cole (Brandon Buddy)? Watch this week's One Life to Live promo after the jump.
By Luke Kerr on January 18, 2010
The secret is out on One Life to Live and Starr (Kristen Alderson) and Danielle (Kelley Missal) come face to face. Watch the promo after the jump. READ MORE
By Jillian Bowe on January 07, 2010
Get ready One Life to Live fans. The Cramer women are back this February and it's going to be hot! ABC invited the soap press out to the OLTL studio in New York for a special event reintroducing the Cramers. On hand were: Robin Strasser (Dorian), Kassie DePaiva (Blair), Gina Tognoni (Kelly), Kristen Alderson (Starr), Laura Bonarrigo (Cassie), Brittany Underwood (Langston), and last, but certainly not least Melissa "Bitchy Bangs" Fumero (Adriana). Hilarity ensued when yours truly had to set everyone straight on the origins of Bitchy Bangs.
Daytime Confidential: Melissa, your character, Adriana went from a doormat to a love-to-hate bitch, coinciding with a new haircut for you. What did you make of the Bitchy Bangs phenomenon?
Laura Bonarrigo: I have to interject; I don't understand how any character in daytime can be called "Bitchy Bangs!" Can you explain this to me? Was this after me?
Melissa Fumero: It was so hilarious how everything happened at the same time. Basically, my contract was up and I had a little break before I came back as recurring to finish my storyline. I was there until June or whatever. So on the break, I got this feeling and all of a sudden, "I'm not under contract! I'm going to cut my hair. I'm going to cut bangs! I'm not going to ask permission!" So I did! [Laughs] READ MORE
By Luke Kerr on August 04, 2009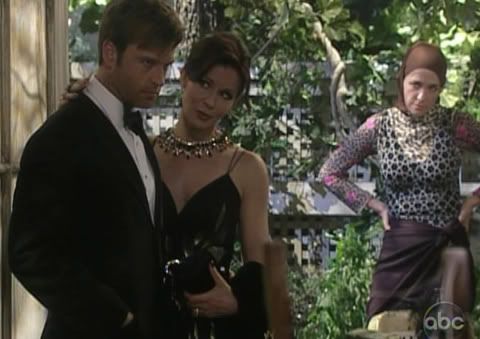 The best argument the soap opera genre can make in favor of its own survival airs at 2pm EST on ABC/ 9pm EST on SOAPnet. Its name is One Life to Live.
OLTL's fictional town of Llanview, PA. is a town rich in history, overflowing with talent, boisterous in personality and uninhibited by an addiction to one or two characters.
Monday's nod to Grey Gardens–acted out by the fantastic foursome of Robin Strasser, Kassie DePaiva, Trevor St. John and Florencia Lozano–and the seamlessness with which it was woven into the double wedding ceremony of Viki to Charlie and Nora to Clint is one of many examples of why OLTL has surpassed The Young and the Restless as the genre's most well-written soap opera. READ MORE