Kirsten Storms
By Luke Kerr on February 24, 2009
It's always nice to see
Jackie Zeman
pop up on
General Hospital
as Bobbie Spencer. During today's "What if Maxie died" episode we got to see her at the hospital and at Kelly's interacting with Monica (
Leslie Charleson
), Robin (
Kimberly McCullough
) and BJ (
Kirsten Storms
) respectively.
What did you think of today's show? Did they ever explain the hideous wig that Kirsten Storms was wearing? I missed the first ten minutes or so. I kept wondering if BJ was suffering from cancer or some other follicularly challenged disease. It definitely provided a much bleaker outlook of Port Charles and honestly I didn't think that was possible, considering how dour General Hospital can be. More pictures after the jump. READ MORE
By Regan Cellura on February 23, 2009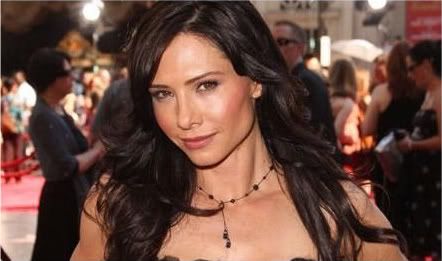 Here' s the Scoop! 02.23.09
Sorry for the delay…
Who's the new guy on set? Gotta love Facebook as Sarah Brown has once again updated her status and spilled some SCOOP: Sarah Brown thinks "The New Guy" working with Kimberly McC is going to stir you ... And um ~ also that he is smokin Hot ;). Naughty Nicki will surely appreciate the hot part. But who's the new guy? Even Sarah doesn't seem to know. RUMORS say Ethan and Robin will be sharing the screen soon, is that the newbie Brown was referring to? Is there someone else coming aboard? Guess time will tell as the scene SHOULD pop up on our screens in about three weeks.
Sam and the Jackal P.I.'s extraordinaire? When Sam declared her desire to become a P.I., many Sam fans suggested she and Spin team up. RUMOR has it, that MAY be happening when Sam asks Spinelli to work for her. Question though, shouldn't Sam be working for Spinelli? He did get his license first… Will Winnie be involved?
Is Sam getting arrested? Is it Sonny and Jason's fault? There have been RUMORS that Sam's apartment will become the feds property to search. Where will she go? I guess the JaSammers get another bone from me as RUMORS say she'll be back in her former residence. READ MORE
By Regan Cellura on February 18, 2009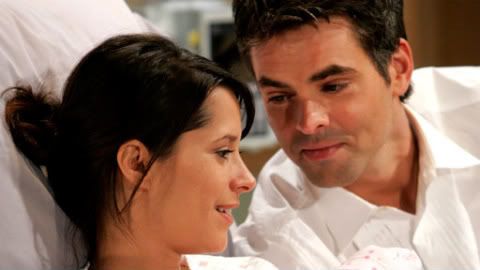 Here's the Scoop! 02.18.09
Robin and Patrick and the Post Partum Depression… It appears that Robin had a breakthrough and she even mentioned that she felt like herself again. Is the PPD storyline over and out? No. As I mentioned, Robin should be having another breakdown of sorts when Emma won't settle down, leaving the crying baby with Patrick. Robin wants to return to work. Will the Scorpio – Drakes be in the market for a nanny? Will Robin seek treatment for her Post Partum? SPOILERS say she and Patrick will discuss it.
Rebecca… Nikolas wants to know all he can, Rebecca is creeped out by Nikolas and Tracy isn't so sure the Q's should be involved with the Emily look-a-like. I've already dished on the possible Lucky-Rebecca stuff, she'll be much comfortable with Lucky. Will we see another quad with Nikolas-Rebecca-Lucky-Elizabeth? All reports say LL2 is the story but they will be involved in the Nikolas-Rebecca storyline. READ MORE
By Regan Cellura on February 11, 2009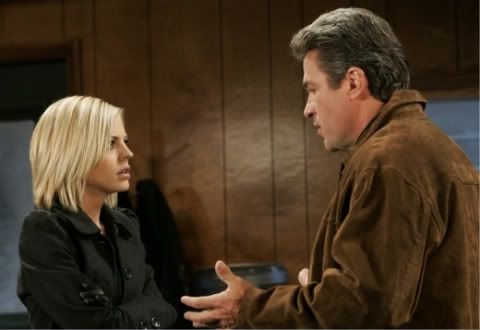 Here's the Scoop! 02.11.09
Another dream episode? This time it's Maxie in the starring role. What if BJ never died? What if Maxie was the one who died back in 1994? How would Maxie's death all those years ago affect the residents of Port Charles if BJ hadn't been in that accident giving her heart to a failing Maxie? Kirsten Storms becomes BJ for the special dream episode. Will Bobbie make an appearance? Good news for Spixie fans, this special episode is said to be "very Spixie heavy." Mac will make an appearance as an alcoholic, Patrick and Carly are married and having affairs, Robin has pledged a love-less life after Stone's death, and Frons is finally getting his Storms - Jason Cook reunion. BJ is a medical student engaged to Dr. Hunter. Maxie wakes up from her dream and wants to be a better person, realizing she's lucky to be alive. A. Bobbie better be involved B. I can't wait to see John J. York flex his acting chops and C. Great concept but in the end is this more lazy writing? Haven't we seen (countless times) Maxie's health in dire straits and her realization that she has to do more with the gift BJ gave her? READ MORE
By Regan Cellura on February 06, 2009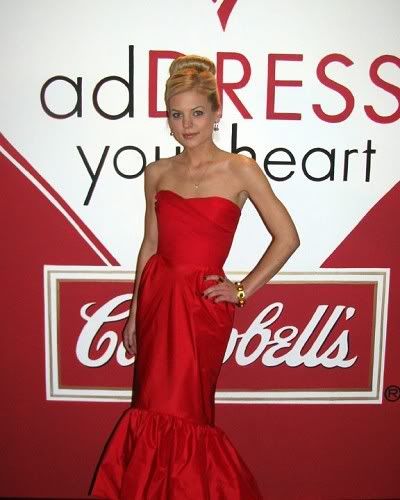 ABC Daytime and Campbell's Soup are
teaming up once again
with
All My Children
,
One Life to Live
and
General Hospital
incorporating the Go Red campaign into the sudsers' storylines but that's not all they're doing. Campbell's is also holding an auction to raise funds for the cause. You can bid on the red dress worn by Maxie (
Kirsten Storms
) and other items,
here
. This will be the dress Maxie wears to a benefit with Johnny (
Brandon Barash
) as her date.
Other items up for auction are signed scripts from OLTL and GH, famous designer Nicole Miller dresses worn on AMC, an engagement ring from GH (Maxie MAY have some explaining to do) and autographed items from OLTL's The Go Red Ball.
By Regan Cellura on February 02, 2009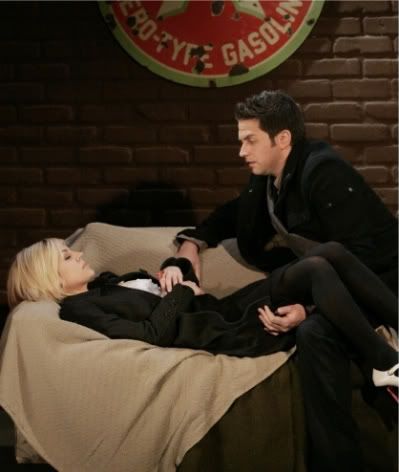 Here's the Scoop! 02.02.09
Are Johnny and Maxie doing the deed? We've SPECULATED a chem test for the pair (I actually think they're good together) BUT will they get the ultimate chem test with a roll in the hay? Are we in store for another GH Quad? I'm still pretty sure that Matt and Maxie will be teased/tested as well as Frons wants that Cook - Storms reunion. The LATEST RUMORS seem to suggest that Matt and Lulu will share some time together. Will the new quad be Lulu-Johnny-Maxie-Matt? What about Spinelli? It LOOKS like Winnie will be sticking around and don't count out Ethan as the con man is RUMORED to be mixing it up with Lesley Lu Spencer as well.
Who is Ethan? Is he Dante? Is he tied to Port Chuck through his parental units? RUMORS are all over the place for the character of Ethan. I got a little chuckle out of one RUMOR that had Ethan as Frisco Jones' son making him Maxie's brother. While I would love to see Maxie with more family, I doubt Ethan is Frisco's kid. EARLY RUMORS had the con's family having history with Luke Spencer. The most popular THEORY is that Ethan is Dante. READ MORE