Kim Zimmer
By Jillian Bowe on September 08, 2009
1. Will soaps come back in style like 80's clothing?
2. When will fans see "love in the afternoon" again?
3. Why won't Bob Guza and Co. beg Vanessa to give them one more chance?
4. What happened to the corporate raid with Jabot/Newman/Chancellor?
5. Doesn't it annoy you to see Meg Snyder being Oakdale's man eater? READ MORE
By Luke Kerr on September 07, 2009
Guiding Light's
Kim Zimmer
spoke with
On-Air On-Soaps'
Michael Fairman
about taping GL's last episode and Otalia in his latest
Soapside
column at the
Advocate
.
READ MORE
"I had a moment of, 'Thank God its over,' because it's been hard. I was never a fan of the new format and production module, and trying to generate story, was tough. And Thank God for Olivia and Natalia. It was the only love story we had on the show, because every one of the other characters on the show seemed to hate each other and it was nasty. I think that is one of the reasons that story was so well received by bible belters because it was a love story. We were thirsty for something like that."
By Luke Kerr on September 02, 2009
Many of daytime's popular actresses chose classic black, grey or silver on The
36th Annual Daytime Emmy
red carpet.
Nadia Bjorlin
looked amazing in black . Outstanding Supporting Actress winner
Tamara Braun
–who won for her role on
Days of Our Lives
–chose a sultry grey. See what
Days of Our Lives
'
Shelley Hennig
and
Rachel Melvin
,
Guiding Light's
Kim Zimmer
,
The Young and the Restless'
Elizabeth Hendrickson
,
Tracey Bregman
and
Brenda Dickson
,
As the World Turns'
Terri Colombino
,
Julie Pinson
,
Kelley Menighan Hensley
,
General Hospital's
Laura Wright
and
The Bold and the Beautiful's
Ashley Jones
chose to wear
HERE
.
By J Bernard Jones on August 31, 2009
As of this writing,
The 36th Annual Daytime Emmy Awards
concluded a few hours ago on The CW and I am awash in mixed emotions after live Twittering the event. I wanted to put down these feelings while they are still fresh but I promise to keep these ruminations brief.
First, let me offer congratulations to Daytime Confidential's Jamey Giddens, along with TVGuide.ca's Nelson Branco and Soap Opera Digest editor Stephanie Sloane in their debut as commentators during the awards pre-show. Though one could detect a teeny bit of the jitters at various times, they were a class act all the way. I also must give praise to DC's Melodie Aikels, who did a bang up job offering live blog commentary during the pre-show & ceremony. READ MORE
By Melodie on August 17, 2009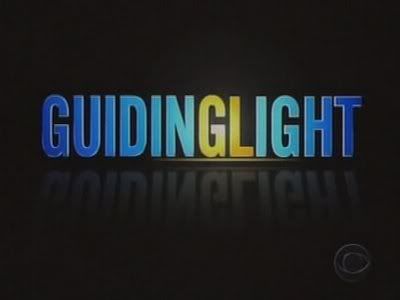 CBS Daytime is offering
Guiding Light
fans a chance to win a piece of the longest running television drama ever. This week, fans can go to the Official
Guiding Light
Message Boards on
CBS.com
and submit who is their favorite character and why to win Reva's (
Kim Zimmer
) broach given to her mother Sara.
The contest will have a new question and prize every week up to the finale. Go ahead, give it a shot!
By Luke Kerr on August 12, 2009
Kim Zimmer
visits with CBS reporter
Karen Brown
about what it is like to say goodbye to
Guiding Light
and talks about her storied history on the show.