Kent Masters King
By Jamey Giddens on March 19, 2013
Star-crossed lovers Gary and Valene Ewing (Ted Shackelford and Joan Van Ark) shared a reunion on Monday night's episode of TNT's Dallas that was more bitter than sweet. The way brilliant Dallas 2.0 writer Cynthia Cidre has it scripted, Gary and Val—who were blissfully reunited at the end of Knots Landing and still together in 1997 reunion movie Knots Landing: Back to the Cul-de-Sac—have now split, due to Gary falling off the wagon and bankrupting the couple!
While the Knots fan boy in me was a bit brokenhearted to learn Gary and Val hadn't lived a life of happy barbecues with neighbors Karen and Mac Mackenzie (Michele Lee and Kevin Dobson) on Southern California's fictional Seaview Circle, the Wishful Storyteller in me realized Gary and Val's golden years crisis could serve as the perfect launching pad for a new generation of marital melodramas via a Knots Landing continuation! READ MORE
By Jamey Giddens on June 12, 2009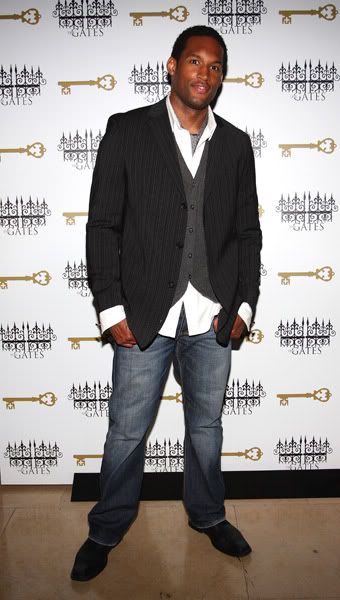 Hey brass at
General Hospital,
wanna a.) give the fans what they want in terms of more storylines featuring the hospital and b.) actually tell a storyline featuring people of color on your canvas as opposed to simply having them provide psychiatric counseling, prenatal advice and sassy commentary at the nurses' station? How about bringing back the character of Tom "Tommy" Hardy Jr. in the form of
Guiding Light star
and recent
Ugly Betty
guest
Lawrence Saint-Victor
?
As the son of Dr. Tom Hardy (last played by DAYS superstar Matt Ashford) and Tom's African-American ex-wife Dr. Simone Ravelle (last played by Felicia Bell), Tommy Hardy is a legacy character in the true definition of the word— the grandson of GH's first supercouple Dr. Steve (the late John Beradino) and Nurse Audrey (Rachel Ames), which makes Tommy a descendant of Port Charles' first family and a cousin to Elizabeth Webber (Rebecca Herbst). READ MORE
By Jamey Giddens on January 22, 2009
Be sure to check out the season premiere of
Burn Notice
tonight on the USA Network. Former
General Hospital
bad boy-turned-
True Blood
sucker
Graham Shiels
is guest starring on the spy romp. I gotta admit, I've never seen an episode of the show, but you can bet I'll be parked in front of the tube at 9C/10E tonight. Wouldn't it be great if we could actually see more of Shiels and
Kent Masters King
as GH's smoking hot Cody and Lainey? Nah, they aren't a pairing that already played out three years ago, and we know how GH loves those! P
hoto by
Paul Risconi.
By Regan Cellura on July 11, 2008
Remember Cody? They paired him with Kent Masters King's Lainey on
Night Shift
and introduced him on
General Hospital
as an Iraq veteran who served with Logan and Cooper. Graham Shiels quickly became a fan favorite and just as quickly disappeared from our screens. From fan reports, Graham was at the
Girls Night Out Fan Event
at General Hospital's Fan Club Weekend and our pal Nelson Branco has a juicy bit of info in his latest
Suds Report
.
Scene-stealer Graham Shiels returns as troubled war veteran Cody.
Hey Nelson... should we be asking why this great news was posted under General Hospital and not Night Shift?
By Jillian Bowe on May 21, 2008
Talk about a double whammy, Kent Masters King (Lainey) has been bumped to recurring on General Hospital and according to reports by Soap Opera Weekly wasn't asked back on the mothership's show Night Shift 2 when they set up shop again this year with returning actors Kimberly McCullough (Robin), Jason Thompson (Patrick) and, my girl Sonya Eddy (Epiphany) toting a brand new ensemble cast. So for those of you that were interested in the storyline with Cody and Lainey, kiss that bad boy goodbye for now.
It's a shame GH didn't find something for this talented actress to do besides be a lush listener for Robin whenever she's having problems. With all the craziness going on in Port Chuckie you'd think Lainey's office would be overflowing with patients by now!
By Jamey Giddens on March 29, 2008
With so many of her Knots Landing and Dallas peers turning up on daytime in recent years (Ted Shackleford and Joan Van Ark on Young and the Restless; Patrick Duffy and Linda Evans on Bold and the Beautiful. Kent Masters King on General Hospital and Kevin Dobson, soon-to-be on Days of Our Lives) wouldn't it be awesome if the best bitch to ever dwell in a SoCal cul-de-sac Donna Mills (aka Abby Fairgate Ewing) joined the cast of B&B as long absent Logan matriarch Beth?
Mills still looks just as hot as she did when she was scorching up primetime Thursday nights 20 years ago on the underrated Knots Landing. JR and Alexis might have gotten most of the attention from the mainstream press, but there has never been a more delicious blonde she-devil than Abby Ewing. Who better to play the mother of sin sisters Brooke and Donna? Not to mention gently chide youngest Logan sister Katie about her lack of fashion sense. I know Beth wasn't written as a glamazon during her earlier runs on the show, but a few years in Paris will change even the frumpiest of frumps. And with Mills in town, there would finally be someone in Los Angeles capable of taking on Hurricane Stephanie!