Kelley Menighan Hensley
By Jamey Giddens on January 30, 2013
There probably aren't many newbie actors more equipped to enter the world of a sordid soap opera than a former member of the
Real Housewives
franchise! Ex-
Real Housewives of New Jersey
sweetheart
Dina Manzo
has been cast in the upcoming web sudser
Tainted Dreams
, reports
Celebuzz
.
READ MORE
By Jillian Bowe on November 01, 2012
As The World Turns'
Kelley Menighan Hensley
is back on TV! The actress has snared a role in Showtime's new scripted satire
Reality Show
. The project focuses on Mickey Wagner (
Adam Rifkin
), a washed up reality TV producer, who makes a desperate attempt to return to Hollywood by creating a reality series centered on a real family.
Unfortunately for the family, they aren't aware of Wagner's plans, and have no clue he's placed them under 24-hour surveillance. Hensley plays Katherine Warwick, the family's matriarch, who according to Hensley's blog is:
insanely vanilla, crafty, sex deprived, and happy as can be. Or is she?
Take a peek of the show after the jump!
By Jamey Giddens on January 18, 2011
I can't believe the brass at
All My Children
is going to let one of the best reasons to watch the sudser,
Finn Wittrock
(Damon), walk out the door. As I mentioned in an
earlier post
, Damon and Liza's (
Jamie Luner
) combustible chemistry had me soapgasming all over the place last week. Well, I say Pine Valley's loss should be Salem's gain.
I would love to see Wittrock head over to Days of Our Lives as JT Rieber, the child Hope Brady (Kristian Alfonso) raised as a baby, before realizng he'd been switched with her now-deceased son Zack. I've been clamoring for a teenage JT to show up on Bope's doorstep in rebel mode for years, and now would be the perfect time.

The supercouple is going to need a new crisis to contend with once this prison story wraps. Why not have them deal with a surly JT, who resents Hope for not fighting Glen and Barb harder for him, because of his disastrous childhood with the pair? READ MORE
By Mark on September 09, 2010
After 54 seasons and one unforgettable journey As the World Turns comes to an end. Watch the series finale promo after the jump.
By J Bernard Jones on September 07, 2010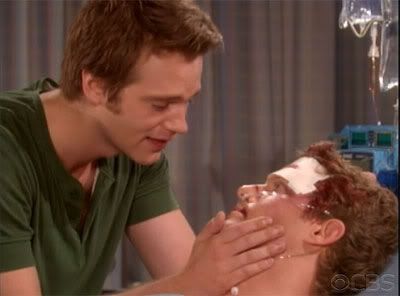 Before I get to today's stunning episode of As the World Turns, in which Dr. Reid Oliver dies and donates his heart to his professional nemesis/colleague Dr. Chris Hughes, I have a few thoughts about not only the serial's final days on the air, but also —in a broader sense—fan perceptions about what a soap's last days should be like, themes that will be carried forward as we look toward ATWT's final hours.
First, with less than two weeks to go before its final fade to black, ATWT is ending its 54 year history in perhaps better dramatic shape than almost any serial since the cancellation of NBC's Texas in 1982, a specific observation I will expand upon in a few days. Of course, there is lots to gripe and nitpick about the woulda-coulda-shoulda's of how the show might have wrapped things up. Many of those ideas are quite good and some are downright ludicrous, but in the final turn of events, all of that stuff is moot. The last scenes were shot, the sets have been struck, and the actors all went along different paths weeks ago. READ MORE
By Nekeeta Borden on August 30, 2010
It is with heavy heart that I pen this review for my beloved
As the World Turns
. I still remember that autumn day nearly six years ago, when my college roommate regaled me with tales of CarJack's (
Maura West
and
Michael Park
) magnetic pull despite Jack's amnesia, and Jennifer and Gwen's (
Jennifer Ferrin
and
Jennifer Landon
) heart-wrenching saga over baby Johnny, and I've been hopelessly hooked ever since. As time winds downs, the loose ends of Oakdale's patchwork are being sutured together, some to my delight and others to my annoyed chagrin. Just like your favorite drunken cousin at Uncle Pookie's home going, I'm going to tell it like it is, grief and tender feelings be damned!
READ MORE