Kathryn Hays
By J Bernard Jones on August 12, 2009
In another generally well-crafted episode of
As the World Turns
, Wednesday's show featured several fine performances including
Julie Pinson
(Janet),
Tom Degnan
("Riley"/Adam), and, yes folks,
Marnie Schulenburg
(Alison). However, it was two of ATWT's most beloved and revered veterans who taught a masters class in acting:
Don Hastings
and
Kathryn Hays
.
Hastings is not regularly recognized by the soaparatti, likely because his style is so laid back and naturalistic that it can generally be misconstrued as not being acting at all. In fact, I think Hastings' talent, like so many other daytime veterans, is taken for granted. On the contrary, it is the understated ease which Hastings brings to the role that can ground even the most outrageous of scenes, not the least of which occurred not too long ago when Hasting's Dr. Bob Hughes had to explain with a straight face how a microchip the size of an iPhone had been plucked out of Paul Ryan's brain. READ MORE
By J Bernard Jones on August 05, 2009
Perhaps someone passed along my
Open Letter to Christopher Goutman
. Perhaps
Barbara Bloom
took a good look at the plummeting ratings and decided that everyone should not lighten up after all. Perhaps head writer
Jean Passanante
took an extended vacation to Buenos Aires. Whatever has been happening over the last few weeks, let me step out on a limb and utter the words that many fans thought might not ever be said again or even believe:
As the World Turns
is, at long last, improving.
I fully expect the comments section to be full of invective and angry fist shaking about how ATWT is still "the worst soap on the air," how the vets are misused, and how the "Vortex of Suck" continues to, well, suck. In addition, the now well-documented list of the show's biggest defects remain stubbornly in place: warp-speed storytelling and the soul sucking semi-episodic structure continue to test the rapidly waning patience of the show's dwindling audience.
Having said that, it bears repeating that fans are a stubborn breed. We will praise shows, actors and performances we like, but we are quick to make our displeasure known when we feel things are not up to speed and falling apart. Once the latter narrative has been established it is very hard to turn the tide of opinion, even when a show starts to address its critics and make changes. Therefore, though the longstanding criticisms of ATWT are still valid, I think it is time to once again give credit where credit is due. READ MORE
By J Bernard Jones on July 25, 2009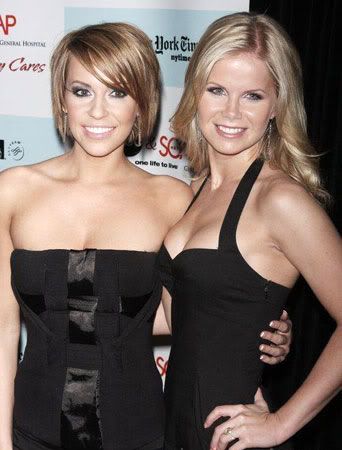 Dear Mr. Valentini,
I love One Life to Live, I really do. I haven't written much recently about your show on Daytime Confidential because there is so much going on at any given time that it can be hard to get a handle on which areas to focus. This is not a bad thing. You and your head writer Ron Carlivati have fashioned a fast moving, entertaining, and thoroughly engaging hour of daytime television that has catapulted it to the top of ABC's afternoon lineup. Bravo! There is far more good than bad on OLTL and in this case, no news can usually be good news. There is, however, one little thing that bugs me and it occurs to me that you — and only you — can fix it:
For the love of Harding Lemay, please put a merciful end to the disastrously choreographed fights between Gigi & Stacy! READ MORE
By Mark on July 22, 2009
As the World Turns was able to surprise the viewers today when the Hughes clan gathered at Tom (Scott Holmes) and Margo's (Ellen Dolan) for a surprise party for Casey (Billy Magnussen) who had just been reinstated at Oakdale University. In a scene Bob (Don Hastings) asked Alison (Marnie Schulenburg) out of the blue to bring in the next patient. When asked about it, Bob's excuse was that he was making a joke, but then later he called his wife Kim (Kathryn Hays) "Lisa".
Is this the beginning of an Alzheimer's disease storyline for Bob? Will it give vets like Don Hastings, Kathryn Hays and Eileen Fulton some much deserved airtime? I have to say, I'm intrigued and want to know where this is going. I just hope we won't find out that a microchip is causing Bob's strange behavior...
By J Bernard Jones on October 15, 2008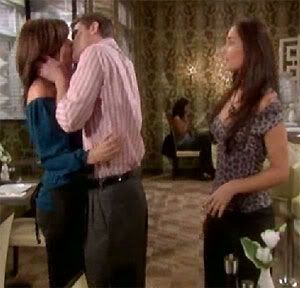 Gentle readers, I apologize for not having posted about Oakdale, but business called me away on business and I haven't been able to get back to the business of Oakdale's business until now:
Carly/Jack/Janet: The chemistry between Maura West & Michael Park jumps off the screen, but I'm just feeling that this seemingly endless seesaw Jack and Carly have been riding has got to stop once and for all. READ MORE
By J Bernard Jones on October 06, 2008
I wasn't going to comment on today's episode of As the World Turns because I've been extremely busy, but two segments were so incredibly good that I couldn't help myself.
The first segment was Chris' goodbye scenes with Kim. Beautifully written and heartfelt, these are the kinds of scenes that the ATWT writers should be penning all the time. READ MORE