Karen Harris
By Jillian Bowe on February 21, 2012

Former General Hospital scribe Bob Guza is having the last laugh on ABC for replacing him with Garin "Woman In White" Wolf. This past Saturday, Guza, along with writers Nathan Fissell, David Goldschmid, Karen Harris, Elizabeth Korte, Mary Sue Price, Susan Wald, Tracey Thomson, Meg Bennett (Guza's wife) and former GH-turned-The Bold and the Beautiful writer Michele Val Jean, took home the Writers Guild of America (WGA) award for daytime drama series writing.
READ MORE
By J Bernard Jones on November 23, 2009
Gotham
has finally arrived.
At this stage of the game, web soaps are entering a new phase of existence that may give fans a true view of the potential of the genre on the internet. Starting in the late 90's with the groundbreaking web serial The Spot to Karen Harris' ambitious Life in General and its actual-soap-within-a-soap "Greenville General" to the hilarious Wed-Locked to the wildly addictive Anacostia the Web Series to a brand spanking new radio-style serial called Out of the Gate, soap fans have seen a steady rise in the number of serial choices before them even while broadcast network television soaps are widely acknowledged to be in decline. READ MORE
By Jamey Giddens on April 30, 2009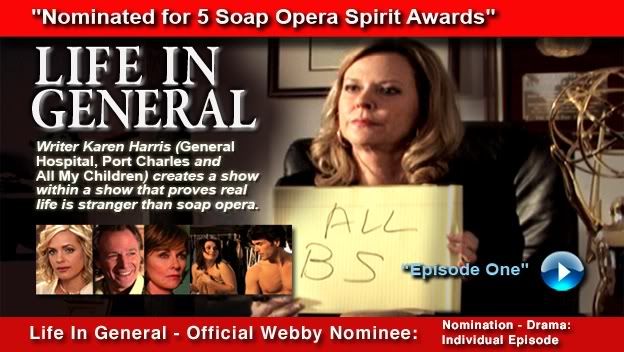 For those of you who have been asking when new episodes of
Strike TV
's drama series
Life in General
and its soap-within-a-soap
Greenville General
will be premiering, here's how you can help creator
Karen Harris
(
General Hospital
,
General Hospital: Night Shift
) produce more episodes, vote for
Life in General w/Greenville General
to win the People's Voice Webby Award for Best Drama Individual Episode.
Winning what is pretty much considered the Emmy Award for online content will help garner major buzz for the series. Buzz leads to sponsors. Sponsors leads to money. Money leads to more episodes. So if you want to see your fave soap stars like Days of Our Lives' Arianne Zucker, General Hospital's John Ingle and One Life to Live's Scott Clifton come back for additional eppys, go get your vote on! Remember to be persistent if you have trouble getting on. You have until midnight. Help support online soaps! The revolution will be webivised!
By Jamey Giddens on April 29, 2009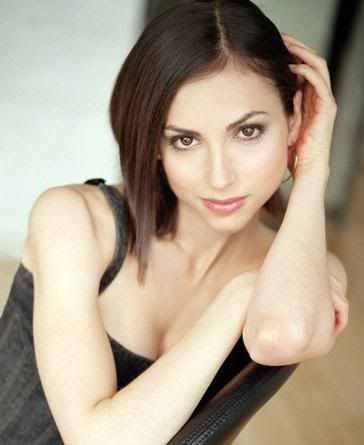 Okay, all you Soap 2.0 fans, if you are serious about wanting to see the talented writers, producers and actors who give it their all to provide us good, soapy drama year in and year-out see their projects thrive on the web, here's your chance. Tomorrow, April 30, is the last day to vote for the 2009 Webby Awards People's Voice selections.
Some of our fav-or-ite soapers are up for Webbys this year, including All My Children's Eden Riegel for Best Individual Performance, Imaginary Bitches; General Hospital and General Hospital: Night Shift's Karen Harris' web soap Life in General w/Greenville General for Best Drama Indvidual Episode and Luke 11:17, the web drama starring Riegel's AMC costar Chrishell Stause, which is also up for Best Drama Indvidual Episode. Vote for your faves here!
By Jamey Giddens on October 28, 2008
Today's the day!
Life in General
, the soapstastic, labour of love from
General Hospital
and
General Hospital: Night Shift
scribe
Karen Harris
debuts on
Strike.TV
. Starring past (
Brynn Thayer
,
Lindze Letherman
) and present (
Arianne Zucker
,
John Ingle
) soap faves,
Life in General
is a smart, sexy, campy glimpse into the behind-the-scenes world of daytime's most popular drama,
Greenville General
(also a Strike.TV show-within-a-show from Harris), experienced through the eyes of long-suffering soap writer (Is there any other kind?) Winifred Marshall (Zucker) .
In the pilot episode, Winifred has to deal with meddling network execs, a demanding executive producer, an aging, figure head series creator, a bed-hopping leading man and a volatile real and reel life supercouple, all while managing to put out a soap opera five-days-a-week. If you like character-driven, good-old-fashioned soap opera, Life in General is the show for you. READ MORE
By Jamey Giddens on September 05, 2008
Remember a few weeks back when
General Hospital
script writer Karen Harris gave 200 lucky Daytime Confidential readers an exclusive access code to view her upcoming Strike TV drama
Life in General
? Well now those same 200 peeps can
go on and check out
Greenviille General
the soap-within-the-soap. Who said Santa Claus only comes once a year? Probably a dirty Commie who doesn't believe in Jesus! DRILL FOR OIL! DRILL FOR OIL! Sorry...someone actually made me watch the Republican National Convention.
Anyhoo, Karen is doggedly trying to get us some additional access codes for those who missed the first opportunity, but those of you who logged on the first time can go back, re-enter your user name and password and voila! Instant Soapy Goodness and low in calories! Hmm, maybe I should sign up for Cooking to Get Lucky? Nah, I'll wait for Cooking to Get Free Xanax. READ MORE