Kamar de los Reyes
By Daytime Confidential on December 16, 2008
On today's ABC episode of Daytime Confidential Luke, Belinda and Regan discuss the latest news from All My Children, General Hospital and One Life to Live including...
Former Guiding Light star Crystal Hunt joining One Life to Live as a stripper. Scott Clifton and One Tree Hill's Brett Claywell coming to Llanview. Tonya Walker returns as Alex Olanov and Kamar de los Reyes's plans to leave One Life to Live.
Natalia Livingston returns to General Hospital as a new character. Who might she paired with and what might her storylines be? Maurice Bernard re-signs his contract, what does this mean for Sonny and the viewers? Word has it that General Hospital may flash forward in time. Can pretty much anyone get cut and it be blamed on the economy?
All My Children's Jake gets harsh with Amanda but does it make sense? Does Taylor have better chemistry with Brott or Frankie? Is the show trying to force to many pairings and not letting magic happen organically?
All this and more on today's ABC episode of Daytime Confidential.
Be sure to leave your comments on all the latest going ons in the world of soaps by calling the Daytime Confidential comment line by calling 917-677-9757.
Listen to Daytime Confidential by clicking on the Daytime Confidential Player at the bottom of this post or Download us for FREE via iTunes. Vote for us on Podcast Alley. Add us as a Friend on MySpace and Facebook.

By Jillian Bowe on December 10, 2008
Soaps.com is reporting that
One Life to Live
star
Kamar de los Reyes
is leaving his role as Antonio Vega. According to the web site, the
OLTL hunk has made plans with the show to leave at the end of Jan 09.
This shouldn't come as a surprise to readers of ABC's Soaps in Depth. The actor gave a quote that left some wondering if he was one the way out or not.

I realized that after 10 years of being on OLTL, Antonio is no longer the central figure that I believe he deserves to be. I realize this is not intentional on the show's part, but over the years, he has become less and less valued. I think it may be time to say goodbye.
Fans may recall that the actor portrayed the fomer gang banger turned cop from its inception in 1995 until 1997. In 1998, the actor reprised his role for a guest stint and finally returned to the role in 2000.
By Jamey Giddens on November 08, 2008
Join
Daytime Confidential
in wishing a very Happy Birthday to
One Life to Live
star
Kamar de los Reyes
(Antonio Vega).He turns 41 today. Like black, Puerto Rican and Cuban apparently don't crack.
By Tina on October 08, 2008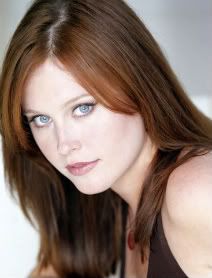 Jared and Natalie should reunite. Will it be smooth sailing for the couple? Rumors have them embarking on a new adventure of the nine month variety. However, Natalie still has to get out of the damned room. What role does Viki and Cain's return play in this? Does someone play on Tina's conscience? Do Bo and Viki get their heads together and realize that something is way off? Viki is not a dumb character and she really should figure it out soon.
Jessica / Tess will head into St. Anne's. While at St. Anne's, she will make friends with someone new. Is it Brody? Maybe. Brody, however, has lots of issues stemming from his PTSD. Brody and Bo will bond as war vets, what does this mean for Rex? While at St. Anne's, Jessica will follow a trail of clues leading to the whereabouts of Allison Perkins, who may or may not be awake and watching her. What happened to Allison's secrets? Will they still see the light of day? RUMOR has it that there is another copy of this DVD out there. Are one of these DVDs the way Shane is the first person to learn the truth about Rex's father, while he is still angry? RUMOR is he will keep it to himself for some time and begin to torment Rex and others with "poison pen" letters. This will be part of the buildup to the resurrected, larger storyline of "secrets" going into the new year. READ MORE
By J Bernard Jones on September 20, 2008
Grumblings about post-40th anniversary writing on One Life to Live have been growing recently. Even Ron Carlivati's biggest fans and cheerleaders are scratching their heads about a perceived drop in quality, including some like our friend Nelson Branco and TV Guide's Michael Logan. Personally, I'm not 100% on board with that specific criticism. I think the day to day writing is pretty much OK and very entertaining, with some glaring missteps in plotting. Unfortunately, Carlivati has developed a tendency to Guza-fy it up a bit with endless repetition of some themes ("Who's your daddy?" indeed) and his Paul Rauch-era 80's fetish does get a bit tiring. But that's not my biggest gripe.

Why in Sam Hill are so many actors chewing scenery as if it were part of an all you can eat Red Lobster buffet? Seriously, ever since the 40th anniversary and the end of the Writers' Strike, every episode seems to have at least two or three actors who floated in on a lifeboat from the good ship SS Passions and docked in Llanview Harbor. But here is the thing: I don't really fault the actors. Bear with me and I'll tell you why. READ MORE
By Luke Kerr on August 18, 2008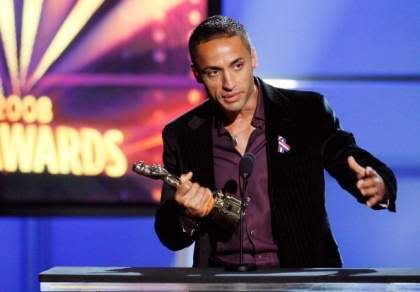 Congratulations to
One Life to Live's
Kamar de los Reyes
for winning the Outstanding Performance in a Daytime Drama Series Alma Award.
Kamar beat out fellow One Life to Live star David Fumero, General Hospital's Maurice Bernard, Passions' Galen Gering and Guiding Light's Jessica Leccia.