Justin Hartley
By Luke Kerr on October 02, 2012
The CW is hoping for some Grey's Anatomy magic with the their new medical drama Emily Owens, M.D. Starring Mamie Gummer as Emily Owens, and former Passions and Smallville heartthrob Justin Hartley as Will Rider, Emily Owens, M.D. tells the story of a woman who discovers being an intern at a hospital isn't much different than being in high school.
After his success as The Green Arrow on Smallville, I'd hoped Hartley would be the lead in Arrow. Since The CW decided to take the character in a different direction, Hartley lovers will have to watch him scrub in with Emily. Watch the premiere of Emily Owens, M.D. below!
By Jillian Bowe on May 06, 2012
Sad news, soap fans.
TMZ
is reporting former
Passions
,
Days of Our Lives
and
All My Children
star
Lindsay Hartley
has filed for divorce from husband
Justin Hartley
. According to the site, the actress listed "irreconcilable differences" as the reason she is ending her marriage of eight years.
READ MORE
By Daytime Confidential on June 07, 2011
Stars from All My Children, The Bold and the Beautiful, Days of our Lives and The Young and the Restless popped up at the DAYS Charity Event Benefiting the Leukemia and Lymphoma Society at the Hard Rock Café Hollywood on June 4 at Universal Citywalk. For more on DAYS Charity Events visit their Facebook Page. See more photos after the jump! READ MORE
By Luke Kerr on October 28, 2010
E! Online has the first image of All My Children star Lindsay Hartley from her upcoming appearance on The CW's Smallville. Unfortunately, it looks as if her character Mad Harriet won't share a scene with hubby Justin Hartley's Green Arrow.
The only downside to her guest spot is that longtime fans of Justin and Lindsay won't get that onscreen Passions reunion they're hoping for (we know you're out there!), since she'll only interact with Tom Welling and Cassidy Freeman.
The episode airs November 12.
Photo Credit: Jack Rowan/The CW
By Daytime Confidential on August 17, 2010
The Bold and the Beautiful's Brandon Beemer, The Young and the Restless' Christian LeBlanc and Days of our Lives' Casey Deidrick, Molly Burnett, Judi Evans, Chandler Massey, Shawn Christian and Lindsay Hartley turned out to support Nadia Bjorlin as she hosted ACME Saturday Night at the ACME Comedy Theatre on August 14. See photos from the fun filled evening after the jump! READ MORE
By Luke Kerr on October 03, 2008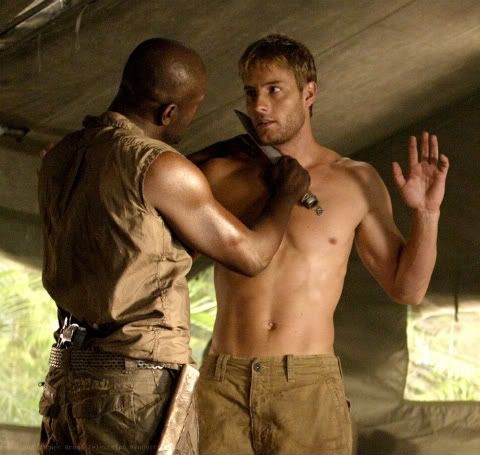 Michael Rosenbaum
may be playing a smaller role on this season of
Smallville,
but
Justin Hartley
sure doesn't seem to be. In addition to playing a pivotal role in the season premiere, Thursday's episode "Toxic" revolved entirely around Hartley's character the Green Arrow. Take your best shot at captioning this picture or the one of Hartley after the jump.
READ MORE