Julianne Moore
By Luke Kerr on April 19, 2010
Soaps fans have become accustomed to watching young stars learn how to act on the job, but it's always interesting to hear what the stars themselves have to say about their start on soaps. In a New York Post article Julianne Moore, Kelly Ripa and Vanessa Marcil talk about their early days on soaps. Marcil remembered this about Maurice Benard,
"Maurice Benard said, 'You're cute, but you suck. What do want? Do you want to get a storyline? If you want that, you're going to have to start working hard,' " he told her.

"He taught me how to act."
By J Bernard Jones on March 31, 2010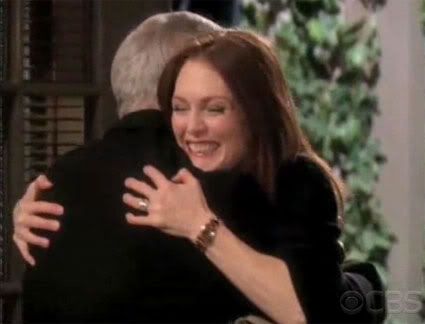 In preparation for
Julianne Moore
's guest appearance on
As the World Turns
, CBS has posted a brief sneak peek of her return as Frannie Hughes on their
website
.
The four time Golden Globe and three time Oscar nominated actress' episode will air on Monday, April 5 as Frannie swings through Oakdale for her parents Bob (Don Hastings) and Kim's (Kathryn Hays) 25th anniversary. For a preview, watch the video after the jump.
By Jillian Bowe on March 18, 2010
Oscar-nominated actress
Julianne Moore
reveals to
WENN
what to expect when one of her characters, Frannie Hughes, returns to her former stopming grounds on
As The World Turns
.
Says Moore,

"There is no time continuum in soaps, so I just came back as one of the sisters. The other one was stuck somewhere else! "As The World Turns was my first big job and everyone was wonderful and incredibly professional and very supportive and loving. It was a great job for me, so when they said the show was ending it was incredibly sad because you don't want to see anything end like that.

"I was happy to go back and glad to be there near the end of it. I was glad to see the people who played my parents and the woman who played my sister and to see a couple of the crew members who were still there. It was cool to be able to have that opportunity and to thank people."

By Luke Kerr on March 16, 2010
Julianne Moore has taped her April 5 appearance on As the World Turns, when she will reprise the role of Frannie Hughes. Moore recounted to Showbiz 411 what it was like to be reunited with Helen Wagner, who portrays her onscreen grandmother Nancy Hughes.

She says she loved being reunited with her soap family, including 92 year old show matriarch Helen Wagner, who plays her grandmother. "She's still giving us acting tips," Moore recalls.
By Mark on March 01, 2010
This weekend EW.com reported Julianne Moore was in "serious talks" to return to As the World Turns. CBS.com now confirms the actress will reprise her role of Frannie Hughes on an upcoming episode. What about Sabrina?
By Jillian Bowe on February 27, 2010
Three-time Oscar-nominated actress
Julianne Moore
is in "serious talks" to return to
As The World Turns,
according to
EW.com
. Moore got her big break portraying identical half sisters Frannie and Sabrina Hughes on the soap, and also won a Daytime Emmy for her efforts.
Thanks to Gush900 for the tip!