Judith Chapman
By Jillian Bowe on July 26, 2008
Get ready for a good ole' family reunion to take place in Genoa City! The Young and the Restless has cast Michael Gross (Family Ties) to play Lowell Baldwin, old flame of grifter Gloria (Judith Chapman) and deadbeat dad of defense attorney extraordinaire Michael (Christian LeBlanc).
Fans of the 80's sitcom Family Ties may remember that Gross played family patriarch Steven Keaton, a left wing political activist from the sixties. The character, along with his equally libral wife (Meredith Baxter), went through the trials and tribulations of raising their four children in front of millions of viewers each week. Extremely popular, the show topped out at No. 2 just behind the Cosby Show in the ratings.
Gross's Genoa City debut is set for August 15.
By Luke Kerr on July 09, 2008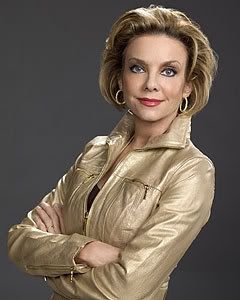 Anyone who has ever listened to the Daytime Confidential podcast knows that I'm a big fan of Gloria's on The Young and the Restless.
Well, whether you love Gloria, love to hate her or just plain hate her you're going to want to check out Nelson Branco's new interview with Y&R star Judith Chapman. They talk about the character, her motivations and the actress thoughts on the show.
Many long time fans believe that Gloria is single handedly responsible for the Abbot family's demise. Here are Chapman's thoughts on Jack and Gloria's relationship.
TVG: Do you think Gloria and Jack will ever be friends?
JC: Um, there could be a meeting of the minds down the road… something catastrophic would have to happen, though! Gloria will never forgive Jack for the horrible things he's said and done to her. I mean, the man kept Gloria from her husband's funeral! You can never forget or forgive something like that. Ever. That's why I wasn't happy when Eileen left the show because my yin got yanked. Ashley was Gloria's complete opposite.
By Daytime Confidential on June 07, 2008
On today's episode of Daytime Confidential Luke, Jamey and Nicki discuss As the World Turns' Carly and Holden and Cyndi Lauper's upcoming guest appearance.
We fantasize about what we'd like to see Sheffer do on Young and Restless and discuss Cane and Jill, Nia Peeples return and Judith Chapman's performance.
We discuss the "gold standard" of daytime sluts and the Bold & Beautiful's poor, poor Bridget.
Then we jump to Guiding Light and discuss Harley vs. Marina. The return of G and GL's mansluts.
Days of Our Lives is hopping with Nicole vs. Chloe and Sami, Lucas and EJ. We discuss how drunk tanks might be the way of the future and how John's brains on a disk floating around town has potential.
Listen to Daytime Confidential by clicking on the Daytime Confidential Player at the bottom of this post or Download us for FREE via iTunes. Vote for us on Podcast Alley. Add us as a Friend on MySpace. Drop by our sister site TV Fan Online and visit with other soap fans in the TV Fan Online Forums.

By Jillian Bowe on May 30, 2008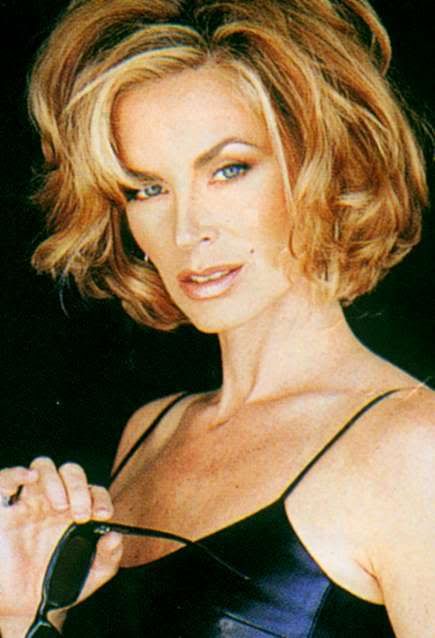 Looks like the The Young and the Restless is pulling out the big guns once again!
TV Guide Canada's reporting that Elieen Davidson (Ashley; Y&R/B&B) will be doing double duty when she swings by Genoa City and go head to head against Gloria (Judith Chapman) on Y&R.
Look for Ash to show up on your TV screens June 19 andamp; 20. For more info check out Nelson Branco's Suds Report.
Hmm.. Maybe Ash heard about Glo being down and out or maybe she's not so keen on Gloria's new residence that I reported on earlier this week...
By Luke Kerr on April 23, 2008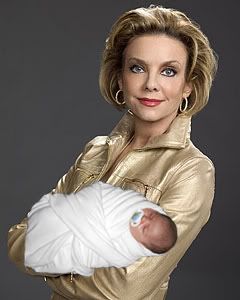 Anyone who has ever listened to an episode of the CBS & Days Daytime Confidential Podcast knows that I am an ardent fan of the Young and Restless' Gloria Baldwin Fisher Abbot Bardwell Bardwell.
I've defended her for almost everything imaginable and have been able to rationalize even worst of Gloria's antics in her defense. However, even I a "Gloria lover" must draw the line at the possibility of TPTB having her adopt a helpless baby or young child as they hinted at on today's (2/23/08) show.
Adopting a baby is not atonement for past misdeeds (though I'm sure in Gloria's mind it may be). Adopting a child is a seriously important decision. You don't just adopt a baby or child from an adoption agency like Paris Hilton picks out her latest Chihuahua at the nearest pound. What is Y&R thinking?
I guess it comes down to this. I don't have a problem Gloria trying to do good and make up for past deeds. We all know its not going to last. In fact I predict within 6 months (though it will probably be much sooner) she'll be back to her bad behavior. However, to get a helpless child involved crosses the line.
We've all seen how Michael and Kevin turned out under Gloria's mothering. It has taken both sons a very long time to get on the "straight and narrow" (as much as a Baldwin/Fisher can be on the "straight and narrow"). Can you imagine the hack job Gloria would do on the poor child's psyche by the age of three? And we thought Cassie's son on Guiding Light was evil incarnate, can you imagine how this child could turn out? It would bring down the apocalypse on Genoa City.
By Jamey Giddens on March 29, 2008
As longtime Young and the Restless fans know there was only one woman who truly ran the Abbott mansion and that was trusted housekeeper Mamie (played last by Veronica Redd). Mamie stood by John Abbott (Jerry Douglas) and protected him fearlessly from being made a fool of, especially from his conniving trophy wife Jill Abbott (Jess Walton). What a pity Mamie wasn't still around to help Jack (Peter Berman) and Ashley (Eileen Davidson) convince John to see the truth about Gloria (Judith Chapman) the way she helped him do so about Jill so many time over the years. Check out this classic Mamie vs. Jill show down.