Judi Evans
By Brian Peel on June 21, 2008

Days of Our Lives stars and nominees take to the red carpet on their arrival to the 35th Annual Daytime Emmy Awards.
By Luke Kerr on April 30, 2008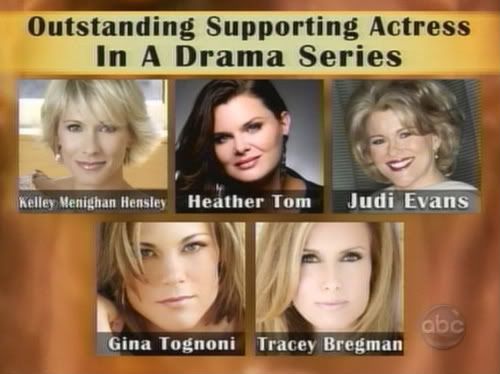 Congrats to Kelly Menighan Hensley, Heather Tom, Judi Evans, Gina Tognoni and Tracey Bregman. May be best supporting actress win but I wouldn't envy being in this category. Not when this was probably this year's most competitive category.
Before I continue I want to give a shout out to Judi Evans. I have loved your work since Another World and to see you nominated nearly 10 years after that great show ended is satisfying.
I am still in shock from this category. Not that any of these actress are undeserving, because each is a consummate actress. However, the fact that Kathy Brier or Catherine Hickland didn't receive a nomination for their work on One Life to Live is a crying shame. After losing the award to Genie Francis last year I sort of expected to see the Bold & Beautiful's Lesli Kay nominated, even if it was a sympathy nomination. I really wish there was some way to include both of Guiding Light's Gina Tognoni and Marcy Rylan in this category. Both had great a great year. Then we have General Hospital. Unlike some actresses who were obviously leads on their respective show Carolyn Hennesy is the definition of a supporting actress and while Rebecca Herbst's status as a supporting actress is questionable considering how much air time she receives the fact that she wasn't nominated for the scenes surrounding Emily's death is striking.
Looking at the prenominations list below and comparing it to the nominees above is there anyone who you feel is missing from this list or who should be on it instead of someone else?
Outstanding Supporting Actress Pre-Nominees:
AMC: Alicia Minshew and Sabine Singh
ATWT: Kelley Menighan Hensley, Colleen Zenk Pinter, and Marie Wilson
B&B: Jennifer Gareis, Lesli Kay, and Heather Tom
DAYS: Judi Evans, Martha Madison, and Mary-Beth Evans
GH: Rebecca Herbst, Carolyn Hennesy, and Kimberly McCullough
GL: Beth Chamberlin, Marcy Rylan, and Gina Tognoni
OLTL: Kathy Brier, Catherine Hickland, and Bree Williamson
Passions: Erin Cardillo and Melinda Sward
Y&R: Tracey E. Bregman, Judith Chapman, and Adrienne Frantz
Be sure to tune in for our Daytime Emmy Nominations podcast episode with should air on Thursday or Friday.
By Brian Peel on April 30, 2008


Scribes at Days have toyed with the fact that a mob war in Salem may be brewing. How we have longed for a Victor vs Stefano, Kiriakis against DiMera mob war rocking Salem's foundations. Victor Kiriakis was always cunning, but moreso when he visited his home town in Greece in 1987 for Justin and Adrienne's lavish wedding - on location! This scene highlights Adrienne's excitment in the leadup to arriving in Greece for her wedding, and Justin's joy at having the opportunity to marry the love of his life in his native land. Victor on the other hand is hard to read, wait for the final moment of this video, the music, the location, the wind in the air - it's the Greek king of mob, Victor Kiriakis at he's finest. Brilliant!
By Brooke on February 16, 2008
Thanks to forums poster Dr.EvansBlack for sharing this Days of our Lives blooper reel featuring many of our beloved Days favourites from the 80s.
A word of warning... some of them use rather surprising (ie. colourful) language to express their frustration... with that said, enjoy!
By Brooke on January 22, 2008
Wow, what a week it's been for offscreen drama on Days of Our Lives. The news about Tamara Braun joining Days, then the breaking news of Martha Madison (Belle) and Brandon Beemer (Shawn) being fired. Is anyone safe in Salem? Rumblings around the net are that no, noone is and watch out for more firings… seems it's going to get worse before it gets better. Plus, I've heard we should expect some sort of announcement on the future of Days, sometime in Feb/March.
So is it worth continuing to watch the show? Decide for yourself – this is what you can expect to see this week (apologies, yet again I have missed Monday's show so I will comment from Tuesday on):
EJ/Sami – go into hiding with the twins; Lucas aint too happy hear about this, but there isn't too much he can do about it from behind bars… or so you would think! Maybe having Stefano as a cellmate wont be so bad after all? Especially a Stefano who may have his own reasons for finding EJ and Sami… and little Giovanni. Is Lucas about to make a deal with the devil?
Marlena/John – after John got free on Monday's episode, Marlena still refuses to give up on him (frankly I'd be disappointed if she had so soon). She and Dr Carrington give John truth serum to find out exactly what Stefano and Dr Rolf did to him in the DiMansion Dungeons – unlike for everyone else, the serum doesn't work (what modifications did Dr Rolf make to John so that truth serum doesn't work??); the mention of Stefano's name apparently has John going mental. Instead, they give him a psychiatric test, learning what seems obvious to me, that John is without emotions (a real DiMera soldier if you like). I'm just hoping what I'm reading as a spoiler is true for this next part… Marlena goes to confront Stefano, armed with more truth serum! Brooke pleads… please please please let scary Marlena stay!
Shawn/Chloe, Philip/Belle – are going to team up to investigate Claire's kidnapping. They research Rob's tattoo and end up finding him in Crystal's store. Shawn the rookie cop demands his daughter back… Belle's still recovering in hospital, with Philip there to comfort her. She wants to join the hunt for Claire of course, but is not allowed.
Sorority (and Billie) – More disagreement over whether to tell the truth about Ford's death; Stephanie confesses her rape to the sisters in an effort to convince them to stay quiet, Chelsea has a normal teenage emotion/experience when she can't convince the gals to talk and wonders if Nick will dump her because of her continued secret keeping. Billie's job is threatened by the Dean if he finds out she had any knowledge of the girls' involvement in Ford's disappearance, prompting Billie to continue to work on Nick to spill his guts, appealing to his goody goody nature and his love for Chelsea. Meanwhile, Chelsea ends up cracking under the pressure and tells Crawford Decker his son is dead. Oops. Bo gets in on the action, meeting with a Dectective to discuss the case and Stephanie finally admits the truth about the rape to Steve.
Aaaand speaking of Steve, he and Kayla are still pursuing this baby making business – I'm sorry, but the only thing making me watch this s/l is how amusing I find Patch.
Next Week:
Holy moly! Next week looks freakin' awesome…
• Return of the lost DiMera's – Lexie (Renee Jones), Tony (Thaao Penghlis) and Anna (Leann Hunley)!
• Adrienne (Judi Evans) says her goodbyes
• John and Marlena start off the Ireland adventure
• Colleen (Shirley Jones) reveals she faked her death
• Max comes forward with Ford's body (ewwwwwwwww)

In Other News:

First date onscreen: Tamara Braun – her character 'Ava' (another soap character named Ava? Is there no originality left in soapland?), will be seen from February 8th

NBC Text Message Spoiler: Hope to rejoin the Salem PD? She's certainly been getting into everybody's business lately
By Lisa K. on January 02, 2008
Looks like another actor has been cut from the show. Judi Evans who plays Adrienne Johnson Kiriakis has been let go from the show as stated by the actress on her official website. Judi brought Adrienne back to Salem in May 2007 after her previous role of Bonnie Lockheart was tossed out by TPTB in March 2007. As another attempt to boost sagging ratings at the NBC soap with yet
another
classic character return, Adrienne languished on the sidelines much like Bonnie, being strung along in the Steve & Kayla saga and running the Cheating Heart bar. Such a waste of another good character with great family ties to the community of Salem.
The following message was posted on her guestbook:
Hi Everyone,
I hope everyone had a wonderful holiday. Austin, Michael, and I truly enjoyed ours. I wish everyone a healthy and happy new year. Days news: After the new year, Adrienne and Justin and their boys will be moving to Dubai. I just recieved the script. What's in store for them in the future is anyones guess. I am currently working on several different projects and will give updates when I can. Thank you for all your support through the years and may God bless you all!
All my best,
Judi