Joy Behar
By Jillian Bowe on January 12, 2009

Fast-forward up to the 4:52 mark and see what set off The View, ladies today when speaking with conservative pundit Ann Coulter. I get what Ann's trying to say in regards to biracial children, it seems as though your favoring one side of your heritage for another. It comes off as a person just disregarding an entire side of themselves. Tell me this though, when did Ann become the spokesperson for the biracial masses? I didn't know she was on Halle's payroll along with Alicia and Pres-elect Obama's. Is she passing? If so that debunks her entire debate now doesn't it? Gotta love Whoopi's remark though at the 7:00 mark..
By Jillian Bowe on January 12, 2009

We all know Ann Coulter's routine is to stir up controversy in order to sell books. Everyone knows bad publicity is good publicity, if someone's talking about you then you must be doing something right. Ann did that and got more than what she bargained for today when, she made her rounds to promote her book and stopped by The View. Watch the clip as those ladies of The View all come together and just check's Ms. Coulter on her latest firestorm she's created. I love how Sherri goes out swinging for her Babs and Whoopi... Well ya'll know Ms. G don't play that!
By Jillian Bowe on December 11, 2008
Seems like we're not the only ones pissed at ABC for letting some great shows bite the dust. Today on
The View
, co-host
Whoopi Goldberg
decided to let her employers at ABC know how she feels on their decision to cancel
Eli Stone
and
Dirty Sexy Money
. At the 6:00 minute mark until the end, Ms. Goldberg comes out swinging on ABC and isn't afraid to do so! Love Joy's comments about the entire thing.
Anyone else find it refreshing that a star at major network decided to call out their bosses for some of the stupid mistakes their making regardless of any consequences they may face? Maybe this will become a new trend for television actors to put their executive bosses on full blast. Here's hoping the brass over at ABC decide to halt cancelling DSM and ES!
By Jillian Bowe on December 09, 2008
If you thought funnyman
Don Rickles
's
zinger
to
The View'
s
Elisabeth Hasslebeck
was harsh try again! The comic made a pitstop by the ABC talk show to pimp er promote his book,
The Rickles Letters,
which is based on things he'd like to say to his friends and other celebs.
Pay attention to the 1:55-2:37 mark of the clip where Don and Joy banter. He pretty much threw fish grease on Star Jones and nemisis er former boss Barbara Walters tries to play peace maker. Its official, Don's the man because he just put out the dirty laundry of that show without batting a eye! READ MORE
By Luke Kerr on December 05, 2008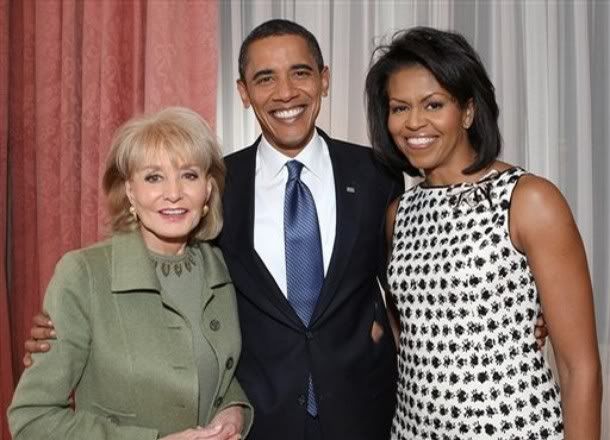 Barbara Walters hosted her annual Barbara Walters Presents: The 10 Most Fascinating People list last night and named Barack Obama as her No. 1 most fascinating person. Check out the list of Barbara Walters' nine other fascinating people of 2008 below.
Frank Langella (Frost/Nixon)
Michael Phelps
Miley Cyrus
Rush Limbaugh
Sarah Palin
Thomas Beatie (Pregnant Man)
Tina Fey
Tom Cruise
Will Smith

Honestly, the best part of the whole special was the cameo by Joy Behar at the very end. Other than that, the list was pretty predictable.
By Luke Kerr on November 20, 2008
Barbara Walters
came out swinging in her oh-so-polite away saying that she "resents" a couple ex co-hosts dumping on
The View
for their own publicity.
Translation: The political season is over, what better way to keep ratings at all time highs than to take on the big R and big S again?