Jonathan Jackson
By Perkie on January 21, 2010
I wasn't happy with Lucky going over to Jason's and basically telling him all the evidence he has in the Claudia case. First off, why was it necessary to pre-warn Jason? Whose side is Lucky on? And secondly, by telling Jason that Maxie is a witness, doesn't than endanger Maxie's life? Although, I will give Jonathan Jackson credit for having Lucky seem so wild and bewildered in that scene. It was almost like he had ants crawling under his skin. READ MORE
By Regan Cellura on January 21, 2010
Here's the Scoop!
I'm all caught up on GH and ready to dish! First, welcome back Jonathan Jackson! I know he's been back for a bit now and I know most GH fans are happy the original recipe Lucky Spencer returned to his Port Chuck roots but for me, there has been something lacking. The topic was discussed on a recent ABC Podcast and I just have to say that the Lucky who is all cracked out after seeing Elizabeth and Nikolas together is the JJ I've been waiting for. My roomie and I were discussing this very topic last night and some of you may remember that she is a HUGE Greg Vaughan fan but even she admitted after those scenes, she would have liked to see Jackson take on Lucky's addiction the first go around.
Look for Lucky to not hide his addiction this go around. He's telling Lulu that he's fallen off the wagon today. RUMORS have Lulu and Dominic trying to pick him up and dust him off. Can they? Nikolas and Elizabeth will get a piece of his mind but will it be a clear head or a cloudy drunken mess? Can Lucky continue to play Daddy in his current state? SPOILERS say Elizabeth is melting down at work but I'm not sure Liz fans should get their panties in a bunch just yet. The nurse MAY break but she shouldn't be headed to Shadybrook. READ MORE
By Jillian Bowe on November 24, 2009
Silver screen gem James Franco, along with a few cast members of General Hospital, discuss the actor's stint on the show and what viewers can look forward to. READ MORE
By Regan Cellura on November 13, 2009
Here's the Scoop!

I was on a GH high last week and what always gets me about this show is that I feel like I come down too hard.
I haven't been feeling that high this week and in fact I see a lot of typical repetitive nonsense BUT I'm still hanging in there. I'm not jumping off the bandwagon just yet. Obviously,
James Franco
has me wondering and the addition of
Scott Reeves
as Steven Lars Webber has me giddy with expectations. One thing that is definitely keeping me hanging on… Dante/Dominic. Whatever you call him I'm saying
Tom Pelphrey
who? So much so that I almost gave my roommate a smack across the head when she declared her dislike for him the other day.
READ MORE
By Jamey Giddens on November 12, 2009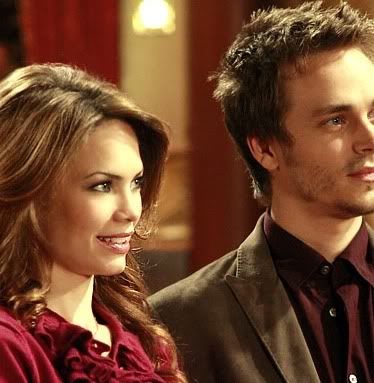 Like the usual state of Lily Snyder's menstrual cycle, I'm a bit late with my ratings column this week (Source:
SON
), but don't worry, I didn't tumble down any stairs, nor was I kidnapped to Malta. ABC Daytime's
General Hospital
had a Lucky week Oct. 26-30, 2009. GH gained 163,000 total viewers, and went up two-tenths of a ratings point in households. GH also went up one-tenth of a point among women 18-49. Tied with GH in households is sister sudser
All My Children
, the serialized trainwreck added 52,000 total viewers. AMC is up one-tenth of a ratings point in households and held steady among women 18-49.
One Life to Live
also saw an increase in total viewers, even if the bump was as slight 28,000. OLTL held steady in households and among women 18-49. OLTL is tied with AMC in the most coveted demo, while GH is a full three-tenths of a ratings point ahead of the other two Mouse House soaps in the demo. AMC has the distinction of being the only soap on ABC up year-to-date for the ratings period.
NBC's Days of Our Lives lost 43,000 total viewers, but was still up year-to-date 252,000 viewers. DAYS held steady in households, but went up one tenth of a ratings point in the all-important women 18-49 demo. READ MORE
By Daytime Confidential on November 04, 2009
On today's ABC episode of Daytime Confidential Luke, Jamey, Jillian and Eye on Soaps' Belinda discuss the latest in All My Children, General Hospital and One Life to Live storylines and news, including:
All My Children was ABC's highest rated soap. What in the world is going on? Is there a logical explanation? What has happened to Pine Valley's Jesse Hubbard? Is he proving to be a corrupt cop? Brot and Natalia are a cute couple, but is Natalia too intense about being a cop? David Hayward tries to hold Amanda's womb captive. Luke makes an admission about AMC he never thought he'd hear himself say.
General Hospital was on fire with Jonathan Jackson's return as Lucky' and Claudia being busted. Maurice Bernard and Sarah Brown gave standout performances. The gang reacts to the news that Natalia Livingston is leaving GH. With Jonathan Jackson back, should GH try and get Amber Tamblyn back? Belinda makes a "shocking" statement that has Jamey defending one of his favorite characters
Llanview celebrated one big gay wedding on One Life to Live. Was it a metaphor for the show's other couples? Scott Evans gave a standout performance as Oliver Fish. David Vickers has "a date with Destiny" as they go to London to rescue Matthew. With Forbes March leaving As the World Turns would this be a good time to bring him back as Nash to reunite with Jessica?
All this and more on today's ABC episode of Daytime Confidential
Help support and improve the Daytime Confidential podcast: Take a few minutes to fill out the two Daytime Confidential listener surveys: Listener Survey A l
Be sure to leave your comments on all the latest goings on in the world of soaps by calling the Daytime Confidential comment line by calling 917-677-9757.
Listen to Daytime Confidential by clicking on the Daytime Confidential Player at the bottom of this post or Download us for FREE via iTunes. Vote for us on Podcast Alley. Add us as a Friend on MySpace and Facebook.

READ MORE