Jon Lindstrom
By Luke Kerr on July 14, 2009
Carly's (
Maura West
) spiral down the bottle continues, even after ending up in the hospital. Craig (
Jon Lindstrom
) calls Carly on her behavior, who begs him not to take her home.
By Mark on July 13, 2009
A promo with a first look at Forbes March's character Mason Jarvis.
By Mark on July 06, 2009
They tried to make her go to rehab, but she said no, no, no...
By Luke Kerr on July 06, 2009
By J Bernard Jones on June 18, 2009
My absence from Daytime Confidential lately has not been due to the usual business of family and work taking up a lot of my time, but rather a certain lack energy to post about practically any of the daytime serials that clog up my DVR from day to day. This is neither a positive nor a negative thing because there are frequent periods throughout the year when shows kind of coast along and do their their thing, usually between sweeps.
At these times, there is little for the viewer — if that viewer is me — to get all worked up about this plot twist, that character's action, some couple or another or even a whole show's direction. Normally, this state of affairs hits one or two shows at a time. Every once in a while like the last couple of weeks, the stars align and all the serials get caught in the same momentum of drift. All that is required of us is to watch and see where it all goes.
In that spirit, my brain plays a little game of soap opera hopscotch, taking in odds and ends big and small. There is no great elaboration on anything here, just a quick rundown of things I like and not like so much. Your mileage may vary... READ MORE
By Jamey Giddens on June 09, 2009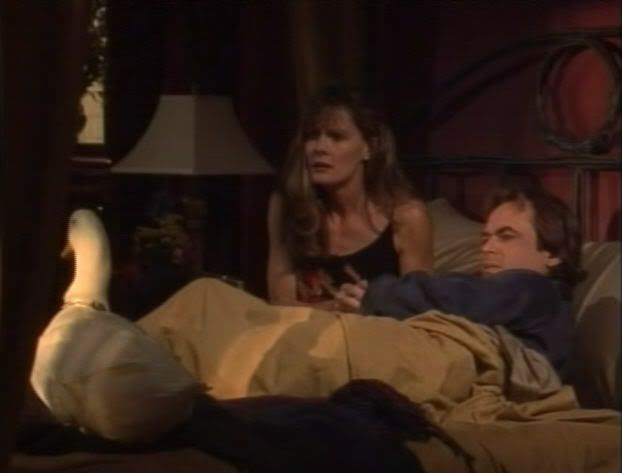 Chris Goutman
and
Barbara Bloom
are the smartest, most awesomest, most fetch, spiral-perm-wearingist peeps (Babs, not Chris) in the SOAPYVERSE! I take back every nasty, shortsided word I ever said about these two brilliant, creative soap operatic minds, for one reason and one reason only—LUCY COE! Now that those darling,
non
-soap opera slayers are bringing my
Lynn Herring
aka LUCY COE (her name must be said in all caps at all times. It's only fitting for a soap character diety) to
As The World Turns,
all is forgiven! This must be how it feels when Kim and Barbara have a truce, or Emily and Margo share a moment.
What???? Shut up. I SAID SHUT UP! Oh, I bet you're wondering what's going on. No Stenbeck hasn't slipped me a mind-altering mickey, that pesky Luke Kerr keeps telling me her name won't be LUCY COE on As The World Turns, and that she'll actually be Henry's (Trent Dawson) gold-digging, MILF of a mother. Well, that's all very well and good, but to me she will be LUCY COE—librarian-turned-trophy wife-turned-cosmetics queen-turned vampire slayer! READ MORE