Jon Lindstrom
By Jillian Bowe on January 09, 2013
The wait is over, Lucy (
Lynn Herring
) and Kevin (
Jon Lindstrom
) fans!
ABC Soaps In Depth
is reporting Lindstrom is bringing Lucy's love doctor back to
General Hospital
! Headwriter
Ron Carlivati
said:
The last we knew, it was implied at Lila's memorial that Lucy had reconciled with Kevin, and that they were together. And we did see a picture of him on her desk at CoeCoe Cosmetics. So the big question is, where is he and why hasn't she mentioned him? Lucy gets herself into a pretty major jam during February sweeps and, when that happens, she receives a surprise visitor. That is Kevin. When he arrives, you'll find out why you haven't seen him yet, why she hasn't mentioned him and what is the status of their relationship.
Photo credit: ABC
By Luke Kerr on December 11, 2012
Former As the World Turns co-stars Jon Lindstrom (ex-Craig Montgomery) and Cady McClain (ex-Rosanna Cabot) have become engaged, according to Soaps in Depth. Congratulations to the couple!
By Jillian Bowe on December 02, 2010
CBS Soaps In Depth
is reporting that
As The World Turns
alum
Jon Lindstrom
will guest star on
Blue Bloods
. Lindstrom will play Judge Blake Fenton, whose constant rulings againt D.A. Erin Regan-Boyle (
Bridget Moynahan
) become suspicious. The actor's episode will air Jan 7 on CBS at 10 p.m. EDT.
By Mark on September 19, 2010
As the World Turns has released a video with deleted scenes from the show's final episode. You can watch it after the jump. READ MORE
By J Bernard Jones on September 16, 2010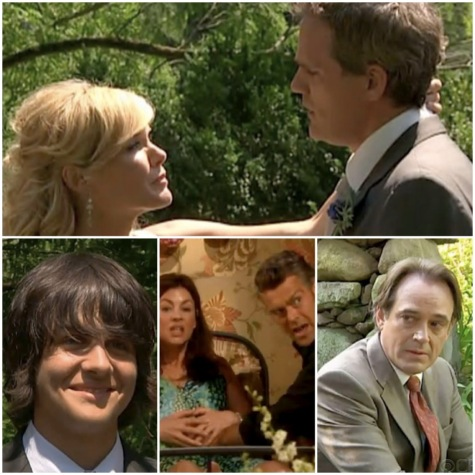 Several days ago, I posted an entry about the fallout from the death of Dr. Reid Oliver (Eric Sheffer Stevens) on As The World Turns. There were three central ideas in that piece. First, despite the very legitimate complaints that any given fan might have, ATWT is providing great human drama here at the end of its run. Second, Reid's tragic passing and donation of his heart to Chris (Daniel Cosgrove) encapsulated that goal mainly by thrusting the Hughes'— the show's core family since its very debut— front and center toward its conclusion. Third, given the soap opera wrapped production months ago, the idea of kicking a dead horse with unrelenting criticism isn't going to make it win the Kentucky Derby.
I have not budged one iota from any of those positions and I am about to incur the wrath of a whole lot more of you by making what I know will be a very controversial statement to many: I believe that in these final days, executive producer Christopher Goutman has made mostly the right decisions.
By Mark on September 09, 2010
After 54 seasons and one unforgettable journey As the World Turns comes to an end. Watch the series finale promo after the jump.