Johnny Depp
By Jillian Bowe on January 25, 2012
Who says soap operas aren't profitible? Starting April 10, Dark Shadows: The Complete DVD Collection will be available for purchase. Fans can relive all their favorite moments of the gothic soap just in time for the big screen adaptation starring Johnny Depp. The collection will feature bonus interviews with the stars of the sudser and creator Dan Curtis. To pre-order the DVD's click here!
By Johnathon on March 08, 2010
Soap fans waiting on word about the upcoming
Dark Shadows
revival don't have to wait any longer! While promoting his new film
Alice in Wonderland
star
Johnny Depp
had this to say about
Dark Shadows
:
Tim and I have tossed the idea for Dark Shadows over the years. It was a TV program in the States in the late 60s and early 70s that I remember watching as a kid. I was obsessed with this character, Barnabas Collins, who was

a vampire

. I came to find out many years later that when he was a kid, Tim ran home like I did to watch that Gothic soap opera. It was a very strange thing back then.We looked at ways to go, story-wise. We've started to come up with something interesting. If all goes well, I will jump into that toward the end of this year."
For more on this story head on over to The Inquirer by clicking the link here.

Photo by PR Photos
By Jamey Giddens on June 03, 2008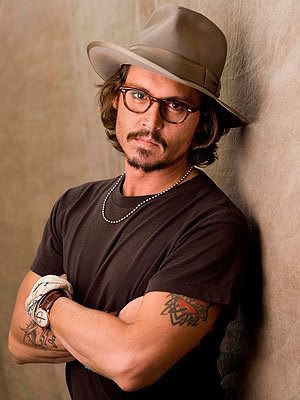 HUGE news for the daytime television industry!
IESB.net
is reporting that ABC Daytime's cult classic vampire soap
Dark Shadows
is being made into a feature film with Tim Burton rumored to direct and Johnny Depp attached to star! Although Dark Shadows was short-lived (1966-1971) the show was groundbreaking due to its mix of the supernatural with the traditional elements of serialized dramam and was a forerunner to such supernatural themed soaps as
Port Charles
and
Passions
and even primetime's
Buffy the Vampire Slayer
and
Angel.
To my knowledge, although some movies were later turned into daytime soaps-Peyton Place begat Return to Peyton Place- this will be the first time a daytime soap will be adapted for the big screen. Although to be fair, DS, was also made into a blink-and-you-missed it primetime serial for NBC starring Ben Cross as Barnabas and Another World's Joanna Going as his gothic love Victoria, but I am betting it's the daytime original that is being used for basis.