John McCook
By Darren Lomas on April 27, 2009

A bumper edition of bloopers from The Bold and the Beautiful. Way more entertaining than Rick and Steffy.
By Darren Lomas on April 22, 2009
Check out this video from the makers of The Bold and the Beautiful - John McCook (Eric Forrester) offers up some tips on how to live a greener life for Earth Day, along with a few funny clips from the show. Strangely, he doesn't mention the recycling of scripts, storylines or sets. We all know B&B is green in that respect.
By Darren Lomas on April 20, 2009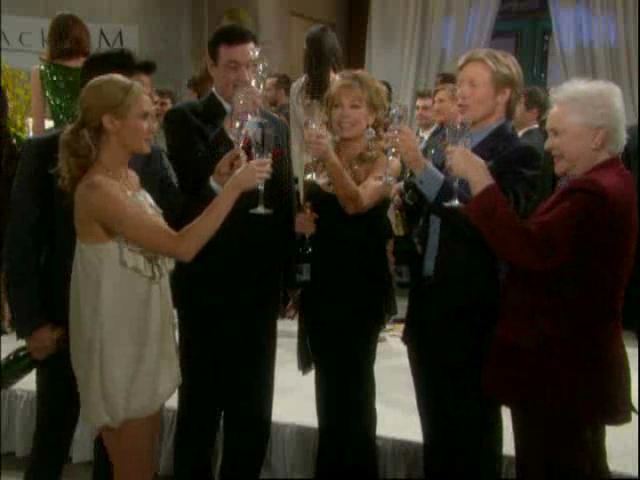 As much as it pains me to type it – last week I was reminded why I used to want to slap Taylor upside the head. She and Ridge put Brooke on the spot about Rick, Taylor spouting, "your son is sick, Brooke. Wake up! He is psychologically damaged." While this may be true, how can she be so sanctimonious? Taylor's own son, Thomas, is undergoing psychiatric help for his demented arson and car bombing attacks. I mean, really, take a look in the mirror, girlfriend. Taylor's own son is nuttier than a fruitcake, and if it hadn't been for Rick's invention last year she'd still be drowning her sorrows in LA's finest door-to-door delivery vodka.
During Taylor's lunch date with "world-renowned" quack James Warwick, ex-husband Ridge and fire-starter Thomas, it looked like someone might take some responsibility for their own actions. Alas, it wasn't to be:
Taylor: "Sweetheart, you were defending my honor. I was the one who was all caught up in these feelings, and I -"
Thomas: "- you know, let's not blame ourselves. Let's blame Rick."
Yeah, great idea Thomas. Let's blame Rick. In amongst the insanity that was Taylor/Ridge vs. Rick, Brooke at least came back with a zinger when Taylor accused Rick of having an Oedipus Complex:
Brooke: "When did you come up with this diagnosis? Before or after you slept with my son?" READ MORE
By Jillian Bowe on April 06, 2009

Hell hath no fury like Stephanie Forrester and Kevin's finally caught.
By Darren Lomas on February 21, 2009
By Darren Lomas on February 16, 2009
As seems to be par for the course these days – lots of people were having conversations about Rick (
Kyle Lowder
) and Steffy's (
Jaqueline MacInnes Wood
) relationship. The week began with Brooke telling Rick, "you don't grieve for somebody by getting involved with their twin sister." Considering he was recently engaged to the twins' mother too, it's just downright nasty. Plus, her "granddad" is Rick's father. Yuck.
James Warwick continued his "intervention" by telling Steffy that Rick was using her. It was all a bit slapdash – he didn't even bother to talk about it properly with her, he just parroted what Taylor and Stephanie had told him. Taylor even called him "one of the most respected psychiatrists in the world." At least that gave me a laugh. READ MORE