John McCook
By Darren Lomas on July 19, 2009
The aftermath of the honey fiasco was quite silly really. Pam told Stephanie that she'd been behind Donna's gunging, but denied it to Donna, Eric and Ridge. She resigned from
Forrester Creations
before she could be fired, and later in the week went for a job interview at Jackie M. Hilarity ensued. (Note to B&B writers, CCed to Alley Mills: a little campiness goes a long way.) She talked about her brain tumor, she offered them lemon bars and she got the job. That probably means more Pam hi-jinks with wild animals, honey, or both, very soon.
Katie took on damage control for Forrester. Bill convinced her to have a "business dinner" with him, on the understanding that she'd put forward a case to keep the Donna-drenched-in-honey pictures off the front page. Bill made it clear that he wanted to take Eric down and get control of Forrester. She was intrigued by him and wanted to dig deeper. He was drawn to her, but warned her off getting too close. This is the stuff I love - finally, some sparks on B&B. There was a moment I thought they were gonna get fresh on his office desk. They sure beat the dead-on-arrival pistachios and mini-hoops "romance" Katie had with Nick. READ MORE
By Jillian Bowe on July 13, 2009

Didn't you R&B lovers dig the title? In the name of William Bell, Sr I hope Brad writes well for this man...
By Darren Lomas on April 27, 2009

A bumper edition of bloopers from The Bold and the Beautiful. Way more entertaining than Rick and Steffy.
By Darren Lomas on April 22, 2009
Check out this video from the makers of The Bold and the Beautiful - John McCook (Eric Forrester) offers up some tips on how to live a greener life for Earth Day, along with a few funny clips from the show. Strangely, he doesn't mention the recycling of scripts, storylines or sets. We all know B&B is green in that respect.
By Darren Lomas on April 20, 2009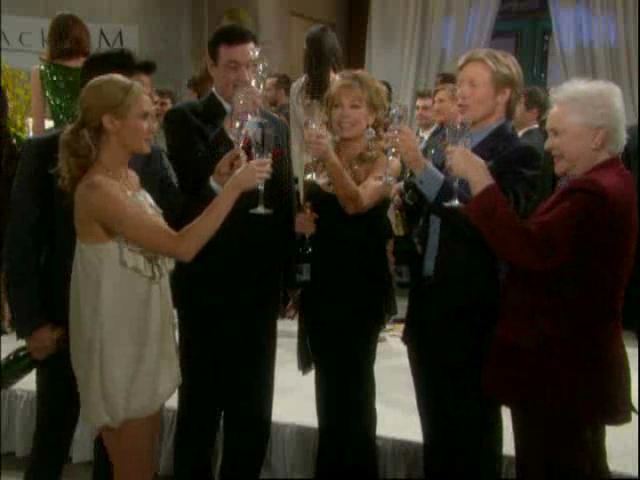 As much as it pains me to type it – last week I was reminded why I used to want to slap Taylor upside the head. She and Ridge put Brooke on the spot about Rick, Taylor spouting, "your son is sick, Brooke. Wake up! He is psychologically damaged." While this may be true, how can she be so sanctimonious? Taylor's own son, Thomas, is undergoing psychiatric help for his demented arson and car bombing attacks. I mean, really, take a look in the mirror, girlfriend. Taylor's own son is nuttier than a fruitcake, and if it hadn't been for Rick's invention last year she'd still be drowning her sorrows in LA's finest door-to-door delivery vodka.
During Taylor's lunch date with "world-renowned" quack James Warwick, ex-husband Ridge and fire-starter Thomas, it looked like someone might take some responsibility for their own actions. Alas, it wasn't to be:
Taylor: "Sweetheart, you were defending my honor. I was the one who was all caught up in these feelings, and I -"
Thomas: "- you know, let's not blame ourselves. Let's blame Rick."
Yeah, great idea Thomas. Let's blame Rick. In amongst the insanity that was Taylor/Ridge vs. Rick, Brooke at least came back with a zinger when Taylor accused Rick of having an Oedipus Complex:
Brooke: "When did you come up with this diagnosis? Before or after you slept with my son?" READ MORE
By Jillian Bowe on April 06, 2009

Hell hath no fury like Stephanie Forrester and Kevin's finally caught.