John Driscoll
By Jillian Bowe on November 03, 2009


Watch the final episode of The Young and the Restless' cat's meow, Mr. Kitty.
By Jillian Bowe on October 26, 2009

Those wacky kids over at The Young and the Restless are back again, with Mr. Kitty's real story.
By Jillian Bowe on October 19, 2009

The good folks over at The Young and the Restless are at it again with part two of Mr. Kitty's "real" story.
By Jillian Bowe on August 21, 2009
Is it over for our favorite psychopath Patty, aka Mary Jane? Say it ain't so! Meanwhile, how fierce is she–getting a wedding dress in a pinch?
Thanks to beautreal for the tip!
By Jillian Bowe on July 31, 2009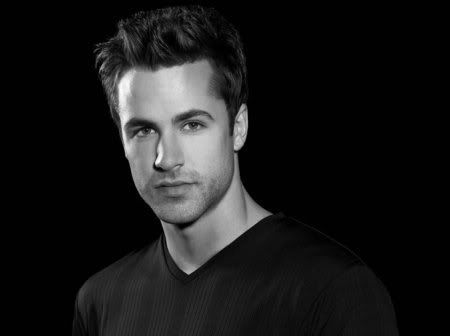 Advocate.com's
Michael Fairman
fills
The Young and the Restless
star
John Driscoll
(Chance) in on the Internet rumors swirling about his character's sexual preference. Driscoll finally lays to rest what his character's status is:
Your debut on Y&R was so highly anticipated. There were online rumors and reports about if your character was going to be gay or straight. Were you aware of this?

Yes. I was trying to do some homework before I started, and one of the websites said there might be a budding relationship between Mac, Chloe, and Rafe. And I said, "Rafe? What? That does not sound like a female's name. This character has been gone such a long time they don't know what his affiliation is. Is he gay? Is he straight? What's the deal?" I thought, You know what? If it's going to play that way, that's OK. As an actor, you are always looking for the next challenge. I don't find anything taboo behind it. I have played a gay character before on a short-lived show called The Book of Daniel with Aidan Quinn and Ellen Burstyn on NBC. I actually worked opposite Christian Campbell, formerly of All My Children, where he played Bobby Warner. We had this romance on the show, and if the show had not been canceled, you would have seen the budding relationship between our two characters. It was really funny doing double duty while I was doing Guiding Light. So during the day I was having bedroom sexual scenes with a female, and then at night on set in bed with a man. It was crazy. I needed a couple of drinks! [Laughs]
Fairman goes on to ask Driscoll point blank about Chance's sexuality: READ MORE
By Daytime Confidential on July 21, 2009
On today's CBS and Days of Our Lives episode of Daytime Confidential Luke, Jamey, Jillian and Melodie discuss the latest in As the World Turns, The Bold and the Beautiful, Days of Our Lives, Guiding Light and The Young and the Restless storylines and news, including:
Forbes March makes his As the World Turns debut. The Knights of Meg's Round Table ride to her rescue. Emma chews out Meg. Paul has a microchip in his brain. Is Oakdale becoming As the Days Turns into General Hospital? Should Noah be connected to the canvas more? Henry's alter-ego is unmasked. Bonnie's weave isn't the only "hairy" problem on ATWT.
Rick Hearst returns to The Bold and the Beautiful as Whip Jones. The DC gang shares their reactions to his debut. Is it just us or do Whip and Stephanie have unintended chemistry? B&B seems to be going back to basics by focusing on Taylor, Ridge and Brooke, but does this just magnify the fact it lacks considerable depth among its younger characters?
Kevin Spirtas returns to Salem as Dr. Craig Wesley to be with his ill daughter. Kate is framing Daniel for Chloe's health problems, but can he prove his innocence? If Days of Our Lives is worried about renewal, is it taking too much time in the build up to Sami vs. Nicole?
Bill and Lizzie get married on Guiding Light. Michelle Ray Smith returns as Ava to mourn Jeffrey's death. How many more deaths are coming to Springfield? Mel reveals what is in store. GL gives $10,000 to Peapack and donates part of its wardrobe to charity.
John Driscoll debuts as Chance on The Young and the Restless. Will Jamey disown Auntie Ri Ri at the family picnic for what is happening in the Phillip III storyline? Is Tammin Sursock leaving the role of Colleen Carlton? Lily's cancer storyline is building up, but is there too much doom and gloom on Y&R?
All this and more on today's episode of Daytime Confidential.
Help support and improve the Daytime Confidential podcast: Take a few minutes to fill out the two Daytime Confidential listener surveys: Listener Survey A l
Be sure to leave your comments on all the latest goings on in the world of soaps by calling the Daytime Confidential comment line by calling 917-677-9757.
Listen to Daytime Confidential by clicking on the Daytime Confidential Player at the bottom of this post or Download us for FREE via iTunes. Vote for us on Podcast Alley. Add us as a Friend on MySpace and Facebook.


READ MORE