Jill Larson
By Jillian Bowe on October 22, 2008
No, a tornado didn't really come after our own Belinda, but
All My Children's
terrorizing tornado storyline has captured Belinda's attention, according to the latest edition of her column,
View From The Recliner's Edge
:
No, I haven't gone soft in the head (yet). I'm not ignoring the comical over use of the special effects CGI graphics. (Note to TPTB: Less is more. That's all I'm saying. Spread it thin.) When they weren't taking a good thing too far, the scenes were actually not bad. Having not watched the show for eons, I didn't have to compare it to the 1994 tornado (which some have said may have been better done without the CGI). I thought the references to the history during the event were a really nice touch, such as when they mentioned that Jenny was with Granny Martin in the storm shelter they built after the last storm. I love small pearls of history tossed in on top of the current stories because I feel that it helps the present story to resonate with viewers. More at the jump! READ MORE
By Luke Kerr on August 22, 2008
This, as Daytime Confidential reader Season1217 so aptly put it, is why you don't kill off Eileen Herlie's Myrtle Fargate.
What is so amazing to watch, in this scene, is how much depth and history Julia Barr, Susan Lucci, Eva La Rue, Eileen Herlie, Jill Larson, Alicia Minshew and Eden Riegel bring to their characters. When you compare this clip (which can't be more than 2-3 years old) to today's All My Children, the disrepair of today's All My Children is so glaring you also have to wear sunglasses to shield your eyes. Ironically, back then we thought All My Children had problems. What is it they say about hindsight?
By Jillian Bowe on June 11, 2008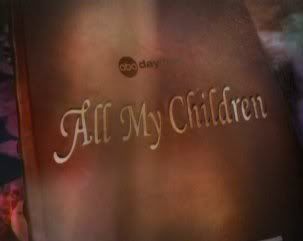 Soap Opera Digest online
is reporting that
All My Children
has cast the role of Billionaire Palmer Cortland (James Mitchell) and down home diva turned beauty parlor proprietor Opal's (Jill Larson) son.
Daniel Kennedy has landed the role of Petey Cortland and will show up onscreen in Pine Valley July 11.
Viewers may remember back in 2002 was the last time we saw the heir apparent to the Cortland dynasty and makes you wonder what he was up to.
Does this mean that we'll be seeing a lot more of his parents? Stay tuned!
By Jamey Giddens on April 01, 2008
Okay, here's definitely hoping the awful rumor that All My Children is planning to sacrifice the wonderful Jill Larson and her wackilicious character Opal at the altar of May Sweeps is NOT I repeat NOT true, but if it is and TPTB at ABC are wanting to mimic a General Hospital-style Vets-for-Ratings Sweeps Stunt, why not kill off the long missing Ruth Martin?
The original Ruth, Mary Fickett retired what, a decade ago? Maybe more, and the replacement hasn't been seen in months. Why not kill off Ruth and use it as the storyline that brings Jake back to Pine Valley? AMC could also bring back popular characters like Phil, Tara, Charlie, Kelsey and Brooke for a memorial service complete with rich flashbacks and powerful scenes for Joe, Tad and the rest of the clan.
It boggles my mind that soaps these days will kill of characters played by actors who aren't yet ready to retire i.e. Stuart Damon (Alan, GH), Frank Parker (Shawn, Days) and Jerry Douglas (John, Y&R), instead of writing dramatic endings to the stories of legacy characters played by actors who have chosen of their own free will to retire.

It would have made so much more sense for Days of Our Lives to kill off Mickey Horton rather than Shawn Brady. The orignal Mickey, John Clarke has retired from show business and has made it clear that he has no plans of ever returning to Days. The show could have received just as much dramatic punch out of Mickey's death, possibly more and it could have led to a great new storyline for his leading lady Maggie (Suzanne Rogers). But instead of going that route they decided to kill off Shawn Brady, played by Frank Parker, who was still happily serving chowder at The Brady Pub after almost 30 years.
Now we have a recast Mickey coming on board in the form of Knots Landing vet Kevin Dobson, whom I love, but from the spoilers I've been reading this is all to give EJ the Rapist a storyline where he goes to work for Mickey as a lawyer. If it's one thing I hate more than a vet being put out to pasture, it's one being used to pimp a newbie character that's being forced down fans' throats. Note to writers: When you have a legacy role that has been vacant for years and you are looking to kill off a character for dramatic emphasis, go with the ones who have already left the building!
By Lisa K. on March 31, 2008
All My Children seems to be getting desperate for ratings! More rumors are circulating that All My Children is going to tap into General Hospital's arsenal of cheap Sweeps ratings grabbers with a couple of exploding houses courtesy of a diabolical Robert Gardener. Also plans are on killing off a few of their core characters too! One such character RUMORED to be blown up is Opal Cortlant during May Sweeps.
Now this would serve as a big ratings grabber for the show based on the fact that Opal is a core character...the biological mother of Tad Martin and best friend of Erica Kane. And it would prove how nasty & evil Robert Gardener is as a villain in comparison to Opal's former husband Ray Gardener (Tad's abusive bio dad). But how could a soap do that to a character that's been on the show since 1981? Well I guess it isn't much of a shock considering Opal hardly gets any good air time anymore and current portrayer (since 1989) Jill Larson has been put on recurring status since June 2006. Would anyone really miss Opal? I sure would!
What are you're thoughts on this rumored expenditure from All My Children?
By Mike Jubinville on March 20, 2008
What does billionaire CEO Warren Buffet have in common with All My Children's legendary Erica Kane? Pine Valley, that's what. Buffett is scheduled to reappear as himself during May sweeps. He will drop in on Erica, who is going to do some time in the big house for insider trading. According to several sources, the storyline evolves when Opal Cortlandt (Jill Larson) , a mutual friend of both, calls on Buffett to use his influence to help Erica get a better deal. Erica unintentionally committed her crime, but turns fugitive when another convict she is handcuffed to makes a run for it.
This is not the first appearance for Buffett, who is CEO and Chairman of Berkshire Hathaway. ABC reported that he also showed up in 1992 after befriending creator and former headwriter Agnes Nixon. She is a fan of his comments in the company's annual report and they bonded over the subject of writing several years ago. Buffett's company will preview the segment at their annual meeting on May 3 in Omaha, Nebraska.