Jill Larson
By J Bernard Jones on May 11, 2009
Regular Daytime Confidential readers and aficionados may have noticed that this lovely website has added daily recaps of most of the soaps on the air, in addition to Perkie's longtime (and often hilarious) observations about General Hospital. Conspicuously absent from the recaps — at least as of this writing — has been what might be considered the quintessential forerunner of the modern soap opera, All My Children.
Not too long ago, our fearless leader, Luke, asked if I would be able to write a daily recap of the show since I've been watching it; I regrettably informed him that because of a currently unpredictable schedule (hence, why there are long lags between my posts these days) I would be unable to do so. Instead, I suggested that I would divert my recent attentions from Guiding Light to AMC a bit more closely and blog about life in Pine Valley more regularly. Since then I've mightily tried to get a grip on the show, but unfortunately watching All My Children is not unlike walking on pine cones barefoot: it's not the worst feeling in the world, but it is still pretty painful. READ MORE
By Jamey Giddens on May 06, 2009
Looking for a sudsy, sizzling good time? Then turn off SOAPnet, log on to your PC or laptop and order
Manhattanites.
Directed by
Gregori J. Martin
and
All My Children
's
Darnell Williams
,
Manhattanites
is set in the same universe as
We Love Soaps
editor
Roger Newcomb
's popular online radio soap
Scripts and Scruples
.
Manhattanites is the story of a Marilyn Marsden (One Life to Live's Ilene Kristen), a successful entertainment lawyer who discovers her conservative magazine editor fiance, Blake (Lev Gorn, The Wire) is having an illicit gay affair with one of her clients, Matt Malone (OLTL's Forbes March), a rising star in the art world.
Marilyn's sister Gretchen (Caroline Hay) is paying her dues, working at a greasy spoon, while dreaming of a career as a news anchor. Fate pays her a visit when she meets cocky anchorman Kyle Carpenter (All My Children's Aiden Turner in his breakout role). READ MORE
By Jamey Giddens on March 25, 2009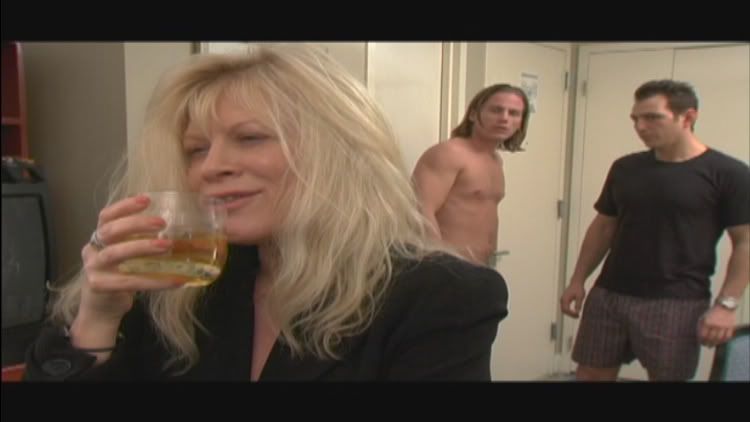 Ready for a sexy, sudsy romp featuring a slew of your favorite soap stars? You don't have to wait much longer. On May 6,
Manhattanites
, the independent film written by
We Love Soaps
'
Roger Newcomb
and
Gregori J. Martin
(who also directed) is coming out on DVD!
The steamy flick about the lives and loves of a group of Gotham-dwellers, is set in the same universe as Newcomb's wildly-popular radio soap Scripts and Scruples. Manhattanites stars One Life to Live's Ilene Kristen, David Fumero and Forbes March, a well as All My Children's Aiden Turner and Jill Larson. AMC's Darnell Williams served as co-director on the project. For more on Manhattanites go here.
By Jillian Bowe on October 22, 2008
No, a tornado didn't really come after our own Belinda, but
All My Children's
terrorizing tornado storyline has captured Belinda's attention, according to the latest edition of her column,
View From The Recliner's Edge
:
No, I haven't gone soft in the head (yet). I'm not ignoring the comical over use of the special effects CGI graphics. (Note to TPTB: Less is more. That's all I'm saying. Spread it thin.) When they weren't taking a good thing too far, the scenes were actually not bad. Having not watched the show for eons, I didn't have to compare it to the 1994 tornado (which some have said may have been better done without the CGI). I thought the references to the history during the event were a really nice touch, such as when they mentioned that Jenny was with Granny Martin in the storm shelter they built after the last storm. I love small pearls of history tossed in on top of the current stories because I feel that it helps the present story to resonate with viewers. More at the jump! READ MORE
By Luke Kerr on August 22, 2008
This, as Daytime Confidential reader Season1217 so aptly put it, is why you don't kill off Eileen Herlie's Myrtle Fargate.
What is so amazing to watch, in this scene, is how much depth and history Julia Barr, Susan Lucci, Eva La Rue, Eileen Herlie, Jill Larson, Alicia Minshew and Eden Riegel bring to their characters. When you compare this clip (which can't be more than 2-3 years old) to today's All My Children, the disrepair of today's All My Children is so glaring you also have to wear sunglasses to shield your eyes. Ironically, back then we thought All My Children had problems. What is it they say about hindsight?
By Jillian Bowe on June 11, 2008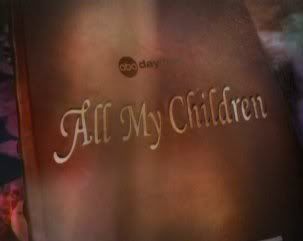 Soap Opera Digest online
is reporting that
All My Children
has cast the role of Billionaire Palmer Cortland (James Mitchell) and down home diva turned beauty parlor proprietor Opal's (Jill Larson) son.
Daniel Kennedy has landed the role of Petey Cortland and will show up onscreen in Pine Valley July 11.
Viewers may remember back in 2002 was the last time we saw the heir apparent to the Cortland dynasty and makes you wonder what he was up to.
Does this mean that we'll be seeing a lot more of his parents? Stay tuned!