Jessica Leccia
By J Bernard Jones on August 24, 2009
In another sign that
Venice
is poised to become the biggest web juggarnaut since
Susan Boyle
dreamed a dream, no less than
The New York Times
has published
a lengthy (and respectful) article
profiling the upcoming lesbian themed web soap and its star/producer
Crystal Chappell
. While the story is peppered with lots of interesting nuggets — from reports that Ms. Chappell unsuccessfully lobbied Proctor & Gamble to move the now canceled
Guiding Light
to the web or the Otalia story to
As the World Turns
(!) to news that almost everyone on
Venice
, including co-star
Jessica Leccia
, is working for free — there is one tidbit of info sure to set Otalia fans atwitter, as it were:
"In the first 30 seconds you see these two women kiss," Ms. Chappell said.
Read the whole fascinating story of Venice here! Barbara Bloom must be drowning puppies right about now. READ MORE
By J Bernard Jones on July 27, 2009
Today, The Gay & Lesbian Alliance Against Defamation (GLAAD) released its third annual Network Responsibility Index, a report measuring gay, lesbian, and trangender representation on television on various major networks including broadcast & cable covering the broadcast period from June 1, 2008 to May 31, 2009. From the report:
Of the broadcast networks, ABC and the CW received "Good" scores, Fox was marked "Adequate," and NBC and CBS were marked "Failing." While the report takes into account the substance of portrayals up to a point, much of a network's score is based on the simple visibility of characters...On the cable side, HBO was the clear winner (vampires count!), emerging as "Good" (as did Showtime, though with a lower score), while networks including Lifetime and FX were "Adequate" and A&E and TBS were "Failing."
Oddly, daytime serials were not included.
My Take: I find it extraordinarily curious that GLAAD, which has several representatives and bloggers speak and write about As The World Turns' Luke (Van Hansis) & Noah (Jake Silbermann), Guiding Light's Olivia (Crystal Chapell) & Natalia (Jessica Leccia) or All My Children's Bianca (Eden Riegel) & Reese (Tamara Braun) in many interviews or on its website did not include soaps in its survey. If their goal is to track LGBT representation, how do these characters, including Passions' Simone (Cathy Jeneene Doe) — all of which aired during the period covered in their survey — not merit inclusion in the study? Yes, the study only covers prime time but that in and of itself reveals the flaw of it. READ MORE
By Jamey Giddens on July 17, 2009
Love will lead you back—online
. Never fear fans of
Guiding Light
's Otalia, it looks like you'll finally get the romance you've been waiting, for on the World Wide Web at least.
Crystal Chappell
tweeted
news of
Jessica Leccia
joining the cast of Chappell's upcoming lesbian-themed web soap opera
Venice
.
"The lovely Jessica Leccia is the newest cast member of VENICE". Chappell, who is writing, producing and starring in Venice as lead character Gina, tweeted. "She'll be playing the role of 'Ani', a photographer. Jess is very excited about doing the series, and we're so thrilled to have her! Who could resist those beautiful brown eyes? Prob not Gina." READ MORE
By J Bernard Jones on July 15, 2009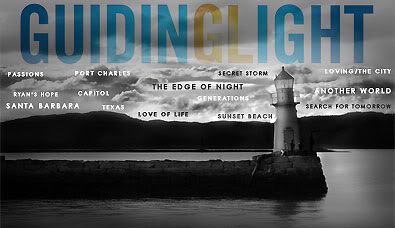 One of the hardest tasks in all of television must be bringing a daytime drama to a close. In other realms of entertainment, plays and musicals can be resurrected through countless revivals. Primetime TV shows can come and go, yet have the potential to be re-imagined or rebooted for the small or big screen. The biggest box office disasters can live on via countless direct-to-DVD sequels. Radio hosts and their dubiously talented sidekicks can be fired for the most hateful commentary, yet live on with the same formats other stations to be spiteful for another day.
With the exception of Dark Shadows, once a soap opera is canceled it is gone forever. During my time I've watched some of my favorites disappear: The City, Port Charles, Generations, Texas, and — in my opinion — two of the genre's titans, Santa Barbara and The Edge of Night. Many of you are still missing your own beloved shows over the last three decades as well. Fans of Capitol, Love of Life, Sunset Beach, Passions, Search for Tomorrow, and the still mourned Another World among others express their loss as if there yet remains a certain kind of grief that has not yet abated after all these years. Soon we will lose another giant among soaps: in less than ten short weeks, Guiding Light will shine for the last time on CBS. READ MORE
By Luke Kerr on July 09, 2009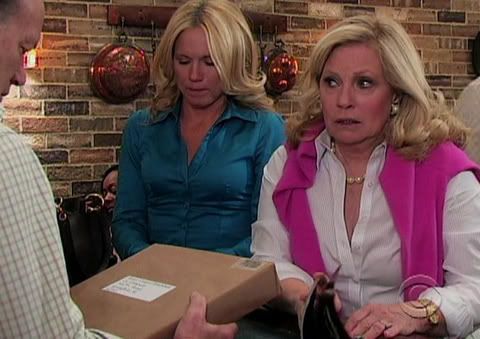 How might Lillian Raines react to Olivia and Natalia as a couple? This is one of the questions asked in an Inside the Actor's Studio styled interview with Tina Sloan at Red Room.
On how Lillian Raines would react to Olivia and Natalia as a couple:

Lillian would be the first person to support them. She'd say to Olivia and Natalia, "Go for it!" I really believe this. She's a nurturer and a champion of true love. You know, I really, really wanted Lillian to play the role of supportive friend to Natalia (which turns out to be Blake's role), but the writers had other ideas for Lillian - the current story line with Philip, which I love being a part of. I love getting to do scenes with Grant (Aleksander) and I love it that Lillian is the one person who knows the truth about his diagnosis but, before I knew about this dramatic development, I was really hoping Lillian would be the person Natalia would turn to for support and advice.
By Jamey Giddens on June 29, 2009
In today's edition of his
Nelson Ratings
,
TV Guide Canada
's
Nelson Branco
has a statement from
Mimi Torchin
, founding editor of
Soap Opera Weekly
, and a huge
Guiding Light
fan, about the plot twist that has Natalia Rivera (
Jessica Leccia
)
expecting Frank Cooper's (Frank Dicopolous) baby
.
READ MORE