Jesse McCartney
By Regan Cellura on February 04, 2009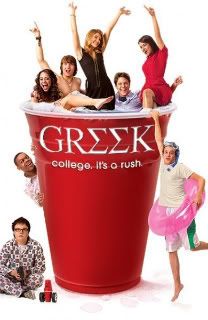 Primetime Spoiler Round-Up!
GREEK… I'm just crazy about these kids at Cyprus Rhodes. They've been picked up for a third season but their friends at Kyle XY got the AX. GREEK returns with the second half of the second season on March 30th with Max! Casey's boyfriend has ditched grad school in favor of sticking in Ohio with Casey. Will he constantly remind his girlfriend what he's given up for her? The craziest GREEK news comes from an exclusive on EW.com courtesy of Mr. Michael Ausiello. Apparently the third season will be light one cast member. Frannie, the rogue ZBZ, will not be a series regular. She's in a pretty major storyline as the season finale cliffhanger was Frannie setting up a new sorority and taking a bunch of ZBZ's with her. With Frannie leaving campus, what does that mean for Evan? Will we get a Casey-Evan reunion? What about Casey and Cappie? Will they ever get back together? SPOILERS say Casey and Cappie spend time together when Max is away. All MY Children fans, well Jesse McCartney fans, remember the heartthrob is also slated to appear this season on GREEK.
I'm adding a new show to the Round-Up. Army Wives is a great show on Lifetime from the same folks that gave us Grey's Anatomy. If you haven't seen it, check it out. They are adding two new African American cast members to the upcoming season and Roger Newcomb at We Love Soaps says one role MAY be what Real Andrews (ex-Taggart, General Hospital) auditioned for. READ MORE
By Luke Kerr on December 06, 2008
Jesse McCartney
dropped by
Chelsea Lately
to talk with
Chelsea Handler
about what he's been up to. Chelsea grilled him about his rumored romances with various starlets and couldn't help but ask "Isn't Paris Hilton amazing?"
Chealsea Handler is hilarious. Just had to add that in case you didn't know.
By Luke Kerr on December 01, 2008
By Luke Kerr on December 01, 2008
By Luke Kerr on November 18, 2008
By Jamey Giddens on October 17, 2008
Ladies wanting to smell like
Jesse McCartney
are in luck. The ever-enterprising pop star/actor just added perfume developer to his growing list of side hustles. According to
Women's Wear Daily.com
, McCartney has signed with First American Brands, Inc. to develop
Wanted
, a fragrance aimed at women. With recent news of the teen dream also booking a part on ABC Family's hit soap
Greek
and his CD
Departure
climbing the charts, this may prove to be the Year of McCartney. Sorry
Ne-Yo
.