Jess Walton
By Jillian Bowe on June 28, 2009

Sucks to be Cane...
By Jillian Bowe on June 22, 2009

Its all about to hit the fan...
By Mike Jubinville on June 17, 2009
Was it a pawn shop or was she looking to get her nails done in a not-so-glam-part of town without anyone knowing? Finding yourself suddenly poor is tough on everyone, especially those who fall the farthest. Jill Abbott (
Jess Walton
) stepped into a time warp yesterday and went back to her Foster roots. "Pick your color."
By Jillian Bowe on June 15, 2009
Forget not messing with Texas (sorry
Jamey
and
Mel
), you don't mess with Slick Vic (
Eric Braeden
)!
By Jamey Giddens on June 11, 2009
It's old home summer on
The Young and the Restless
, thanks the renewal of the classic Kay (
Jeanne Cooper
) vs. Jill (then the cheesetastic
Brenda Dickson
, now mercifully
Jess Walton
) feud, the returns of Nina (
Tricia Cast
) and Phillip (
Thom Bierdz
) to the canvas and the possibility of Cricket Blair (
Lauralee Bell
) making an appearance at some point. In honor of the occasion I decided to dig up this old school clip from the beginning stages of the Nina/Phillip/Cricket triangle. Nina and Cricket were the ultimate frenemies—the beautiful Jabot teen model who had the local rock star Danny Romalotti (
Michael Damien
) and the Chancellor heir fighting for her hand versus the girl from the wrong side of the tracks. Nina and Cricket's junior rivalry never quite reached the peaks of campy histrionics that Kay vs Jill did, but it was still good soap. I can't wait to see how Kay, Jill, Nina and Cricket react to the fact that Phillip didn't die all those years ago! Mvid courtesy of
ItsMandyKimper
.
READ MORE
By Regan Cellura on June 09, 2009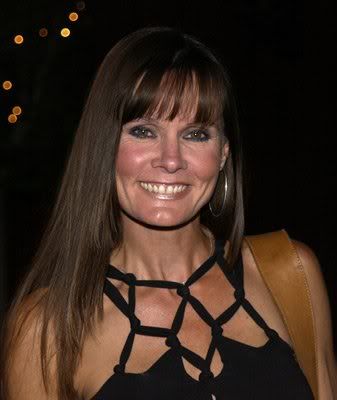 TVGuide Magazine
has the exclusive news.
As The World Turns
has cast
General Hospital, Port Ch
arles and DAYS alum
Lynn Herring
(ex-Lucy Coe, GH/PC; ex-Lizanne, DAYS) as Audrey "the gold-digging mother of cut-up Henry Coleman (Trent Dawson). She hits the air July 24."
Do you have any idea how badly people have wanted you back on the soap scene? It's been too long.

I have missed it so much, but GH has never called. Eventually I figured, "Well, OK, I guess I'm outta that role." That's why it was such a compliment to get the phone call from [ATWT exec producer] Chris Goutman. I guess I really needed to get back to work. I'd find myself creating soap-opera scenarios in my mind while I was out on the hill feeding the cows. "Hmm…that flirty red one sure looks like she likes the bull today…" When you start doing that you know it's time to start acting again.